Marinaded with a chili lime sauce, wrapped in foil and baked to tender, flaky perfection, chili lime salmon is sure to be a hit with any family member.
Can you believe up until a few months ago, I would have never dreamed of eating and actually enjoying salmon? I had eaten it a few times growing up but never cared for it at all. Something about the taste and texture really worked on my gag reflex–yuck.
My husband finally convinced me to try salmon again, and that maybe cooking it differently than I'd had it in the past would make me like it.
I'm only admitting this here because he doesn't read anything I write–but he was right. Maybe it's because I'm an adult, and adults should be eating healthier things, or maybe it's because I really actually like the flavor and flakiness of this chili lime salmon. Either way, it's delicious AND it's easy to make. Winner winner chicken dinner. Or salmon dinner.

More delicious dinner recipes:
Love this? Pin it for later!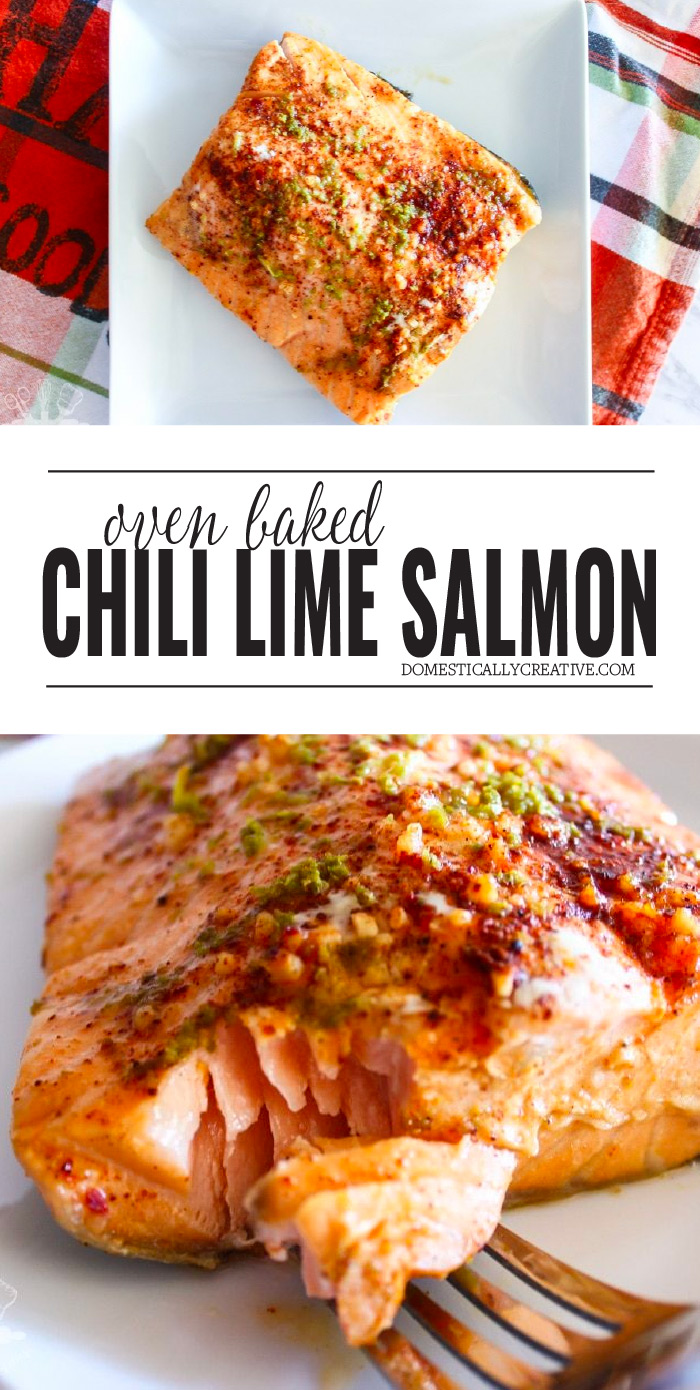 Baked Chili Lime Salmon
Tender and flaky, this oven baked chili lime salmon recipe is so easy to make and is sure to please everyone!
Ingredients
1 pound salmon
2 tbsp lime juice
2 tsp honey
1 clove garlic, minced
½ tsp salt
2 tbsp butter
1 tsp cumin powder
1 tsp chili powder
1 tsp lime zest
Instructions
Preheat oven to 350 and place salmon, skin side down, onto a piece of foil that is large enough to fold over and cover salmon.
In a large sauce pan, heat lime juice, honey, garlic and salt over medium heat.
Remove from heat and add in cold butter, swirling to melt.
Pour sauce mixture over salmon, and sprinkle with cumin, chili powder and lime zest.
Cover salmon making a pouch with the foil.
Bake for 15-20 minutes depending on thickness of filet. Salmon should be flaky and tender when done.
Nutrition Information
Yield

3
Serving Size

3 Servings
Amount Per Serving
Calories

403
Total Fat

27g
Saturated Fat

9g
Trans Fat

0g
Unsaturated Fat

16g
Cholesterol

116mg
Sodium

568mg
Carbohydrates

6g
Fiber

1g
Sugar

4g
Protein

34g