Chalkboard Labeled Planters | Ikea Hack
This post may contain affiliate links for your convenience. Read our disclosure policy.
I have a really easy little craft for you today–Chalkboard Labeled Planters. Take otherwise simple pots and turn them into custom planters.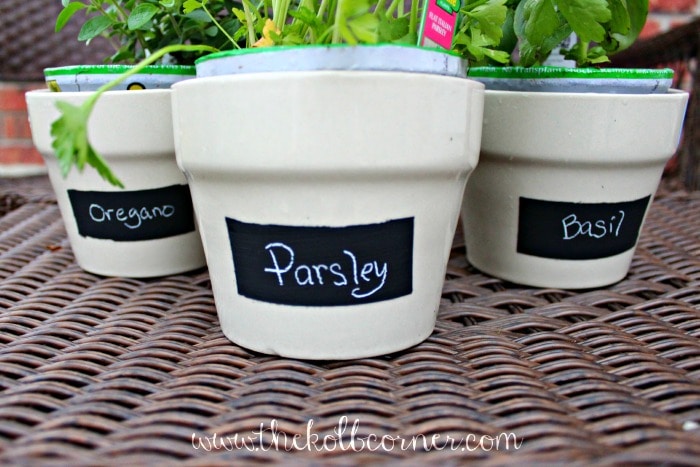 I picked up 3 small planters at Ikea, with the intent to plant herbs in this Spring. They are the perfect size that I can have them outside, and still bring them inside for the Winter. This way I can have fresh herbs all year long.
How to Make Chalkboard Labeled Planters
What you'll need
Plain pots (I picked mine up at Ikea)
Paintbrush
Chalk or chalk marker
Start by cleaning the pots really well. Rubbing alcohol works great, especially if there is any sticky residue left from stickers.
Next, tape off the area you want painted. For mine I just eyeballed it.
Then paint a layer of chalkboard paint on top. Let dry before painting on a second coat. My chalkboard labeled planters actually took 3 coats to completely cover the pot.
After the paint dried I carefully peeled off the painter's tape, and corrected any bleed throughs.
Then using a piece of chalk, I wrote out my herb names. They aren't perfect, but I like the way they turned out.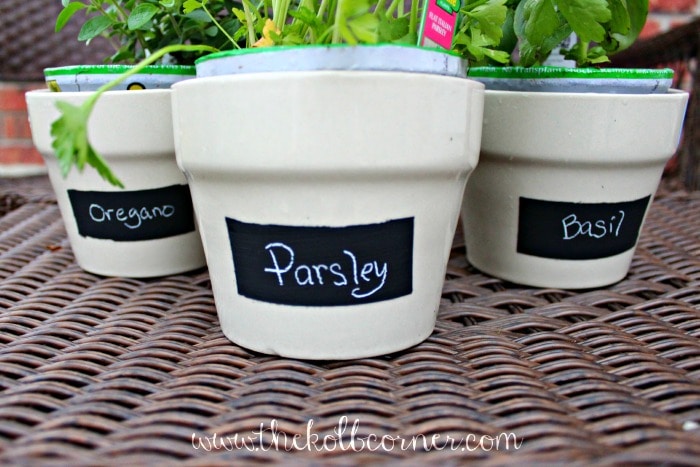 Right now I just have potted herbs sitting in the planters. It still a tad bit cold to have them planted and outside, so they are living in my in house greenhouse right now with my seedlings.
[Tweet "Get ready for spring with these easy chalkboard labeled planters!"]
I can't wait for it to warm up enough to get started on the garden!!