Container Gardening Guide and Spring Porch Makeover
This post may contain affiliate links for your convenience. Read our disclosure policy.
This post is sponsored by First Editions® Plants and SheKnows Media.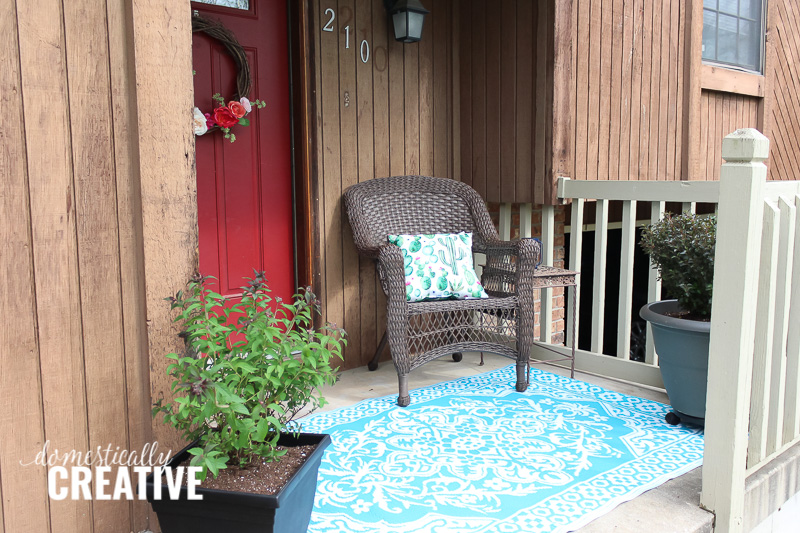 Spring has finally arrived in the Midwest and I couldn't be more excited! After the seemingly endless Winter, I could not wait to get outside and clean up our front porch. We have a small little area that I love decorating each season, and Springtime is no exception. With the birds singing and the weather finally warming up, I got to work getting all of my container gardens planted and ready for the sun!
My husband and I rent our home currently, but that doesn't stop me from planting flowers and shrubs each year! Container gardens are the easiest way to add some beautiful plants or shrubs to your porch, patio or deck, without making anything permanent! It's also a great way to satisfy your green thumb even if you don't have the yard or room to plant.
First Editions® Plants has over 125 different varieties of plant varieties and premium assortment of shrubs and trees to choose from, which made picking plants for our front porch so easy. I was able to use their retailer finder to locate a nearby nursery that carried everything I needed. All I had to do was look for the purple pot and I was set!
I ended up coming home with three different shrubs to plant in containers on my front porch. The shrubs that came home with me were First Editions® Little Devil™ Ninebark, Vanilla Strawberry™ Hydrangea and Superstar™ Spirea. All of them together look fabulous on my front porch!
Container Gardening Guide
When I was out shopping for our porch, I started thinking about the details you have to consider when choosing which plants to pair together. Sometimes putting plants together can be a little bit tricky, but with the right tools and knowledge you can learn how to pair any type of shrub or plant together in one or more containers.
Hardiness Zone
Knowing which zone you live in is key to understanding which plants will grow best in that particular growing condition. I currently live in hardiness zone 5, but when we lived in San Antonio, we were in hardiness zone 8. We could easily grow more tropical plants because of the warm winters. First Editions® Plants have been thoroughly tested for hardiness so you can feel confident that they will flourish in your specific growing conditions.
Sun, Partial Sun or Shade
Before deciding on what plants to buy for your containers, it's crucial to know the space you are planning to put them in. Does it get full sun, only some morning or afternoon sun, or does it stay mostly shaded all day? You may need to pay attention to the sun pattern for a few days to know for sure the type of light it gets.
Different plants require varying types of lighting. Some shrubs and plants are shade lovers, meaning they prefer shade and may burn or wilt in too much sun. Other plants love the sun and want to spend most of their day soaking up rays. Then there are the plants that want the best of both worlds, meaning they prefer a mix of sun and shade. This may seem like a daunting task to figure out, but don't worry! All of that information is easily found on the First Editions® Plants tag!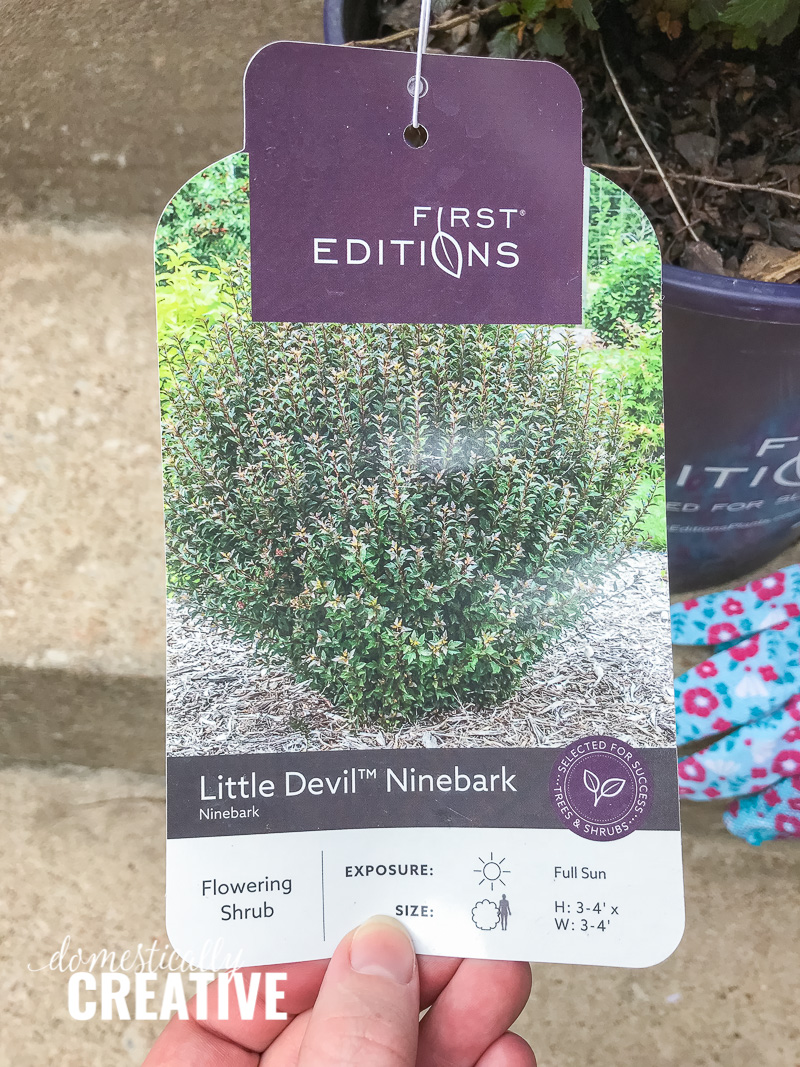 Container size
This is something else that is a very important factor in how well planted container gardens will do. Check the tags to see how big each plant or shrub will get. If they grow tall but not wide, then a narrower pot should do well. However, if the plant grows wide a larger round pot would be best. You can find the growing heights and widths on the First Editions® Plants tag too!
When deciding on container size, take a good look at how big the pot is that the plant comes in when purchased. A good rule of thumb is to double the size of that pot, but going a bit bigger than that is great too. It's also important to make sure the pot has good drainage holes on the bottom to let extra water out. If you don't see any drainage holes, you can add your own.
I also like to keep my larger potted plants up on a stand with wheels. That way if the plant doesn't seem to be doing as well in one spot on the patio, it's easy to move it around. Once the dirt and plants are in those large of pots they can get very heavy!
Color and shape
When it comes to pairing plants together, whether they will be in the same pot or in different pots like mine, try to vary the colors and shapes for the biggest impact. Pairing a tall, narrow plant together with one that is shorter and wider adds visual appeal. Varying the colors of leaves and flowers helps add interest and different bloom times can help keep your porch or patio blooming all year! You can find information on flower color, blooming times and growing habits on the back of the First Editions® Plants tag.
Putting it all together
You can easily just grow a shrub in each container, but if you want to really go all out and get the biggest visual impact, try pairing the shrubs with annuals. Always take into consideration the above tips, and make sure your container is large enough to accommodate all of the plants. If you run into trouble or have a question about any of the First Editions®Plants, check out this handy guide to pairing shrubs. First Editions® even has Let's Ask Amy, a guru available to help with any question you have concerning your plants.
Also, be sure to follow them on social media for even more ideas on landscaping and container gardening. Instagram | Pinterest | Facebook
What plants are you excited to add to your gardens this Spring? Let me know in the comments for a chance to win a $100 Visa gift card!
Entry Instructions:
No duplicate comments.
You may receive (2) total entries by selecting from the following entry methods:
1. Leave a comment in response to the sweepstakes prompt on this post
2. Tweet (public message) about this promotion; including exactly the following unique term in your tweet message: "#Sweeps" and "#SweepstakesEntry"; and leave the URL to that tweet in a comment on this post
3. Blog about this promotion, including a disclosure that you are receiving a sweepstakes entry in exchange for writing the blog post, and leave the URL to that post in a comment on this post
This giveaway is open to US Residents age 18 or older (or nineteen (19) years of age or older in Alabama and Nebraska). Winners will be selected via random draw, and will be notified by e-mail. The notification email will come directly from SheKnows via the [email protected]. You will have 2 business days to respond; otherwise a new winner will be selected.
The Official Rules are available here.
This sweepstakes runs from 5/9/18- 5/20/18
Be sure to visit the brand page on Sheknowsmedia.com where you can read other bloggers' posts!
Love this? Pin it!