DIY Christmas Cone Tree with Gorilla Tape
This post may contain affiliate links for your convenience. Read our disclosure policy.
This is a sponsored post written by me on behalf of Gorilla Glue for IZEA. All opinions are 100% mine.
Take your Christmas decorating to the next level and create a gorgeous and easy DIY Christmas cone tree using only Gorilla Tape!
Gorilla Tape is something my husband and I have used for years around the house. As I write this post it is currently holding the handle of my mop together. The handle I broke when I was too aggressively scrubbing our floors. I almost fell flat on my face when it happened too!
This tape is the real deal folks! Not only is it great for quick repairs, it's made for heavy duty fixes with the double-thick adhesive, reinforced backing and weather-resistant shell. It even withstands moisture and UV rays. Gorilla Tape doesn't mess around!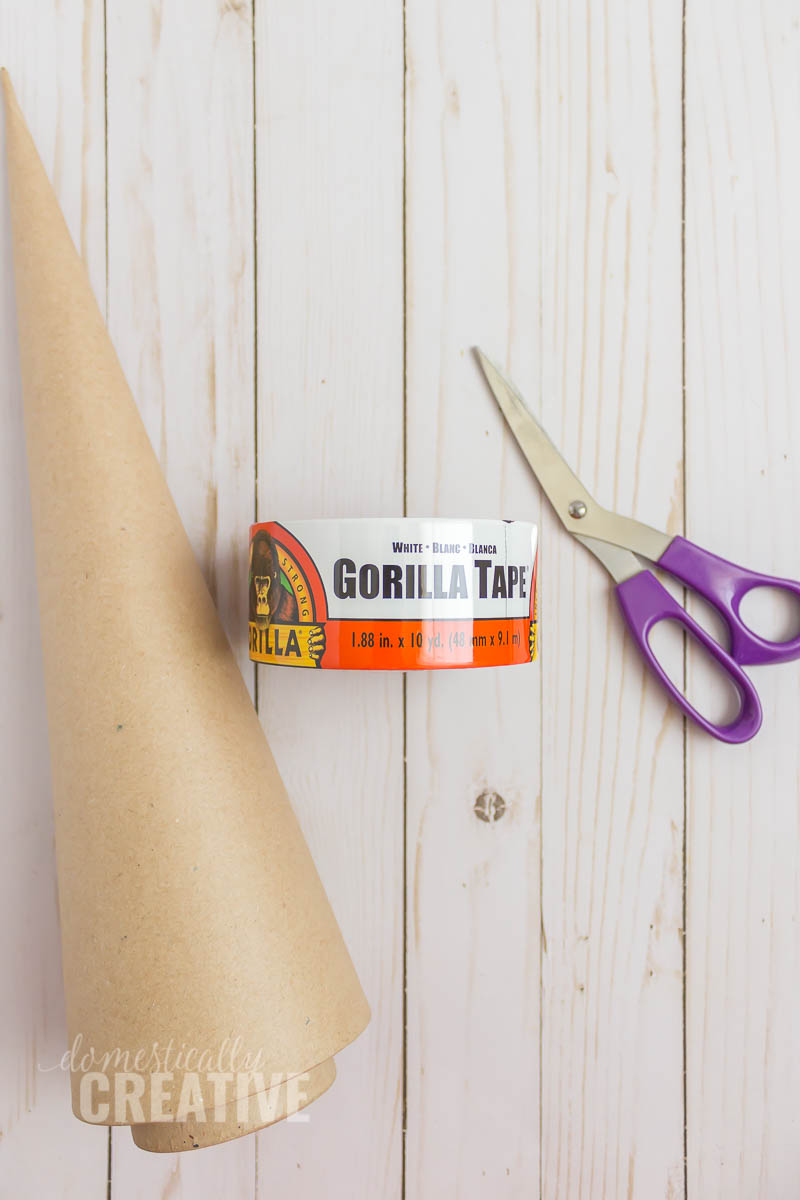 Something else it's great for is crafting. Yes, you read that right! I decided to create this fun little project to showcase the versatility of Gorilla Tape. The tape can be torn off the roll by hand, so making my Christmas cone tree went quickly and smoothly.
How to Make a DIY Christmas Cone Tree with Gorilla Tape
Supplies You'll Need:
Gorilla Tape (comes in white, black, silver, bright orange and camo!)
Scissors
Cone (any craft store will have these)
Wired Ribbon
The first step is to make several "leaves" for the Christmas cone tree. Do this by ripping off approximately a 12″ strip of Gorilla tape. Lay it out sticky side up on a flat surface.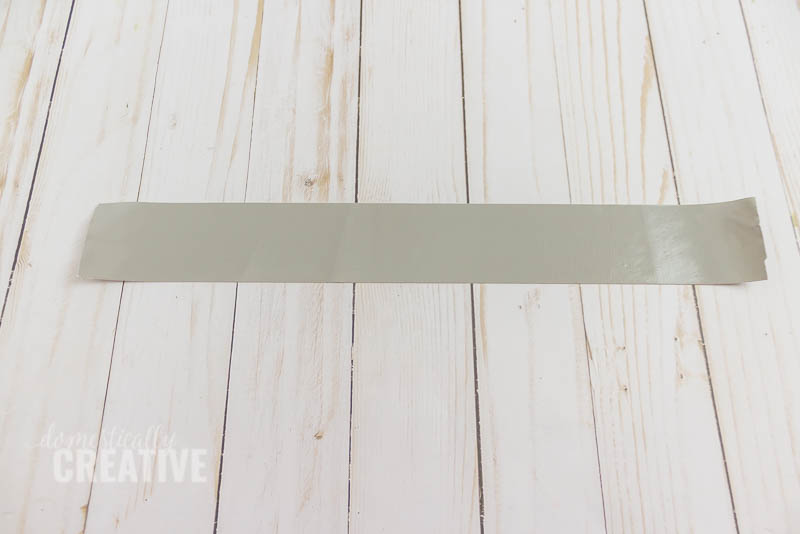 Next, rip of another 12″ strip of tape and lay that sticky side down onto the first strip of tape (sticky side to sticky side). Trim off any excess on the ends to make them even.
This will create a nice thick piece of fabric to work with to create the leaves of the cone tree. Next, make a small cut with the scissors down the middle. Then you can just rip the strip of tape in half! So easy.
After that you'll be left with two 12″ strips of tape.
Next cut both of those in half so that you'll end up with four 6″ strips. Repeat the previous steps several times until you have around 80 strips.
Now you are ready to start placing the strips of Gorilla Tape on the cone tree! To do this, rip off a section of tape and then rip that piece in half lengthwise. Lay one piece sticky side up on a flat surface and stick an edge of the previous made strips on the tape like shown in the photo below. Leave a space between each strip.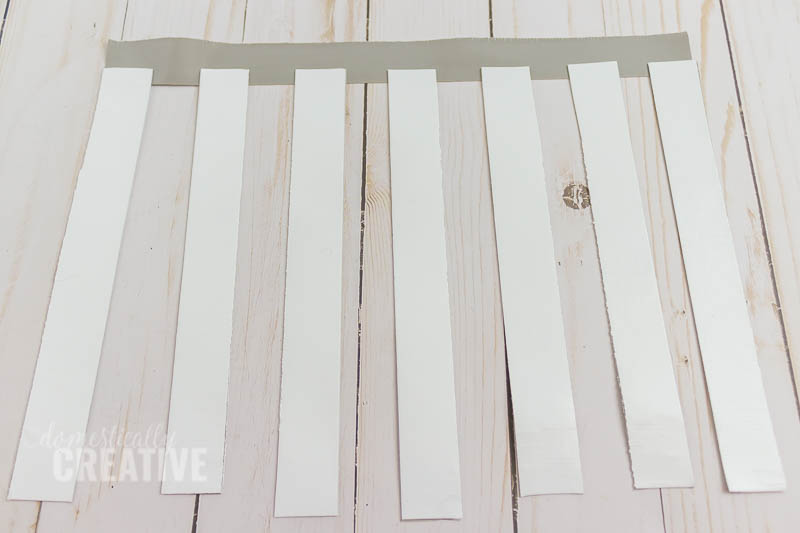 Next, pull the end of each strip up to the sticky part of the tape to create a loop. Make sure to leave enough of the sticky part of the tape exposed on the top so there is something to stick onto the cardboard cone.
Now it's ready to be placed on the cone!
Repeat this process, making sure to stagger the loops to fully cover the cardboard cone. Keep going until the entire thing is covered.
Finish the top off with a big beautiful bow and you have a chic DIY Christmas cone tree made entirely from Gorilla Tape! It's a fun, inexpensive craft that can add a big impact to your Christmas decor. The strips of tape remind me of leather which is an insanely popular trend right now!
I think I need to make several more of these in varying sizes to put around the house. What do you think?
Make sure you enter the $250 Home Depot Gift Card giveaway below. That's a lot of Gorilla Tape and Christmas cone trees!
Gorilla Tape $250 Home Depot Gift Card Giveaway
What fun idea do you have to use Gorilla Tape around the house? I'd love to hear about them in the comments!
And if you loved this idea be sure to pin it for later!