Upcycled Herb Drying Rack
This post may contain affiliate links for your convenience. Read our disclosure policy.
Summer will be winding down before we know it, and with that comes harvesting the garden. I grew a few herbs this year, and will be needing a place to hang them to dry soon. When I was thinking of this month's thrift store challenge, I knew that I wanted to make some sort of herb drying rack that would be functional, yet decorative. So when I was perusing the many many aisles at my local thrift store, I spotted the perfect shelf that I could convert into exactly what I had in mind.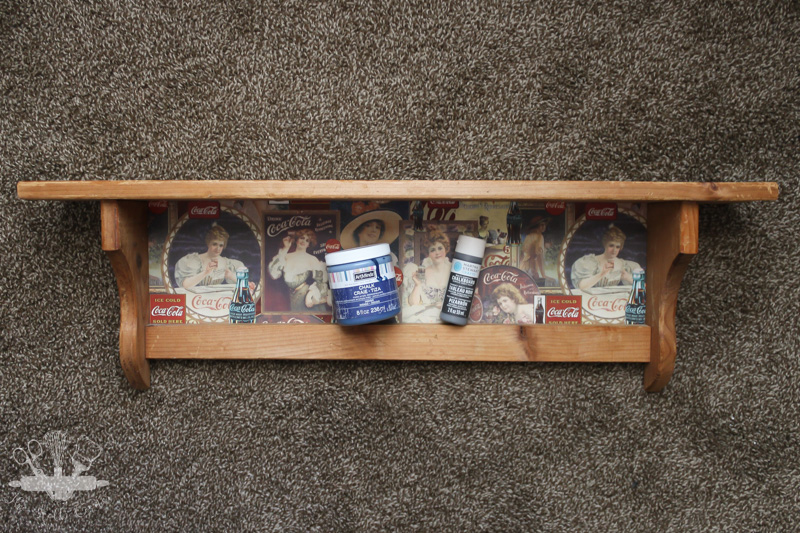 The before was just plain honey colored wood, with a decoupaged a vintage Coca-Cola paper on the back portion. My first thought was to find some vintage seed packet papers online to add to the back, but I decided to keep it simple. I may change my mind in the future, but for now I love how my herb drying rack turned out. Scroll to the bottom to check out the after and the full tutorial!
How to Make an Herb Drying Rack
Items You'll Need:
Thrifted shelf
Sand paper
Chalky paint
paint brush
drawer pulls
chalk/eraser
As a kid I remember my mom having this really rustic, worn shelf that she would hang fresh herbs from to dry. I can still picture her cooking a meal, and running over to the shelf to grab some dried herbs for seasoning. She still has it and uses it to this day! There are always dried herbs hanging, ready to be used in a delicious recipe.
I grew my own herbs this year, and am in desperate need of somewhere to hang them to dry. That's where the idea for this upcycled herb drying rack came to mind. It really is a simple project that anyone can mimic, and if you can't find the perfect shelf from the thrift store, you can get an unfinished one at the craft store.
As with any of my thrift store finds, I first like to clean them really really well to get all of the dust and grime off. I've picked up some really dirty things in the past so cleaning is a must!
After cleaning, prep the wood for paint by giving it a light sanding. This is just to make sure the surfaces are even and there are no rough spots in the wood. Next, paint 2 layers of gray chalkboard paint onto the back portion (where mine had the Coca-Cola graphics). After it dries, tape off the area with Frog Tape so that you don't get the chalky paint on that area in the next step.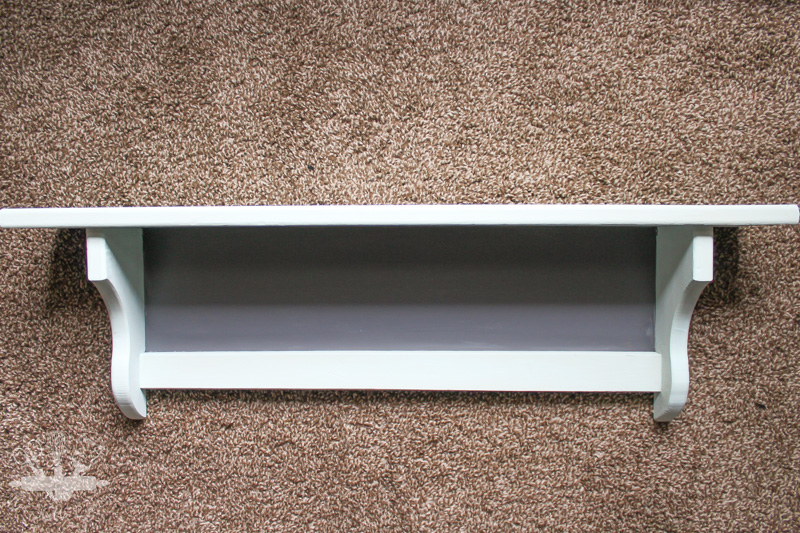 Paint two to three layers of chalky paint onto the whole shelf. I only did two on mine, but I like how you can see brush strokes and some of the original wood grain showing through the chalky paint.
Once all of the paint dries, drill four holes for the drawer pulls. I actually picked mine up at Hobby Lobby! I wanted pulls that I could loop a piece of twine through to hang the fresh herbs.
Also, I must mention that since I'm pretty fly by the seat of my pants when it comes to DIY, I didn't measure or make sure my pulls were level. I just eye-balled it and went for it. Don't be like me! Measure, and make sure those holes are level, because if they aren't it will bug you to no end!
After drilling the holes, attach the drawer pulls. Then loop a piece of twine through each pull so they are ready to hang herbs!
Prime the chalkboard portion by rubbing a piece of chalk all over, then erase. Write the name of each herb you hang so you can keep track. Using a chalkboard is great because if you grow different plants next year you can just change up the labels!
Those vintage tins actually came from my mom. She had the whole set–flour, sugar, tea and coffee–and gave them to me. The sugar and flour tins are actually being used in my pantry, but the tea and coffee tins go great on top of the new shelf.
This shelf turned herb drying rack makes me miss the shelves I made for our kitchen in our first home. I dismantled a pallet to make shelves and put all of my vintage crocks and gadgets on them. They looked so nice and added a great rustic touch to the kitchen. That was back before the farmhouse style craze, so you could say I was almost a trend setter 😉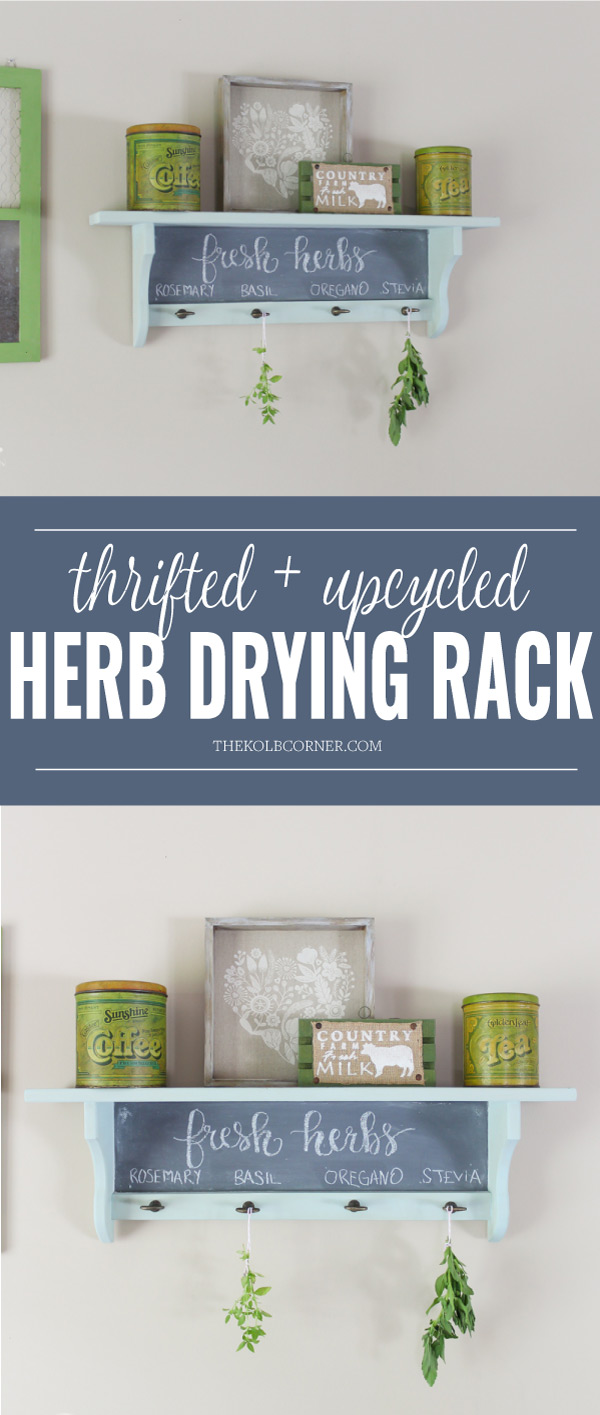 ---
And now for more thrifty goodness!
Check out what my fellow upcyclers created below!