This post may contain affiliate links for your convenience. Read our disclosure policy.
You can get all the flavor of Rotisserie Chicken without the hassle! Try this slow roasted rotisserie style chicken for your next family dinner.
For Christmas dinner I decided to make a rotisserie style chicken. Even though both of us were sick, and my husband wasn't really in the mood for a big fancy meal, I went ahead and made my favorite chicken dinner.
This Rotisserie Style Chicken is SOOOO easy to make, and turns out juicy and tender every.single.time. I actually got the original recipe HERE a few years ago from All Recipes (way back before Pinterest was even thought of), but have adapted it to my taste as the years have gone by. What's even better is you can usually find a really good sale on whole chickens. I got this one for $0.87 per pound!
Besides the chicken you'll need an onion, garlic powder, white pepper, black pepper, cayenne pepper, paprika, ground thyme, and salt. I start by taking out the innards and neck. If I'm lucky enough to get a gizzard and heart I do cook them in the chicken because my hubby LOVES them. These days though, I usually only get livers.
Anyway. After you take out the innards, rinse the chicken in cold water, inside and out, and then pat it dry with a paper towel. Make sure you get the excess water off, or else your spice rub will mix in with the water and can run off.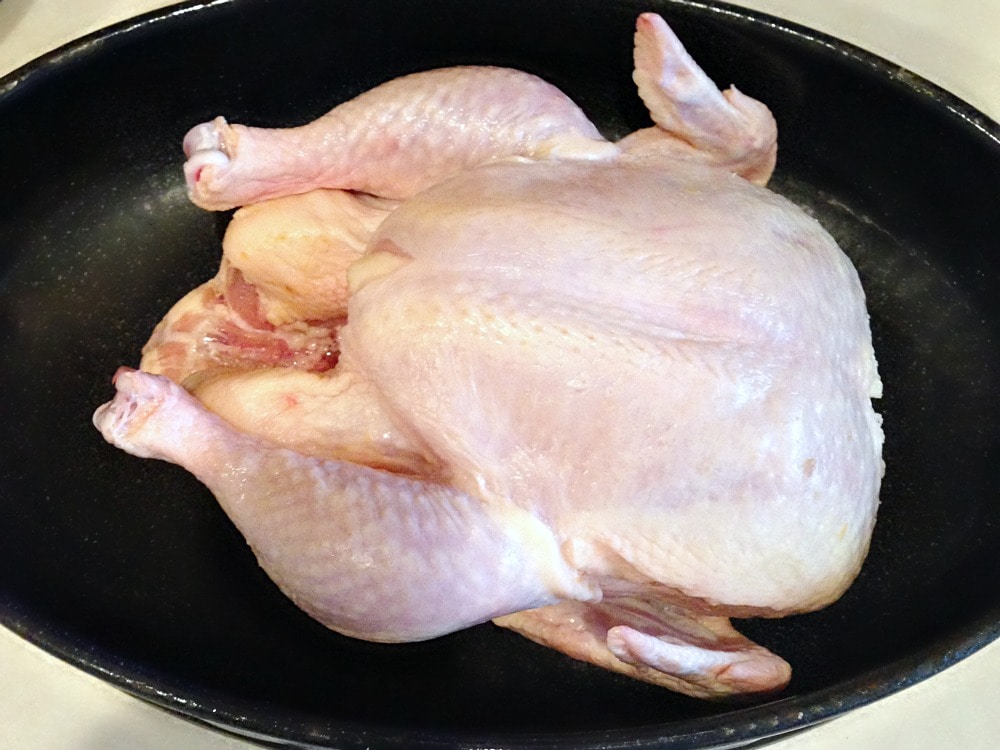 Next you'll make a rub out of your spices. I don't usually measure mine out, just kind of eyeball it. After you have all of them mixed together, you will want to rub it on the chicken, making sure you get top and bottom and everywhere in between. Then stuff it with the onion quarters.
If you have a bigger chicken, here is a trick you can do instead of tying up the legs. Cut a slit on each side of the chicken where the leg bone touches and stick the end of the bone into the slit. This will keep the legs in place while it roasts.
Alright! Now, you can wrap this baby up and let it chill in the fridge for a few hours to "marinate", or you can be impatient like me (or forgetful)and just stick it straight in the oven.
Roast that beautiful creature, covered, for 1 hour, then uncovered for another 2 to 3 hours, depending on the size of your chicken. Mine was about 4.5 pounds and took closer to 3.5 hours to fully cook.
Looks yummy doesn't it?! I actually did the carving this time..usually I make the husband do it..and I didn't butcher it too badly! The best part is, you can use the leftovers to make a few more meals, and use the bones to make a homemade chicken broth.
Ingredients
3-5

lb

Whole Chicken

1

Medium Onion

quartered

2

teaspoons

Salt

1

teaspoon

Garlic Powder

1

teaspoon

Paprika

1/4

teaspoon

White Pepper

1/2

teaspoon

Ground Thyme

1/4

teaspoon

Black Pepper

1/4

teaspoon

Cayenne Pepper
Instructions
Pre-heat oven to 250

Combine all spices into a small bowl

Remove the innards and rinse chicken in cold water. Pat dry with a paper towel

Stuff quartered onion into chicken cavity

Rub spice mixture on the entire chicken. Make sure to coat the whole surface.

Place chicken into a roasting pan, cover and place in oven for 1 hour

Remove cover on roasting pan and roast for another 2 to 3 hours, or until chicken reaches internal temperature of 165 F

Remove from oven and let stand for 10 minutes before carving.
Nutrition
Serving:
1
grams
|
Calories:
1499
kcal
|
Carbohydrates:
16
g
|
Protein:
166
g
|
Fat:
82
g
|
Saturated Fat:
23
g
|
Polyunsaturated Fat:
50
g
|
Cholesterol:
526
mg
|
Sodium:
5214
mg
|
Fiber:
4
g
|
Sugar:
5
g
More dinner ideas: