Upcycled Succulent Planter
This post may contain affiliate links for your convenience. Read our disclosure policy.
Take a thrifted pot and give it fresh life by making it an upcycled succulent planter. Find the tutorial below.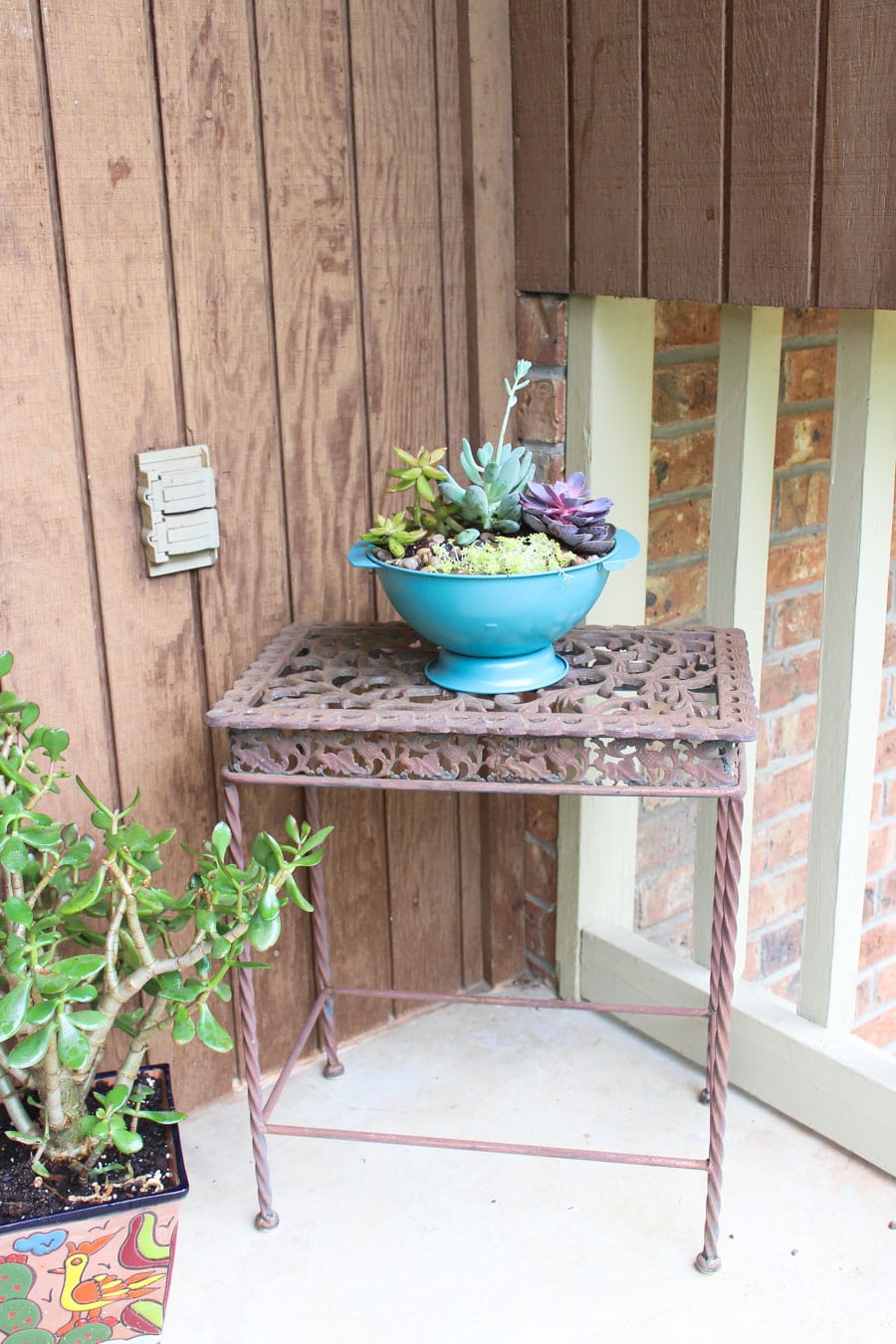 I know, I know. I have been on a DIY planter kick lately, but I just can't help myself! Spring is (mostly) in full swing and before we know it school will be out and Summer will be upon us. It makes my heart so happy to see things in bloom, and to be able to get my fingers in the dirt again. Yes, even if I have trouble keeping things alive, I still love to play in the dirt! That's why I love this upcycled succulent planter so much!
What started as any ordinary metal pot at the thrift store was transformed into a pretty upcycled succulent planter with just a few supplies. This little beauty really brightens up my front porch and the colors compliment each other so well! Scroll down to read the full tutorial on how I made it!
This project is part of my monthly Thrift Store Upcycle Challenge. I've teamed up with several other thrifty bloggers to bring you tons of ideas and inspiration for your next thrift store haul. You can see what the other ladies created at the end of this post.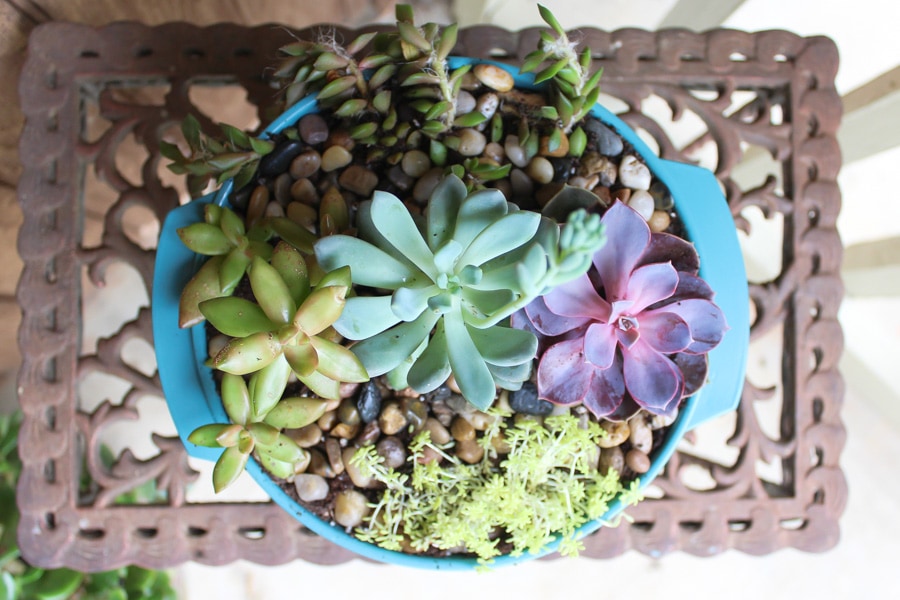 I found this interesting pot at the thrift store a few days ago. I'm still not completely sure what it's supposed to be, but for $2.00, I figured I could easily turn it into a planter for my succulents. At least the succulents that survived the winter indoors.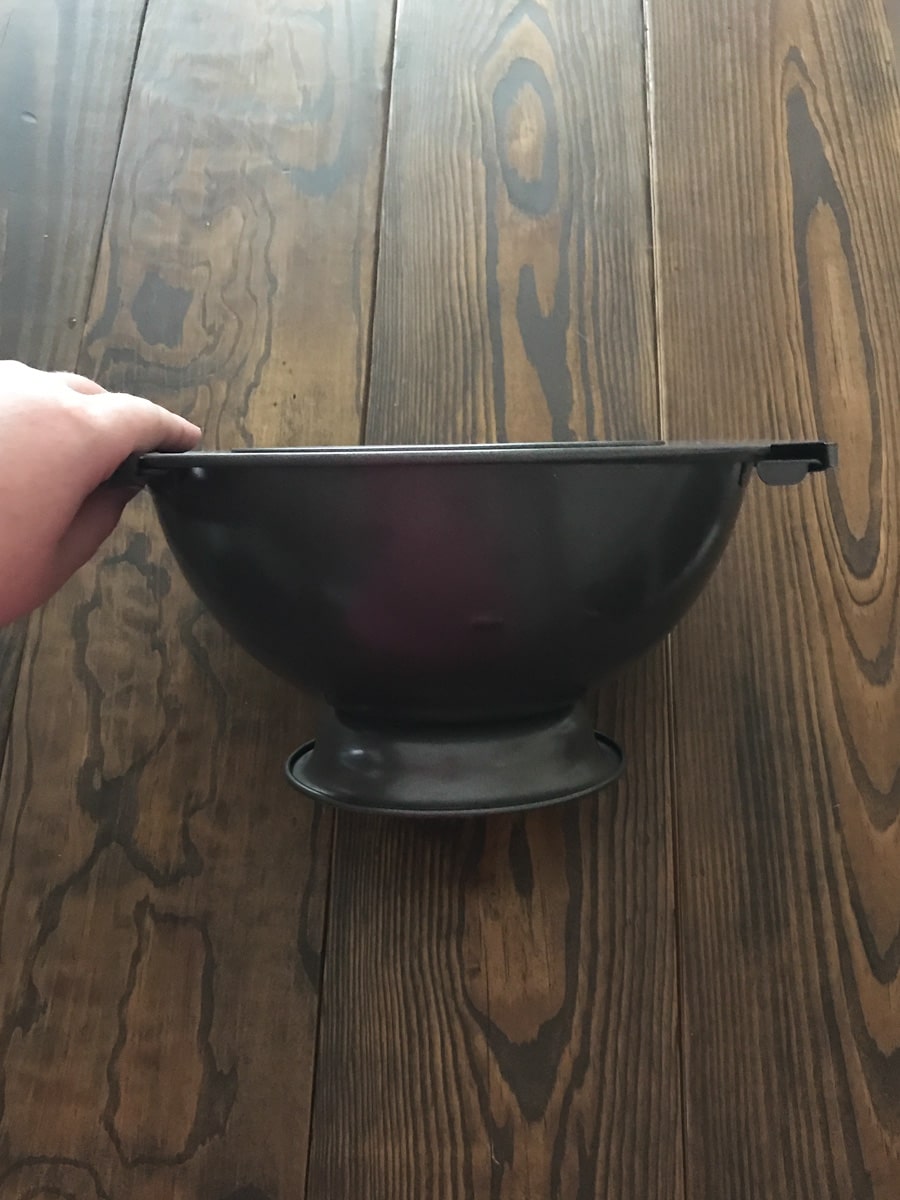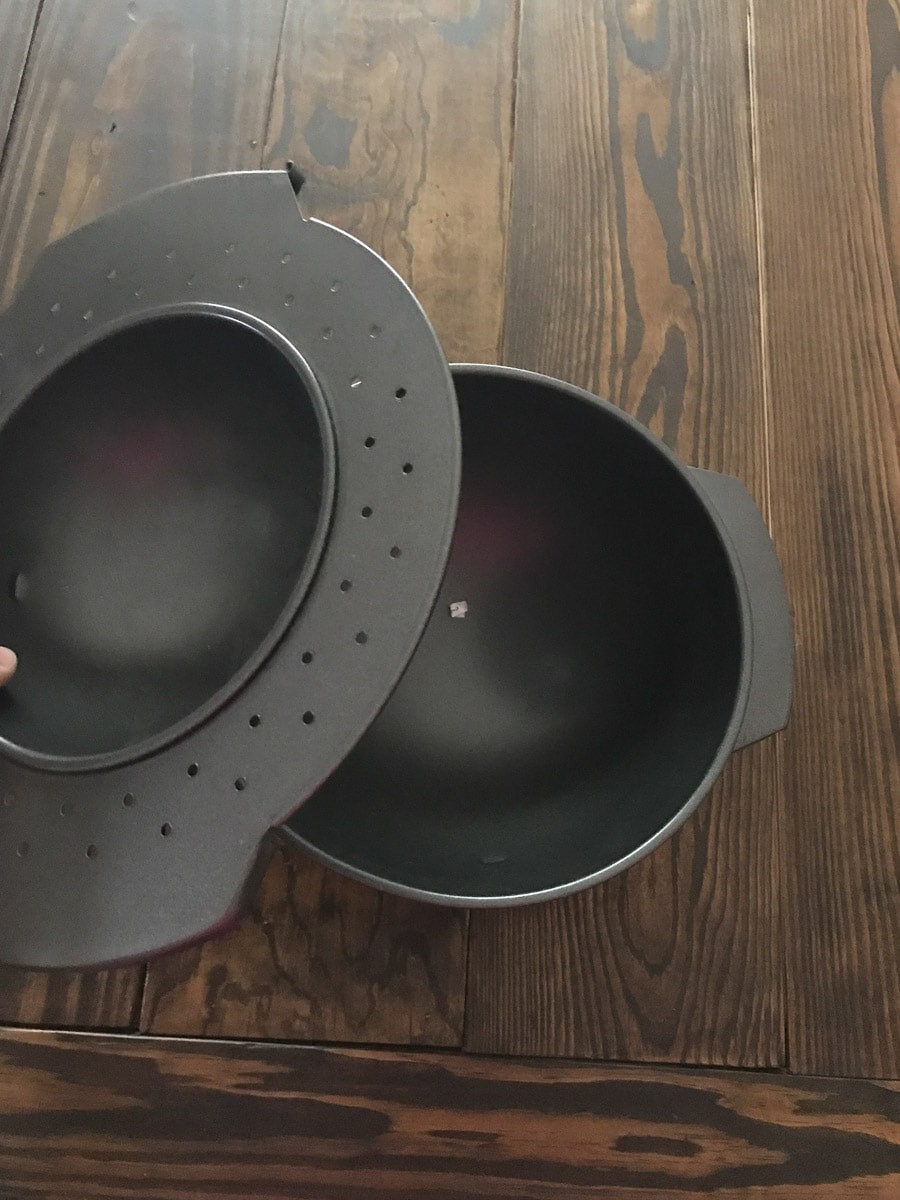 If you happen to know what this pot was used for, leave me a comment! I'm interested in knowing.
To me it looks like some sort of colander type of contraption, but that seems like more trouble than it would be worth. Either way, it made a beautiful upcycled succulent planter, so I'm happy with it!
Upcycled Succulent Planter
Items you'll need:
Metal pot
Spray paint (color of choice)
cactus/succulent potting soil (I use Miracle-Gro)
succulents
First things first-Clean your pot really well and let it dry completely.
Next, apply 2-3 coats of spray paint letting it dry in between coats. Mine only took 2 coats, but your pot may need more than that.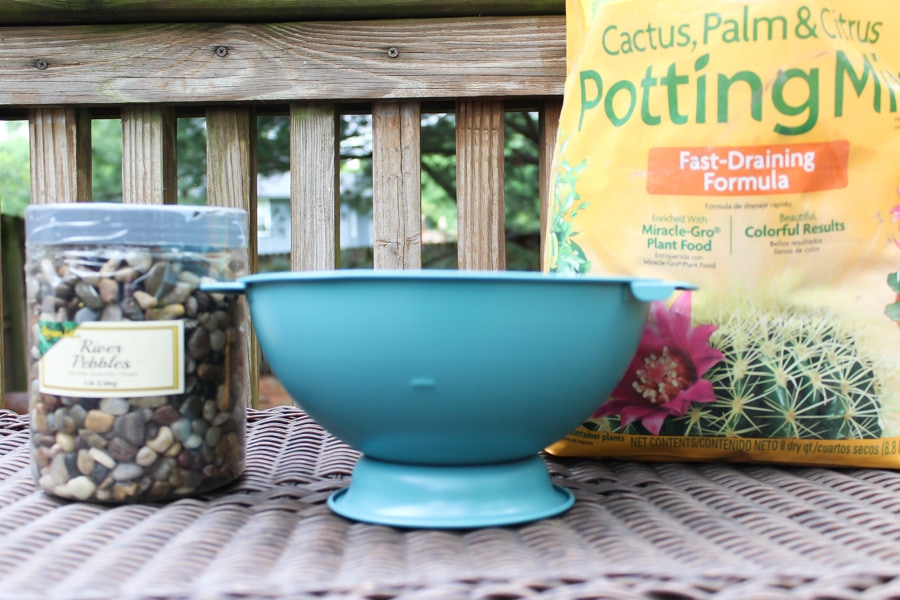 Once the paint is completely dry, add a 2 inch layer of river rock to the bottom of the pot. This will make sure you have enough drainage for the succulents. Depending on the pot you are using, you could try drilling a hole in the bottom with a metal drill bit. My pot enamel was actually pretty thick so I didn't chance drilling a hole. The rocks really help with drainage.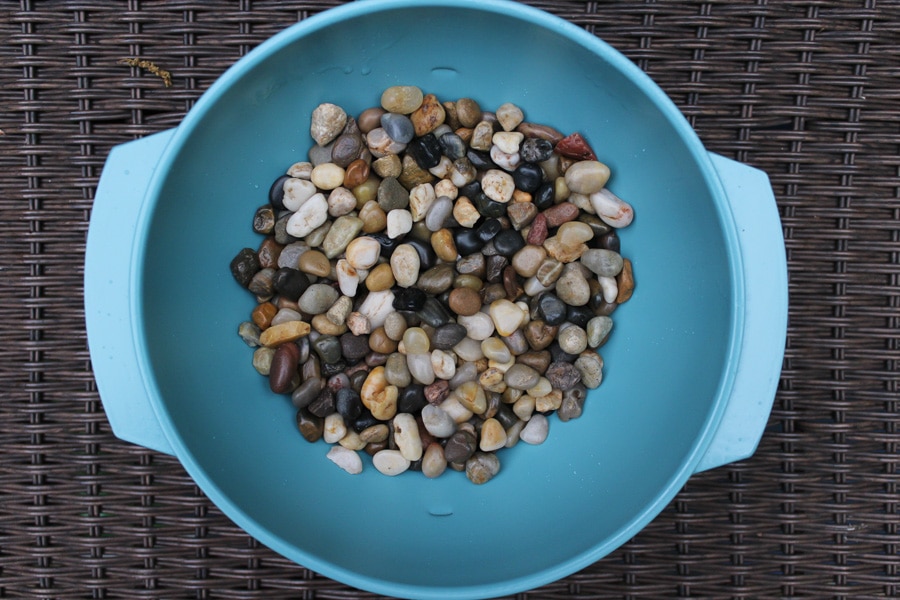 Fill the remainder of the pot with succulent potting soil, leaving about an inch from the top. You will fill that in later.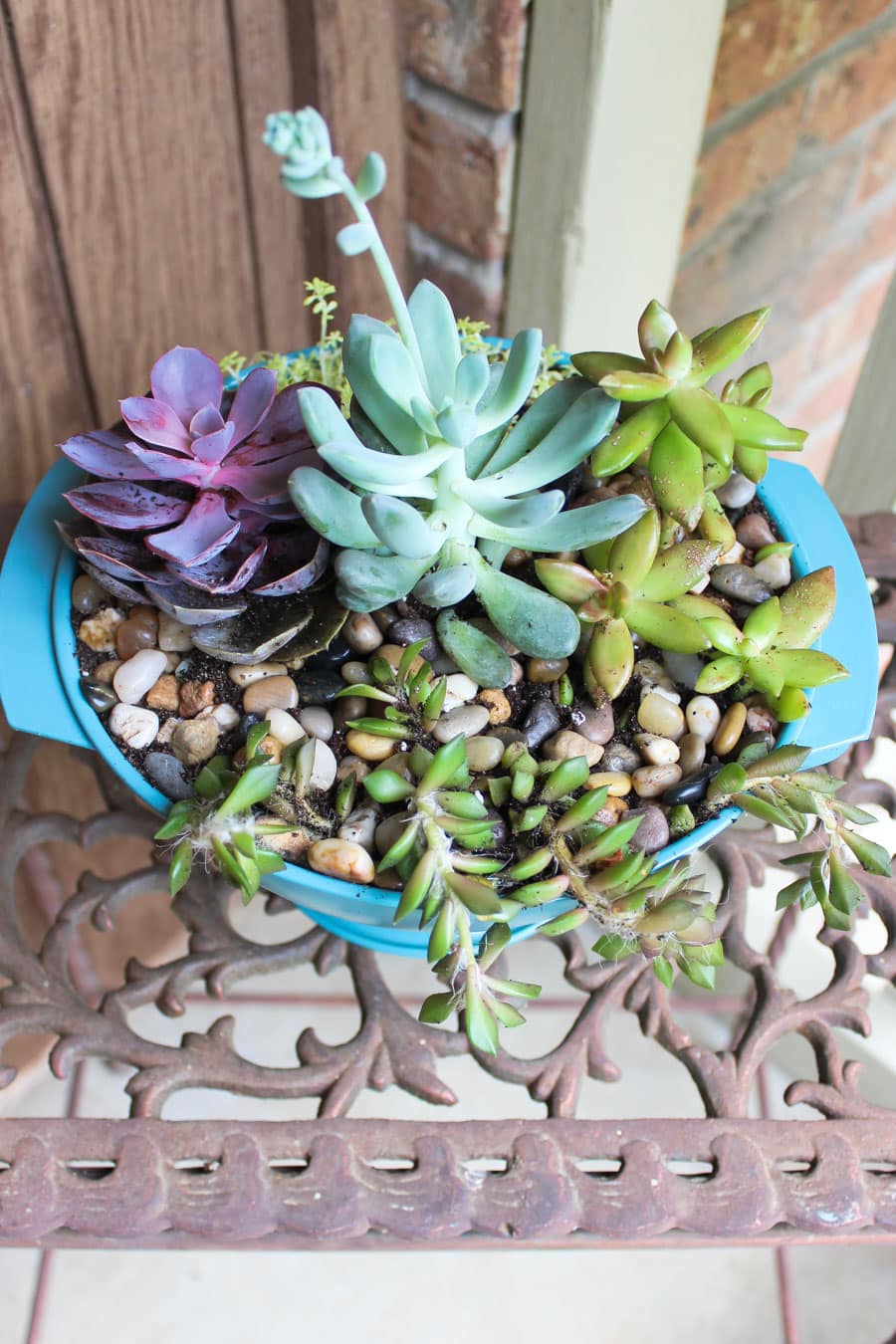 Next, arrange and plant the succulents how you like. Fill in dirt around the base of the succulents to ensure proper root coverage. Use a mix of short, creeping type, round and tall plants to give the pot more interest.
Once planted, cover the soil with more river rock to give it a nice, finished look. Then stand back and admire your work!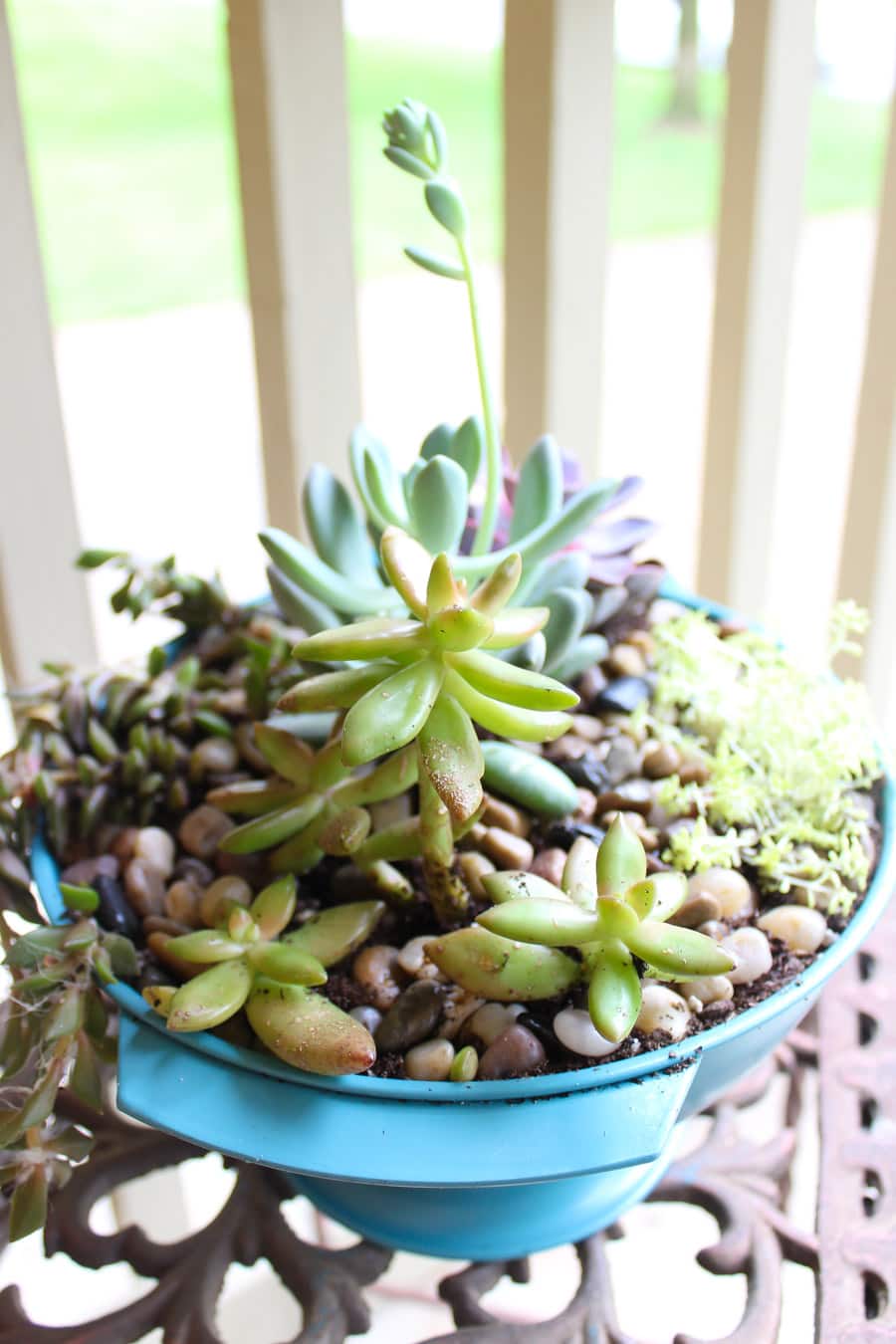 Remember, succulents like it warm and dry. Be sure to place the planter where they will get plenty of light, and also be out of direct downpour during the wetter months. When I snapped the finished pictures it was so cold and rainy out, I actually ended up bringing all of my plants inside. Mother Nature just can't seem to make up her mind!
---
And now for more thrifty goodness!
Check out what my fellow upcyclers created below!