DIY Vinyl Storage Basket | Thrift Store Upcycle
I'm a sucker for baskets. Any shape any size basket, I don't discriminate. That's why when I spotted this big floor basket at a thrift store last month, I snatched it up real quick. The price tag was more than I would have usually paid, but I knew I could give it a pretty makeover and turn it into a vinyl storage basket. Those rolls of vinyl are hard to keep stored away where they don't get bent, unraveled or just thrown in a corner. This vinyl storage basket really helps keep my office neat and tidy, plus it's pretty too.
And with a new month means a new Thrift Store Upcycle challenge! This month I have teamed up with 31 other bloggers to bring you loads of thrift store inspiration for your own home. If you love a bargain, and giving something old a new lease on life you will definitely want to see what the rest of this talented bunch came up with! Check out the bottom of the post to see their beautiful projects.
The Rules:
Upcycle an item(s) from a thrift store, resale store, or garage sale into a new piece of decor.
There's no monthly theme.
There's no budget to stick to.
Meet the Hosts
Amanda | The Kolb Corner Erlene | My Pinterventures Kim | Made in a Day
Dru | Polka Dot Poplars Maureen | Red Cottage Chronicles Pili | Sweet Things
Shirley | Intelligent Domestications Debra | Shoppe No. 5 Marie | DIY Adulation
Chelsea | The Johnsons Plus Dog Jes | My DIY Envy Ann | Duct Tape and Denim
Molly | Just a Little Creativity Ashley | 3 Little Greenwoods Kimm | Reinvented
Kim | Farmhouse Made Victoria | Dazzle While Frazzled Sara | Twelve on Main
Chelc | Inside the Fox Den Sue | A Purdy Little House Michelle | Our Crafty Mom
Sherry | Savvy Apron Jennifer and Vicki | 2 Bees in a Pod Lora | Craftivity Designs
Ali | Home Crafts By Ali Denise | My Thrifty House Colleen | Life on Kaydeross Creek
Toni | Small Home Soul Michelle | Michelle James Designs
Medina | Grillo Designs Karen | Dragonfly & Lily Pads
Make sure you follow our board on Pinterest for more upcycled decor inspiration!
---
DIY Vinyl Storage Basket
I started with this pretty, but a little banged up floor basket that I picked up at Saver's. The price tag was a little more steep than what I am usually willing to pay for a basket at a whopping $6, but this basket was just calling my name. There are a few broken pieces of wicker, but nothing too terrible. The ONLY issue that really bugs me about this particular basket is that it sits a little lopsided. That made taping off even stripes a little more difficult that I would have liked, but in the end it turned out well.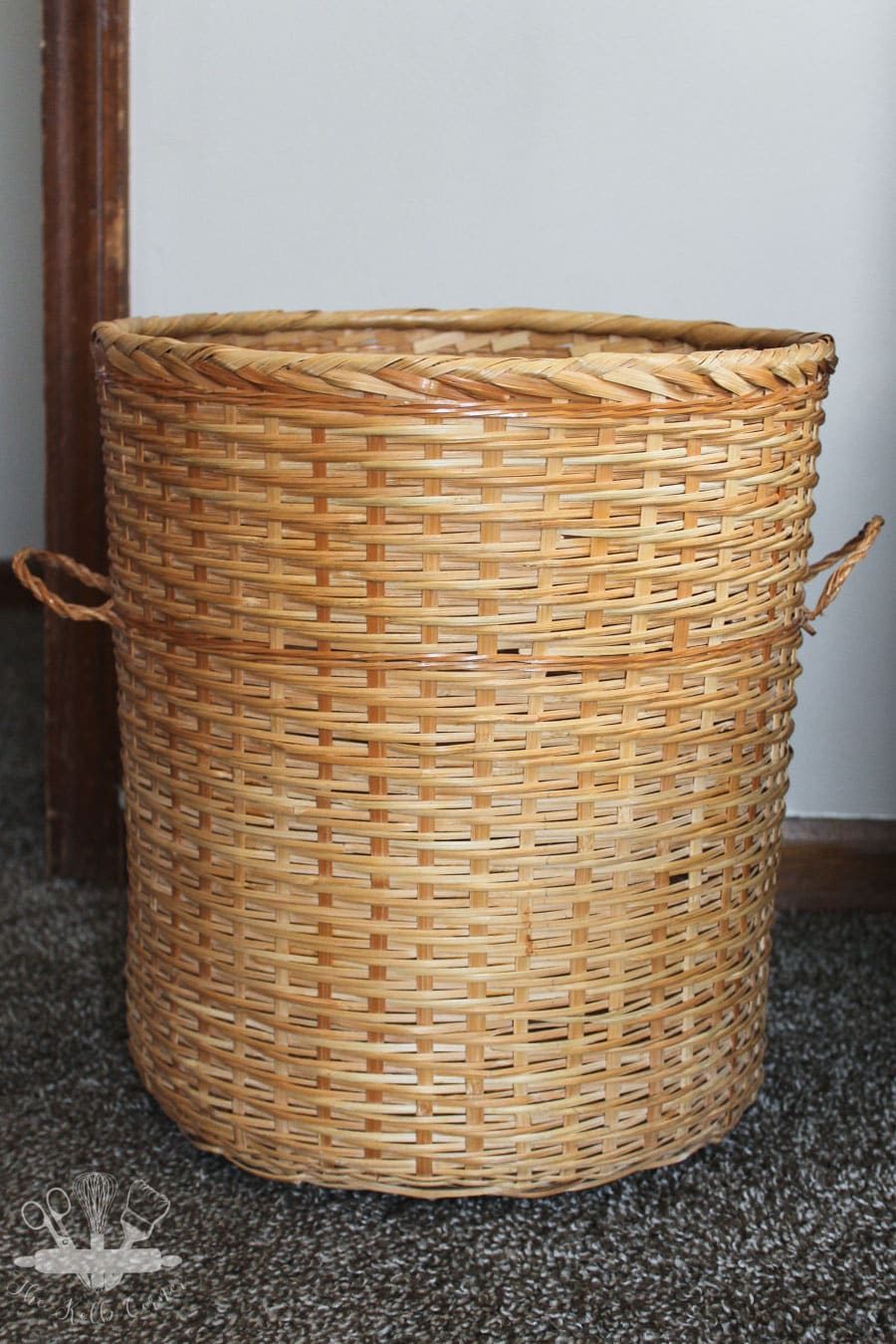 What you'll need:
Large thrifted basket
Paint (The white is spray paint, the coral and grey are latex samples from Home Depot)
Paint brush
Newspaper
Chalk or chalk marker
Make sure you clean the basket really well before doing anything else. I am a little bit OCD when it comes to cleaning things I pick up from a thrift store. You just never know what kind of gross stuff might be lurking on the surface of these things. I found that a really diluted vinegar solution works pretty well. I keep some stored in a spray bottle for just such projects. Spray some on and wipe off. My basket was actually pretty clean surprisingly!
Next, tape off the bottom 1/4 of the basket. I took newspaper and covered everything but the bottom I was going to spray paint, and taped it in place with the frog tape. Make sure you get all the edges of the tape secured as smoothly as you can to prevent any leaking when you paint.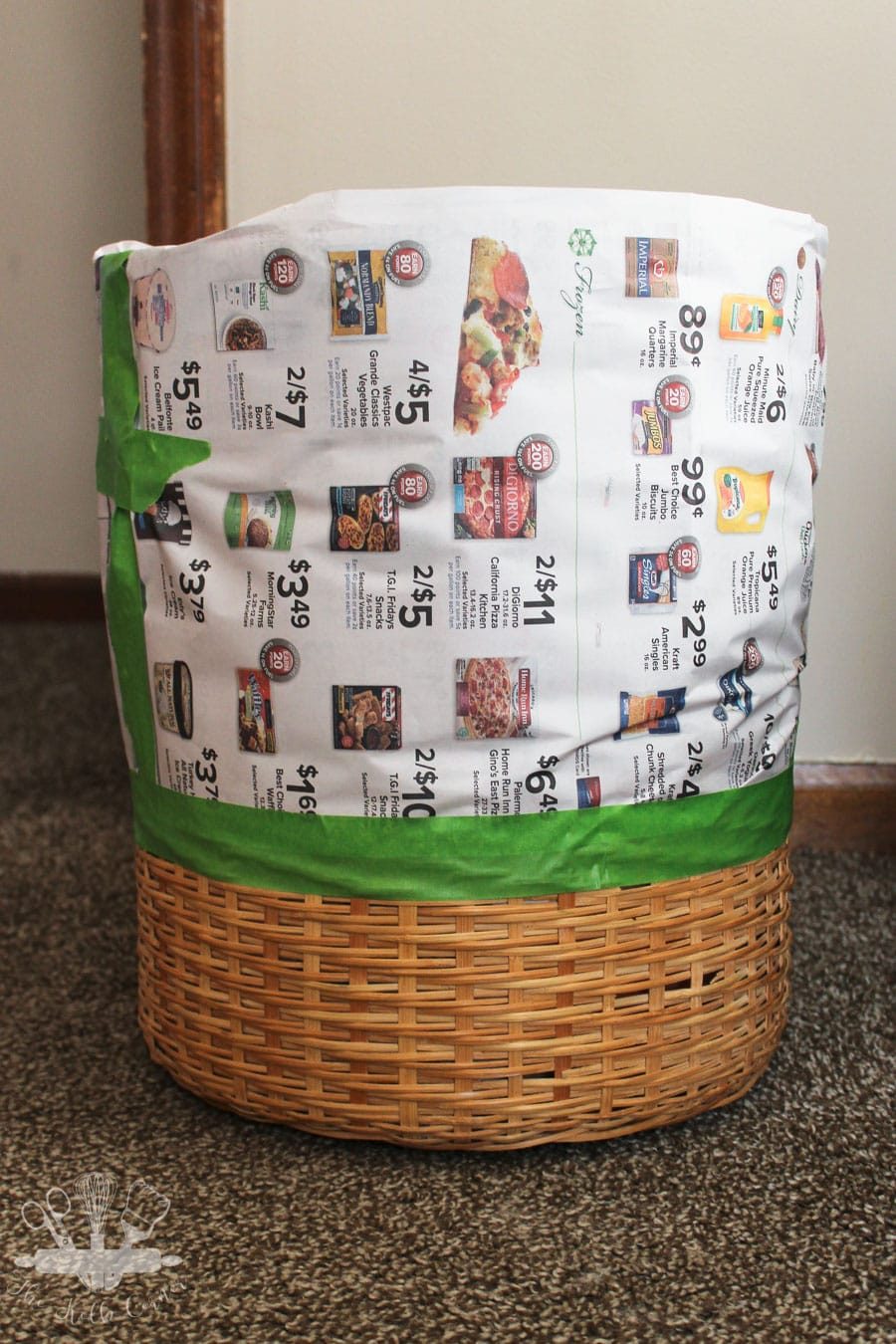 I also put newspaper on the inside of the basket as well so that the paint didn't spray through the wicker and to the inside. I really did not want to fuss with painting the inside of the basket.
Give the basket a few good coats of spray paint. My favorite is this kind by Rustoleum. It really adheres to just about any surface, and in less coats. This vinyl storage basket took two coats.
Once the bottom is completely dry, tape off your next stripe. If you are using spray paint again you will want to cover all surfaces you aren't painting with newspaper. Since I was using a latex paint sample that I already had (from previous office projects) I didn't need the newspaper.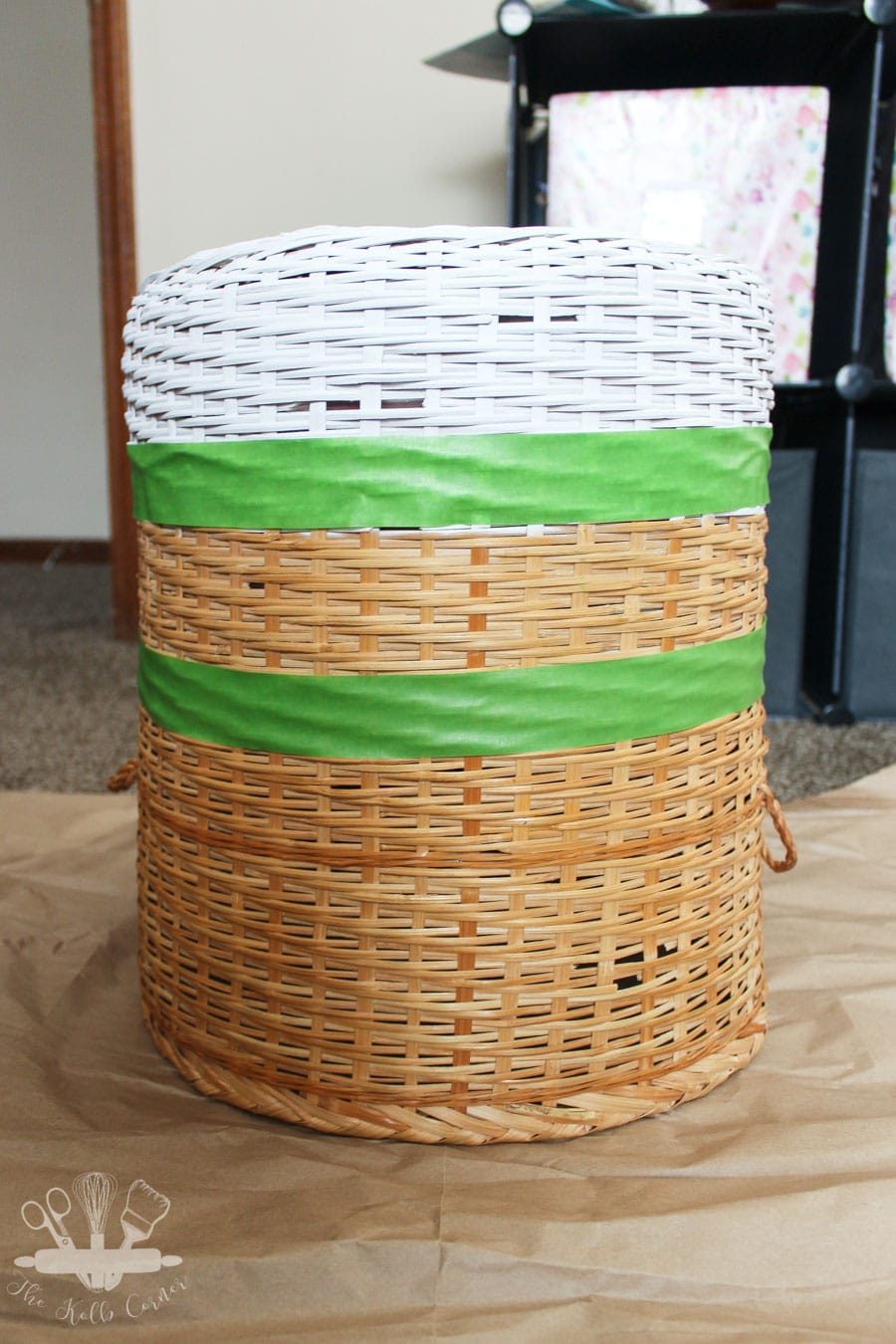 After painting the coral stripe, I decided the top needed a little extra something. I painted the very top weave with a light gray latex paint and lined it with white paint. I did both free hand because I was impatient. But for crisp and precise lines you definitely want to use the tape to mark off the spaces. Plus the frog tape goes on easily and comes off so clean!
The final touch was adding a cute chalkboard label that I picked up from the dollar spot at Target. I wrote "vinyl" in a white chalk marker, threaded the jute twine through a gap in the wicker and tied it in place. The coral on the handles was an after thought because I can never just leave well enough alone 😉
I love having such a functional storage solution that also matches the rest of my office decor perfectly! Now I just need to buy more vinyl to put in my vinyl storage basket and I'll be all set!
---
And now for more thrifty goodness!
Check out what my fellow upcyclers created below!