6 Weeks of Organization–Week 6–Office
This post may contain affiliate links for your convenience. Read our disclosure policy.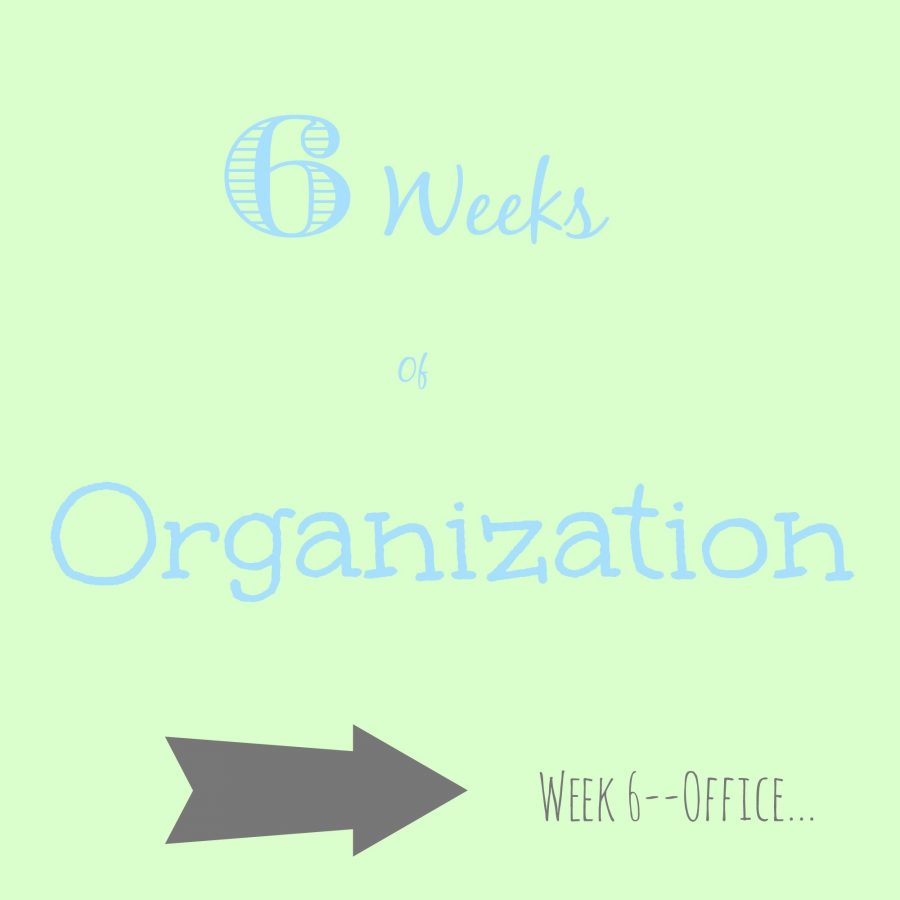 My final week of organizing my house is finally here! I'm a little bit further behind than what I had anticipated, but it was so worth it. My mom came to visit us last weekend and believe me, it was a much needed break from the day to day. We were able to enjoy some pretty decent weather too! At least for her it was decent weather–being from Illinois and leaving snow to come visit–but for me it was still slightly chilly. We visited the local botanical gardens and got to see some things in bloom. Of course we also went shopping, but I practiced great restraint and didn't buy anything for the house–just a few great deals I couldn't pass up on a pair of jeans and a top. I also got some new tennis shoes for work since my current ones were so worn out. I definitely got my frugality from my mom. When we were shopping we would both beeline for the back of the stores to check out the clearance section 🙂 I can't wait to get together again!
So back to the main topic. My only day off was Sunday this weekend so I had to squeeze a lot of chores into a small time frame. I did, however, find time to get my office space cleaned up so that's what we will focus on for my last organization project–for now. After getting groceries, fighting with a Target employee, cleaning the house and prepping for dinner, I sat down at my desk and started getting things cleaned up. My desk can get really unorganized very quickly. Since I'm the only one using it I can only blame myself. When I do a quick pick up job I tend to put things into smaller, neat piles–but I finally got sick of looking at all of those piles so I decided to do something about it.
I have a leaning bookcase that I got from a former co-worker when he was remodeling his home. It matches my desk pretty well, and until now, has been sadly under utilized. I also had a million magazine holders that were all EMPTY. Seriously, they were just sitting on the bookcase for decoration–and not doing a very good job at it either might I add.
I also had 2 printers–one is just a normal inkjet that prints color and black and white. The other was a printer I snagged from my previous employer when we went through a computer/monitor/printer update. It's a laser printer and was what I was using to print all of my coupons. The cost for ink on this was SO much better than using the inkjet, not to mention the inkjet makes a terrible popping noise right before printing EVERY.SINGLE.PAGE. Well, my wonderful, graceful, must get into everything, cat–JACK–decided it would be fun to swipe at the paper it was printing out one day and broke my FREE printer. Now it prints nothing<——and currently as I am writing this, the same precious kitty just knocked over my speakers. Seriously?
Here's the before picture
I went ahead and cleared everything off of it and got rid of the printer that no longer works. I took all of my magazine holders and filled them with my supply of printer paper, cardstock, labels, photo paper, catalogs, and–you guessed it—magazines. I had 2 left over that I generously donated to my husband for his office. I think they are still sitting in the same place he put them when I gave them to him.
I also put all of my cook books and home binders up on the shelves, along with these cute gray baskets I found at Target last year. In the baskets I put office things such as my stapler, post its, glue, markers, crayons, CD-R's, etc. AND I finally put a picture of my precious puppy dog in the "I love my dog" frame. It's sat empty for the last year. There's no time like the present!
In the blue 3 drawer organizer I have clear page protectors, envelopes, more sticky notes, tape, etc.
There! That's better.
Here's a closer look at my newly labeled magazine holders.
On to the desk! Had I known when I bought my desk how much it was going to annoy me to clean the glass tops, I would have seriously reconsidered the purchase. I love that I have the extra table space, but I HATE the glass. Not only does it show everything, but the cats are constantly getting on it to look out the window and leaving hair everywhere. And to put the cherry on top, the main desktop has scratches all over the glass. Not sure where that came from, or when, but it seriously annoys me. Maybe I can talk my husband into letting me trade this one in? 😉 After all, I need a space that inspires me, not a space that irritates me.
YUCK! So you can see a good example of my "small piles" method of cleaning up here.
There's not really a whole lot of explaining that goes into what I did. Basically I took all of the papers, mail, bills, etc and either filed them, shredded them, or put them in their new home.
Here's after results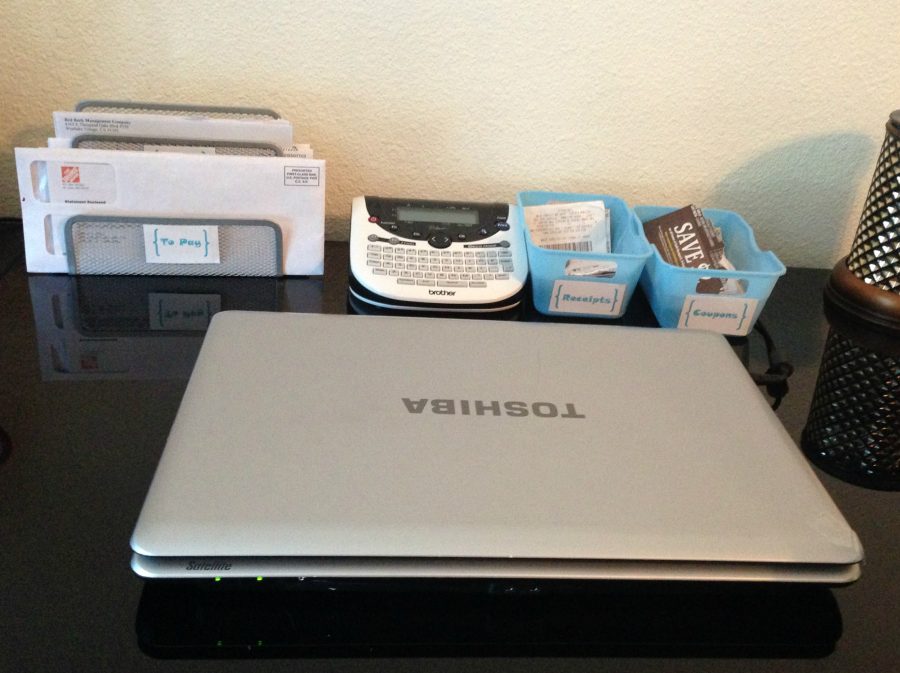 I think my favorite part is the 2 little Target baskets that I have for receipts and coupons. Most of the piles of paper I had stacked all over consisted of many receipts and coupons that needed to be filed in my coupon binder. Now they have a place to go until I have time to sort through them. I also went through my mail holder and made 2 stacks. One for bills that need paid, and another for mail that needs to be filed away. Everything else gets shredded immediately 🙂
I also hung some DIY artwork I made awhile back. I glued scrapbook paper to some foam board and hung them on the wall using sticky mounting squares. It's not fancy, but at least it puts some color on the bleak eggshell colored walls.
To add even more color I threw in this cobalt blue wine bottle with some plastic peonies I had left over from my wedding decor. It works. Decor on a dime. Ok–decor from crap I have lying around my house.
What do you think?