Homemade Sweet Potato Dog Chews
This post may contain affiliate links for your convenience. Read our disclosure policy.
A friend told me about these Homemade Sweet Potato Dog Chews she had found online and said how much her dog had LOVED them, so I decided to give them a try yesterday. Turns out, I had pinned a recipe like it from Pinterest awhile back! You can check out the recipe HERE. You can also find some other cool homemade dog treats on their blog as well!
Before I show you how I made these, let me just mention, Delilah hardly ever gets treats. If she does, it's a bag of high quality stuff that I got clearanced out, or something I got as a freebie like the Hill's Treats I got at the first of the year. If she does get something other than her normal dog food, its a beef rawhide, or carrots or some other vegetable. I know, I know, I am SUCH a mean dog mommy, but seriously, this dog has had so many issues with skin allergies, that I don't like pumping her full of crap. If only I could practice the same amount of restrain for myself, right?
SO when I heard about (and saw) these sweet potato chews, I had to give them a try. If not just for my dog's sake, but to use up a sweet potato I happened to have hanging around in my pantry. Why I bought one I have no idea, since I don't eat them. I guess I had the idea to make sweet potato fries at one point, but we see how that worked out.
It really was pretty easy and I had everything I needed already in the pantry.
1 large Sweet Potato
Olive Oil
Cinnamon
So I sliced up the sweet potato into nice thick slices <—if you slice them too thin, they may get crunchy instead of chewy. I had this happen to a few slices
Next, coat the slices in some olive oil. Just enough to coat them, you don't want the sweet potato swimming in oil.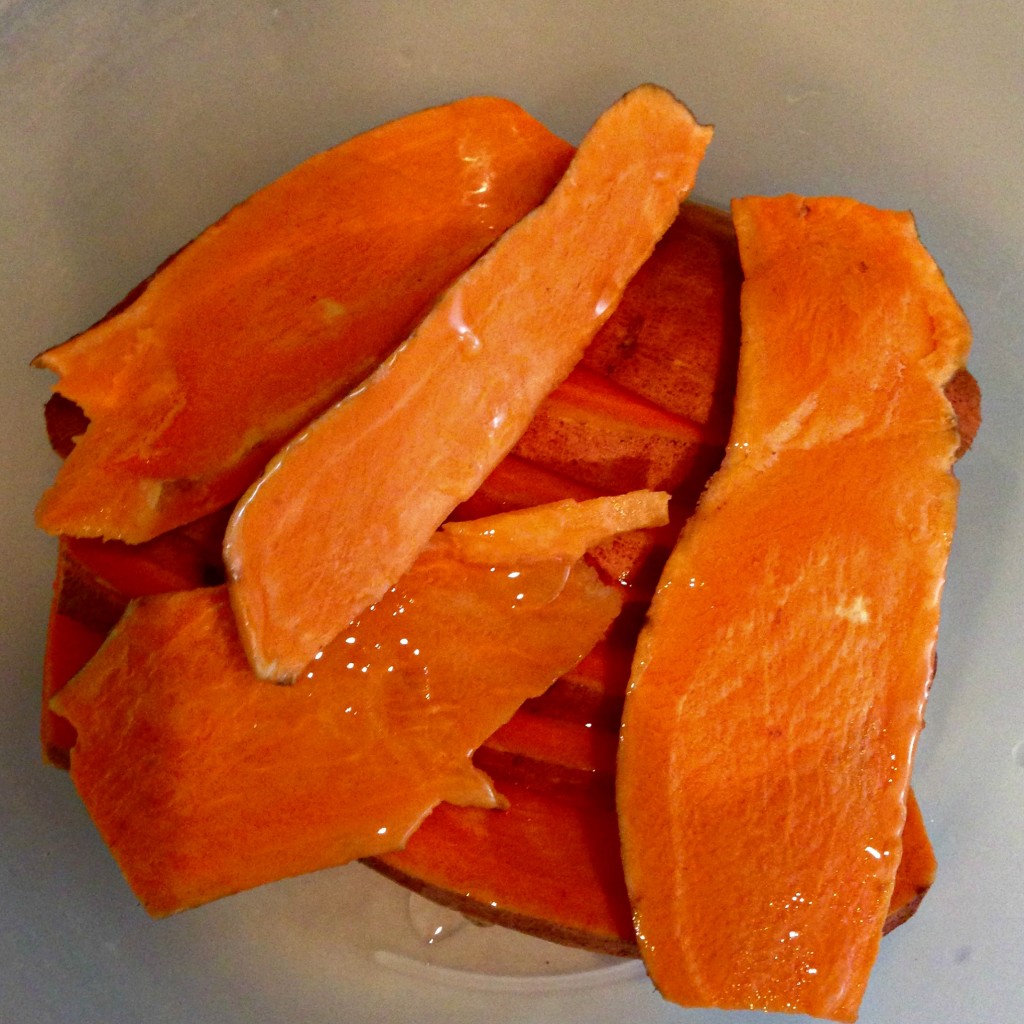 Lay them out on a cookie sheet, then sprinkle with cinnamon. Not only does cinnamon add a nice flavor to these chews, but I've learned that it has natural anti-inflammatory properties. Since Delilah also happens to have some elbow joint disease, this was music to my ears. I think the next time I make a batch of these, I will sprinkle some of her joint supplement on top, as it is also flavored with cinnamon, among other flavors.
Bake them for 2 1/2 hours on 250 degrees. I may have baked mine a little less than that. You want them to be pretty dehydrated so they become chewy, but not to the point that they are crispy. Although, even if they become crispy, I'm sure your dog will still love it.
After they have cooled completely, give one to your furry friend and watch the happiness on their face!
I love the last picture of her taking the treat! What I don't love is how gray her face is 🙁