Baked Chicken and Vegetables
This post may contain affiliate links for your convenience. Read our disclosure policy.
Want a simple, one dish meal you can throw together in minutes? This Baked Chicken and Vegetables is perfect, and is just as easy as it sounds. All you need is the chicken,vegetables, and a little bit of broth. Bake it in a dish for 30 minutes and you have dinner!
I start by chopping up all of my veggies–I used carrots, broccoli, cauliflower, and sweet potato, but you could use any vegetables you prefer. If you use broccoli I like to add that to the top because broccoli cooks faster than the other vegetables. This way the broccoli roasts more than cooks. I also chop up some garlic and onions to add to the flavor. Throw them in a 9×9 baking dish that has been lightly greased.
Next, add in enough chicken or vegetable broth to just cover the bottom of the dish. This just gives it enough moisture so the veggies don't completely dry out.
After you add the broth, season to taste. I use a combination of salt, pepper, paprika, garlic powder, oregano, and rosemary.
You can slice your chicken into thinner strips, or leave the breasts whole. I sliced mine up so they would cook a little faster. After they were added to the dish I seasoned them lightly as well.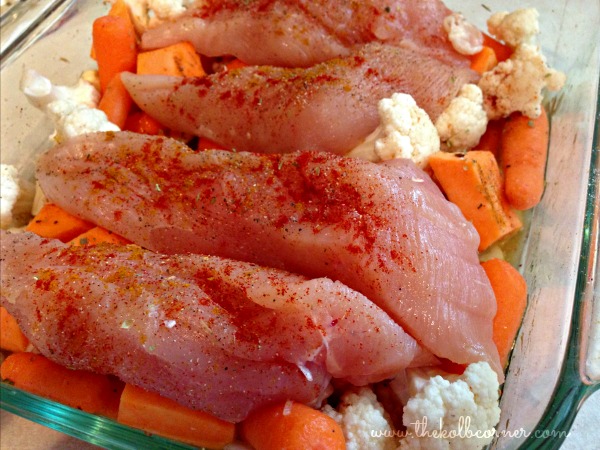 Now is where you will add in broccoli if you are using it.
Cover in foil and bake it for 15 minutes. Remove the foil and bake for 15 minutes more or until the chicken is cooked through and veggies are tender.
You can serve this with or without rice if you prefer. You can also be bad and add some shredded cheese to the top.
Overall this is a pretty simple, healthy meal.
Enjoy!
Ingredients
2

chicken breasts

sliced into strips

1 1/2

cups

baby carrots

1

cup

cubed sweet potato

1

cup

chopped cauliflower

1

cup

chopped broccoli

1/2

onion

chopped

2

cloves

garlic

minced

salt and pepper

to taste

1

tsp

garlic powder

1

tsp

paprika

1

tsp

oregano

1

tsp

rosemary

1/4-1/2

cup

chicken or vegetable broth
Instructions
Preheat oven to 350.

In a 9x9 glass baking dish, add in carrots, sweet potato, cauliflower, onion and garlic.

Add in broth until bottom of pan is just covered.

Sprinkle 1/2 of the seasonings on vegetables.

Place chicken breast strips on top of vegetables and sprinkle on the remainder of the seasonings

Pour broccoli pieces on top of chicken.

Cover with foil and bake for 15 minutes.

Remove foil and bake for 15 minutes more, or until chicken is cooked and vegetables are tender. Serve with rice if preferred.
Nutrition