This post may contain affiliate links for your convenience. Read our disclosure policy.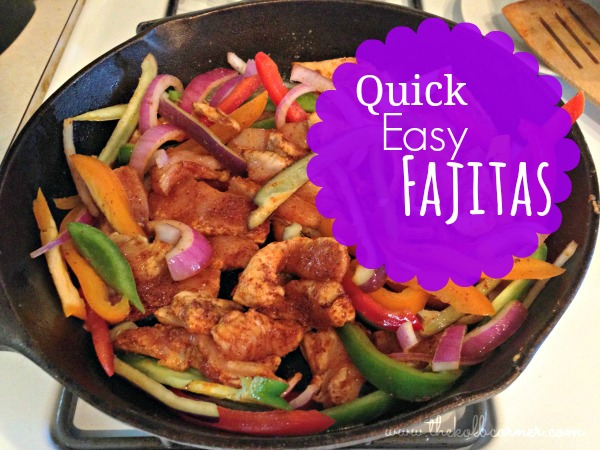 I'm sure you all know this by now, buy my husband and I LOVE Mexican food! We love it so much that we eat it weekly–sometimes twice weekly!
I thought I'd share with you how I make these super quick, super easy, fajitas. The secret to perfectly grilled chicken and caramelized veggies is using a Cast Iron skillet. Seriously, I've made these before in just a non stick skillet, and while they turned out OK, the Cast Iron really makes the difference. Think about it. When you order fajitas at a restaurant, they bring the meat and veggies out on a Cast Iron plate still sizzling-right?
Before I bit the bullet, I was always afraid to use the Cast Iron skillet I got from my mom. I was afraid that everything would just stick unless I used LOADS of butter or oil. Well, while meat may stick to the bottom while it is searing, you don't have to use loads of butter and oil to achieve the results you want. The trick is to heat it slowly and don't let it get too hot. Just like with my stainless steel cookware that I am still getting used to, you don't have to use high heat to cook something. I've also learned with meats that you need to wait until the pan tells you to turn the meat. Meaning, the pan will release the meat once it has been thoroughly seared on that side. If you try to turn it sooner, that is when you have the problem of it sticking.
OK enough about how to cook, let's get to the recipe.
I start by chopping up all of my veggies. I used green, yellow, orange and red peppers, as well as red onion. I also had a purple bell pepper we got at the Farmer's Market so I threw that in too. You could just use one color of pepper and onion, but I like things to look pretty 🙂

After you have your veggies chopped and ready, it's time to dice up your chicken. I used 1 large chicken breast, but you could really use any cut of chicken–legs, thigh, breast. Slice the chicken into thin strips, then dice each strip into 2″ long or smaller pieces.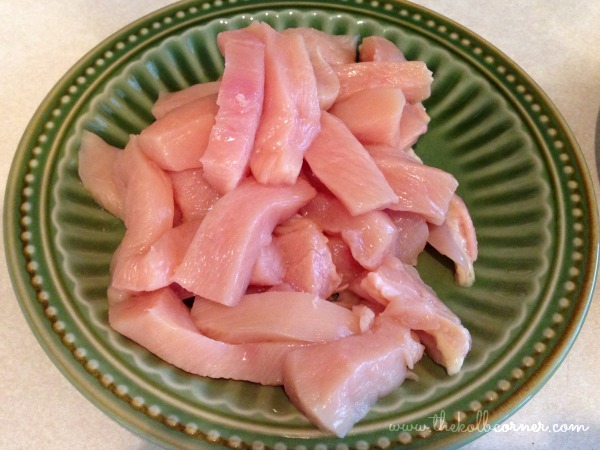 These pieces really turned out to be a little big so aim for smaller pieces–unless big chunks are your thing.
Next you'll want to heat up your skillet–you can use cast iron, stainless, non-stick or even a wok. Whatever you have will work fine–it just may not be as beautiful as with Cast Iron. OK I'm a little biased. Remember to heat it slowly though, even those of you using a non-stick.
Once the skillet is putting off a low heat, add some butter. I think I used a tablespoon, but you can add as little or as much as you'd like. I liked the flavor I got by using butter, but a type of oil would also be suitable. Make sure to coat the whole pan with whatever you choose to use.
Once the butter melts (or oil becomes hot) throw in your chicken and coat it with Taco seasoning, or Fajita seasoning.
Let the chicken cook for a few minutes, then add in your veggies.
After the chicken has completely cooked on one side, turn it, coat with taco seasoning, and continue cooking until the chicken is done.
Serve on tortillas, with cheese, sour cream, lettuce and guacamole.
Yummy!
Ingredients
2

chicken breasts

cut into 1-2" strips

Veggie strips of choice

bell pepper, onion, jalapeno etc

Taco or Fajita seasoning

1

tbsp

butter or oil

Tortillas

Toppings of choice
Instructions
In a cast iron skillet, heat butter on low-med heat until melted.

Add chicken, coat with seasoning, and cook for 2 minutes.

Add in strips of veggies and cook for another 5 minutes or until chicken is cooked on one side.

Turn chicken and coat with seasoning.

Cook chicken and veggies until chicken is done.

Serve on tortillas with sour cream, cheese, lettuce, and guacamole.
Notes
***Turn into a freezer meal by combine vegetables and chicken in a large ziploc bag. When ready to cook, thaw completely and cook according to directions above.
Nutrition