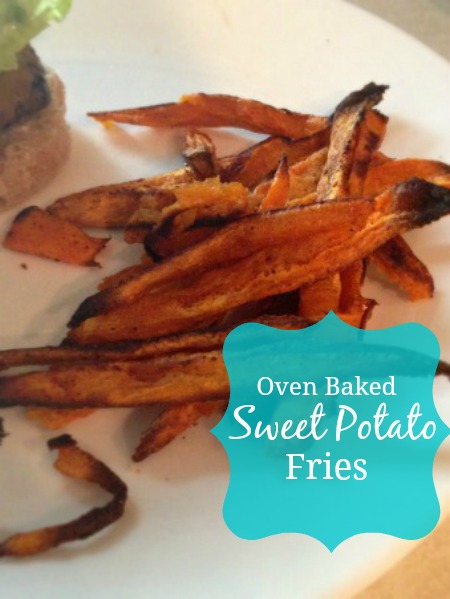 As most of you know, we recently started a 30 days of real food challenge–our goal being to eat only natural, unprocessed, chemical-free foods. So far we've been staying on track–even after a VERY tempting day at work yesterday where we had crackers and spinach dip, meatballs in BBQ sauce, and a meat and cheese tray. I avoided all of them like the plaque, much to my brain and stomach's dismay. Instead I enjoyed an all natural peanut butter and jelly sandwich on homemade wheat bread–very dense, chewy, homemade wheat bread–with a hard boiled egg. Wow, exciting huh?
Back to the point of this post…Last night for dinner we had burgers on the grill, with homemade whole wheat hamburger buns and oven baked sweet potato fries. I have attempted regular oven fries many times in the past. Sometimes they turn out GREAT and sometimes they are soggy. I figured I would give the sweet potato version a try tonight. You may remember that I don't necessarily like sweet potatoes in general–since I made the last one I bought into dog treats–but I do enjoy the occasional sweet potato fry.
So here's what you need–a large sweet potato, corn starch, coconut oil, seasonings of your choice.
I started by peeling the sweet potato–you can peel yours or leave it. Personally I am not a fan of the skins and I wasn't feeling too lazy so peeled for me! Next I cut the potato in half lengthwise.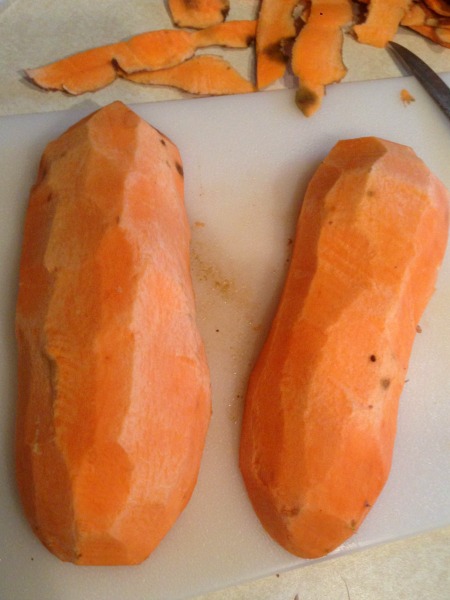 Then I sliced it into 1/4″ thick slices.
Then each slice got divided into 3-4 more slices. You could do thicker slices if your a fan of chewy fries. I like mine more crispy so I made sure to slice them thin. Just be careful they aren't too thin or they will burn quickly in the oven while the fatter ones take longer. Isn't that always the case? The fat ones are the last at everything–last to finish the race–last to be picked in dodgeball. OK, maybe that was just my childhood…
Anyway. After the potato was sliced up, I put them in a colander and sprinkled a little cornstarch over them. I've read that this helps create a coating to make the seasonings and oil stick better. I've never tried it before, but it actually does work pretty well!
Next I threw the slices in a bowl and coated them in coconut oil. You could use olive oil, or whatever oil you have on hand too. After they were all slimy from the oil I sprinkled on some salt, pepper, garlic powder, paprika, cayenne and a little bit of cinnamon. You could use whatever seasonings you like–I bet a rosemary, sage and thyme combo would be good too. The blend of the spicy and sweet with the cayenne and cinnamon was pretty dang good. Sweet with a little bite.
After every slice was coated and seasoned I spread them out haphazardly on a cookie sheet lined with foil. You may want to grease the foil with a little bit of oil too. I didn't and they were really hard to turn half way through baking.
Put the cookie sheet in the oven and bake for 15 minutes on 450. After 15 minutes turn the fries and cook for another 15 minutes or until they are golden brown. You can shut off the oven and let them hang out for another 15 minutes to crispen up, or if you are about to eat your own arm off due to starvation, you can eat them right out of the hot oven. Just make sure to blow first or you may win yourself a burnt tongue.
Don't mind the pieces that look burnt. They aren't–but I did let them go just a tad too long in the oven, because I like them extra crispy.
Serve as is, with ketchup, or if you want to get fancy–sprinkle some Parmesan cheese on top. No fresh Parmesan or homemade ketchup in this house, so we ate them as is.
[gmc_recipe 923]