This post may contain affiliate links for your convenience. Read our disclosure policy.
Snag your free printable meal planner to download and use to take control of your evenings and never ask yourself what's for dinner again!
Do you want to save time and money at the grocery store? Are you tired of letting good food go to waste? Do you struggle with the task of deciding what's for dinner each night?
I was in the same position as you not too long ago. One way I tackled each of those problems was with meal planning. Not only do I have an answer to the daily "what's for dinner" question, but I can stick to a grocery budget easily. That's why I've created this free Meal Planner to share with my email subscribers. With this binder you'll get a printable PDF that includes a monthly and weekly meal plan template, blank grocery list, pantry/fridge/freezer inventory sheet, and favorite recipes sheet.
With this printable meal planner you'll be able to better plan your meals, organize your grocery list and keep track of everything you have in the fridge, pantry and freezer. No more wandering the grocery store aisles aimlessly. No more buying food that will ultimately go to waste, or wondering what on earth you are going to make for dinner.
Plan out your meals a week or a month at a time, it's completely up to you! I personally prefer to plan out our dinner menu for the entire month, then I use the weekly layout to finalize everything including lunch and dinner. Then I will make my grocery list and head to the store. Easy and it keeps me on track with our budget. Plus I'm less likely to forget something.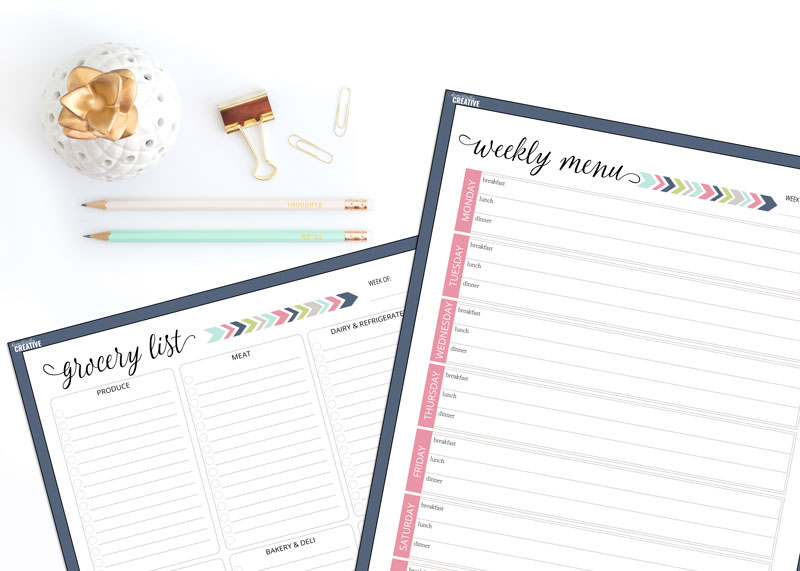 To start taking control of your family's meal time, and get your FREE printable meal planner, subscribe below. You'll not only gain access to the printable meal planner for download, but you'll get my weekly email newsletter packed full of helpful recipes, tips and monthly meal plans. You'll also be given access to the member exclusive printable library that is always being updated. Just subscribe below!
Looking for Meal Plan ideas? Make sure to check out my monthly meal plans page.
Related Topics: