This post is sponsored by NOW® Pets Supplements and the BlogPaws® Pet Influencer Network™. I am being compensated to help share information about NOW® Pets Supplements products and their giveaway, but as always, at The Kolb Corner I only share information I feel is relevant to you. NOW® Pets Supplements is not responsible for the content of this article.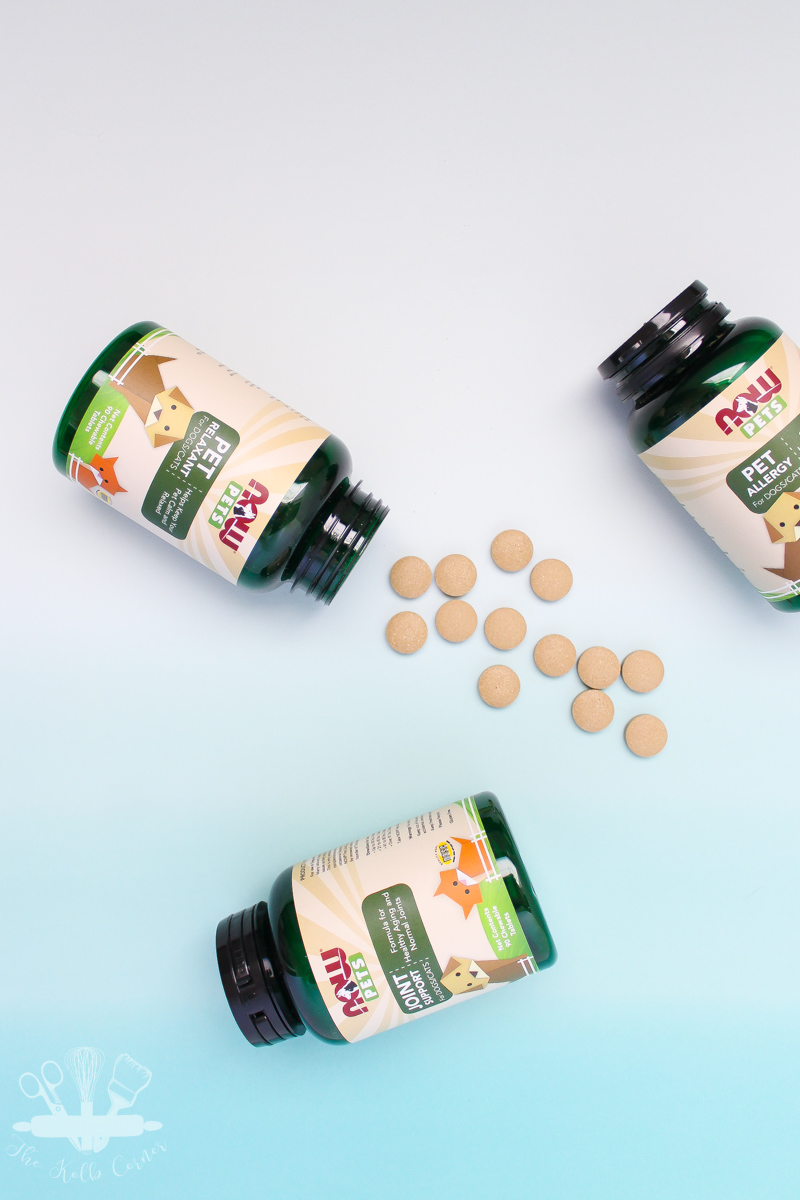 If you've spent any time hanging around here, you know that I have a pretty spoiled and pretty special pup named Delilah. She's a 7 year old lab mix who came to my husband and I as a 6 week old rescue puppy and quickly worked her way into our hearts. She has the best personality! Delilah is one of those dogs that loves to go on an adventure with you no matter what it entails, but she also loves to just lie around on a lazy day. Her favorite things are going for car rides, chasing her frisbee, and staring out my office window. It has the perfect spot for her to rest her head and people watch.
After we moved from Tennessee to Texas, my husband and I started to notice little changes in Delilah's behavior. It was mostly when there were loud noises like fireworks, or thunderstorms. Something that had never bothered her in the past, was suddenly turning her little puppy dog world upside down. It started with her clinging to us during storms, but has since gradually become full on storm anxiety. During a storm she will pant heavily, pace and shake. She also does a lot of nervous licking and swallowing, and if she isn't on top of us she will hide in a dark space. Her favorite places to hide during storms are under my desk, or in our dark basement. It can be a little difficult to get work done, or get some sleep during storms.
Now that we have moved back to the Midwest (and tornado alley), the storms are much more frequent. I've learned that not playing in to her storm anxiety does help some. If she reads from us that the storm is no big deal and we continue our routine like nothing is happening, then she will calm down ever so slightly. There is still the panting and pacing, but it does diminish a bit. Also letting her find a place to hide where she feels safe can help, but she usually won't stay there long if one of us isn't with her.
What helps the most, though, is giving her NOW® Pets Pet Relaxant. It's an all natural supplement that comes in a flavored chewable tablet. Not only does she think she is getting a tasty treat, it also helps her stay relaxed and content during storms. The panting subsides, the shaking stops and she is able to nap contentedly while the storm rages on. Which means I'm able to relax knowing she is no longer scared out of mind.
I was asked to try out the NOW® Pets Supplements line, and the Pet Relaxant in particular. It really does help alleviate the stress and anxiety that can accompany things like storms, separation and travel. Plus, the supplements come from a well known, family owned company. NOW® Foods has been a leader in the natural health products and supplements industry for years and their new NOW® Pets line comes with the same quality and integrity. Knowing the all natural supplements are produced at the same high standards as the human line helps me rest easy giving them to my furry family member.
NOW® Pets Supplements-Natural pet supplements for dogs and cats
NOW® Pets Supplements come from a leading brand in the natural products industry
Each supplement is specially formulated for canine and feline wellness
NOW® Pets supplements go through the same rigorous quality control procedures as the human line of NOW® products
Each supplement comes with a quality seal from the National Animal Supplement Council (NASC)
The supplements are specially formulated to promote optimal animal health
Find NOW® Pets Supplements online, or at fine health food stores nationwide!!
NOW® Pets Supplements Available:
NOW® Pets Pet Relaxant
NOW® Pets Weight Management
NOW® Pets Immune Support
NOW® Pets Joint Support
NOW® Pets Omega-3 Support
NOW® Pets Urinary Support
NOW® Pets L-Lysine Pure Powder
NOW® Pets G.I. Support
NOW® Pets Allergy Support
The NOW® Pets line can be used for both dogs and cats, and has convenient dosing instructions based on weight right on the bottle. Since Delilah is 65lbs she gets 2 tablets twice daily of the Pet Relaxant supplement. I've also been using the Joint Support and Omega-3 Support in her daily routine to help with her mobility. I'm pretty excited to try the Urinary Support on both of my cats as well, to help promote a healthier urinary pH.
Try NOW® Pets Supplements for yourself! Enter their sweepstakes and you could win your own full line of NOW® Pets Supplements to try out on your furry friend.
Learn more about NOW® Pets Supplements, and follow them on Instagram, Twitter and Facebook.
This is a sponsored conversation written by me on behalf of NOW Pets. The opinions and text are all mine.