How to Make a Custom Pet Toy Storage Bin
This post may contain affiliate links for your convenience. Read our disclosure policy.
Today I'm sharing a crazy easy tutorial on how to make your own custom pet toy storage bin, for not a lot of money!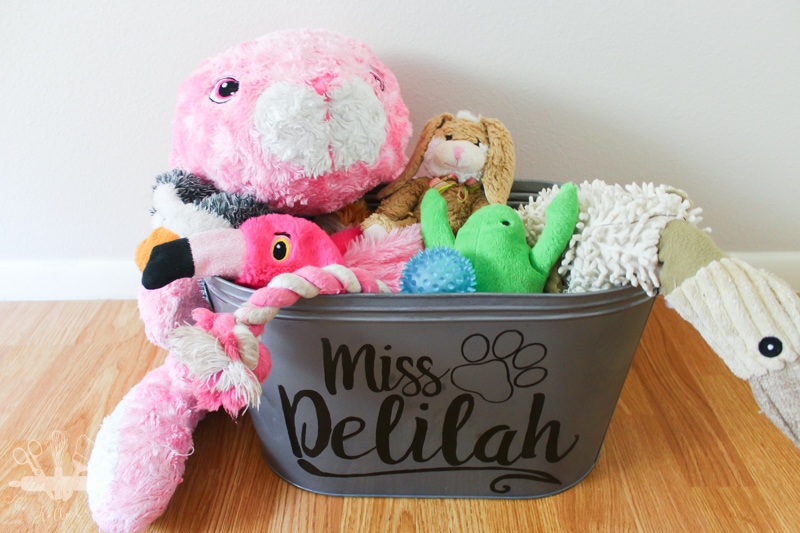 I've paired up with a group of talented ladies to bring you a monthly Thrift Store Decor Upcycle Challenge. Each month we will create a new home decor piece from an item(s) we've found at a thrift store, yard sale, resale shop etc. There is no budget or specific theme so we are free to let our creativity run wild!
Amanda | Domestically Creative Chelc | Inside the Fox Den Erlene | My Pinterventures
Kim | Made in a Day Sara | Twelve on Main Debra | Shoppe No. 5
Shirley | Intelligent Domestications Marie | DIY Adulation Lindsay | Crazy Organized
Michelle | Our Crafty Mom Julie | Live From Julie's House Colleen | Life on Kaydeross Creek
Maureen | Red Cottage Chronicles Pili | Sweet Things Sherry | Savvy Apron
Ann | Duct Tape and Denim Dru | Polka Dot Poplars
Megan | C'mon Get Crafty Jennifer | Hydrangea Hippo
You can also follow our board on Pinterest for more upcycled decor inspiration!
---
How to Make a Custom Pet Toy Storage Bin
If you follow me on Instagram at all, you know that I have one silly, neurotic, adorable chocolate lab named Delilah. Since my husband and I don't have any children, it's safe to say that she is one spoiled pup. Going on almost 7 years old, she has collected quite a few toys over the years, and up until now, she hasn't had a storage bin to call her own. She's had to share with the kitties! Oh the horror! Seriously..this face says it all.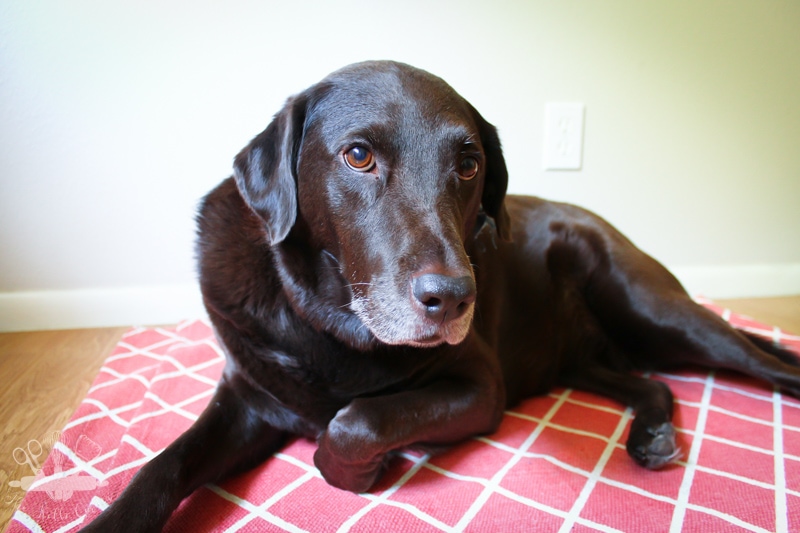 Her personal favorite toys include a stuff-less flamingo, a soon to be stuff-less duck, a Kong frisbee, and a giant pink stuffed bunny that my mom bought her at Goodwill 2 years ago. The flamingo still has a few working squeakers, but the duck has been removed of it's noise makers leaving only it's body with several holes left behind. Her bunny, however, seems to be her comfort toy. She hasn't managed to chew a hole in it yet, instead she carries it around and uses it for a pillow.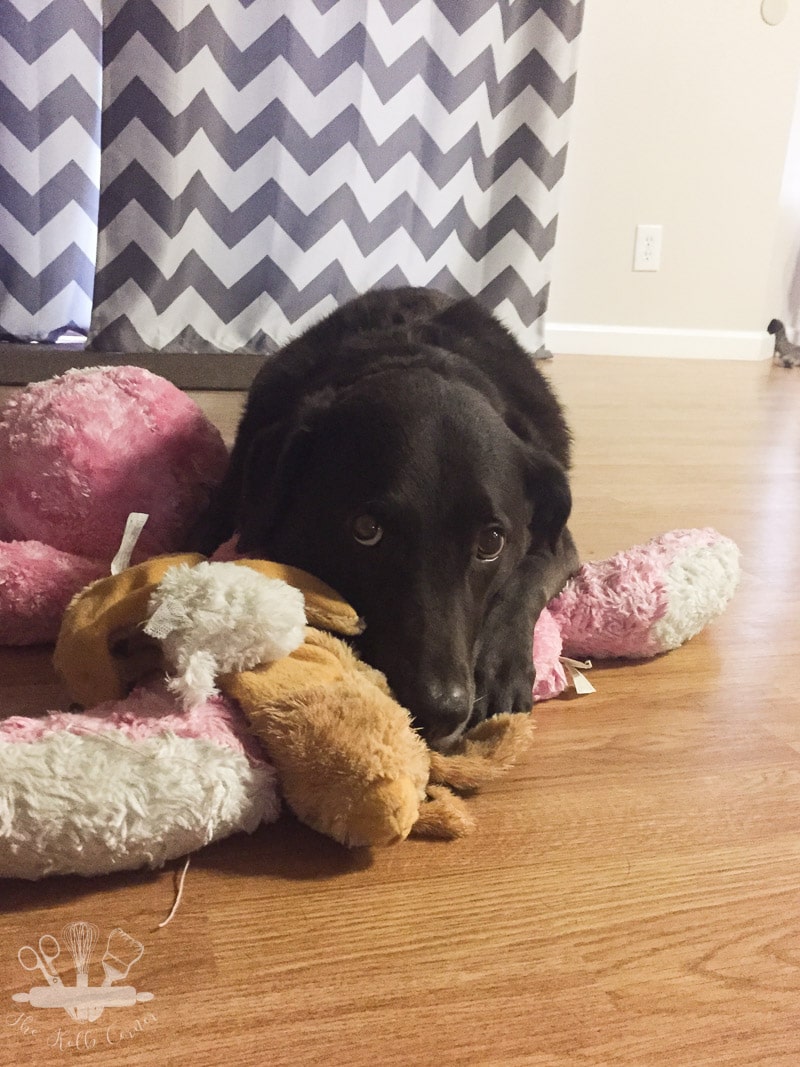 Ok, but enough about the dog, seriously.
For this month's thrift store challenge, I was really racking my brain. On one particular trip several weeks ago, I stumbled across this giant metal Christmas tin that was a great size and already had handles cut into it. I loved the shape of it and figured I could use it to store something in.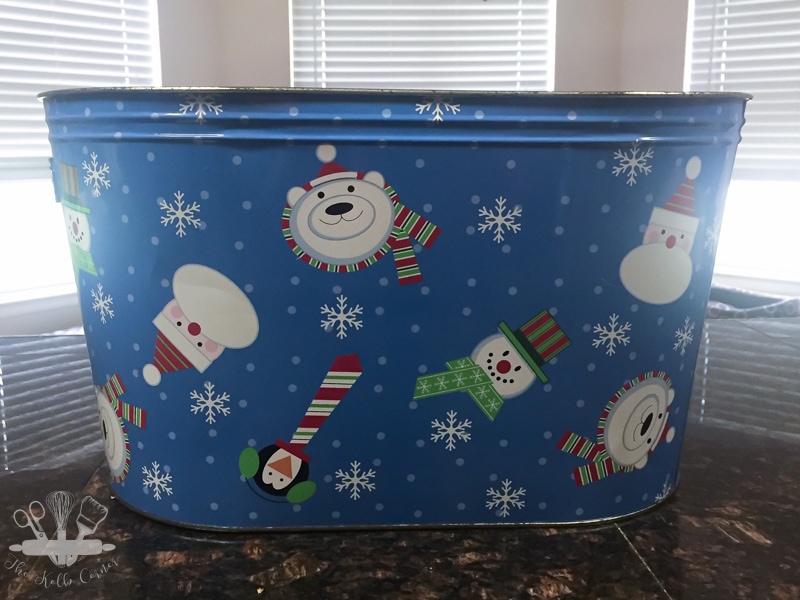 Cut to last week when I was cleaning and going through closets. I found a few throw blankets that I forgot I had, but had nowhere to store them other than in a closet. What I really wanted was a pretty wicker basket to keep them in, to add a little bit of comfort to my decor in the living room. That's when it dawned on me that the basket I was currently using to keep all of Delilah's (and the cats) toys in was pretty, the perfect size, and just tucked away in the corner sadly forgotten about. My mom gave me this basket when I first moved out, however I never appreciated it's beauty until now.

I knew the Christmas bucket I bought would be a great size for Delilah's toys, so I decided to upcycle it to create a custom pet toy storage bin!
What you'll need:
First I cleaned the bucket really well. It was pretty dirty and covered in glitter from being filled with Christmas decorations at the thrift store. Then I carefully gave the outside of the bucket a coat of spray paint, being careful to avoid putting it on too heavy so the paint did not drip. Once that was dry, I went over it twice more with another coat of paint to make sure the Christmas design was fully covered.
While the bucket was drying, I printed out the design I wanted for the front. I chose to use her full name "Miss Delilah". Believe it or not, that name was my husband's choice. When we first brought her home we couldn't decide on a name for her. My husband wanted something that sounded Southern, so when I blurted out the name Delilah he said "Miss Delilah" it is. Never mind the fact we never call her by her name–"Puppy Dog" and "Girlie" seem to fit her just fine 😉
I used the font "Malina" for this design. Obviously the brush look won't come through with the paint pen, but I loved the script design. After printing out the design, I used my font transfer method to get the design on the front of the bucket. This was trickier than I thought it'd be since I've never done this with metal. If I had a Silhouette this would have been so much easier–hint hint.
Next, I outlined the design with a black Sharpie paint marker. Once that was dry, I filled the now custom pet toy bin with her favorite toys.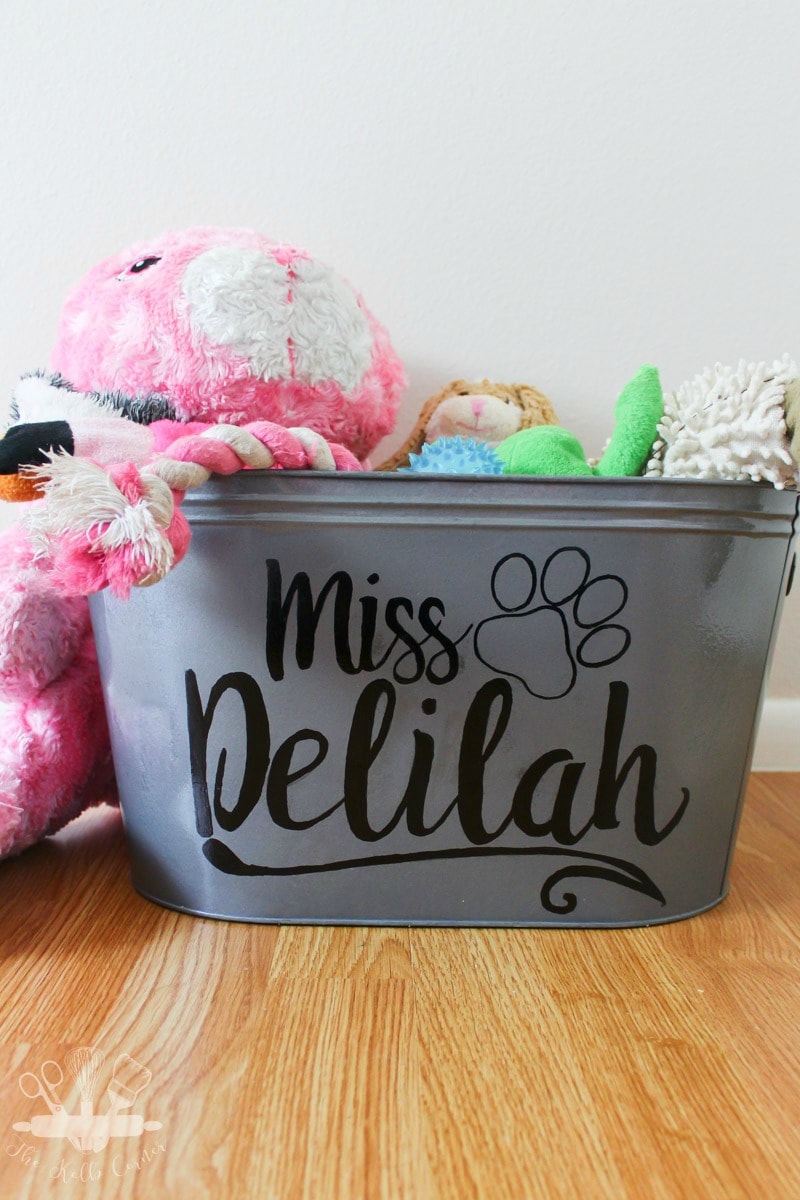 Because she is a little bit neurotic, and very cautious around new things I couldn't get a picture of her enjoying the bin. BUT! She does come up to it and gently pulls out her toys as she wants. Now if I could just teach her how to pick them back up 😉
More Thrift Store Upcycles:
Don't forget to pin it!
---
Be sure to check out all of the other creative upcycle projects my fellow bloggers have come up with!