Upcycled Valentine's Day Art
This post may contain affiliate links for your convenience. Read our disclosure policy.
Take ordinary thrift store items and give them a facelift to create these darling Upcycled Valentine's Day Art pieces that are perfect for a shelf or mantel!
I turned otherwise boring wicker chargers into glam Valentine's Day Art to display on my mantel. I even got to use my brand-new Cricut for this project, and let me just say that I have a brand-new addiction. See the tutorial below to learn how to make your own upcycled Valentine's Day art!
So I actually picked up these wicker chargers last year before we moved. I was going to make something for Thanksgiving with them but ended up not having the time. I packed them away with everything else in my craft room and quickly forgot about them.
With this year's first Thrift Store challenge coming up, I was frantic trying to find something to repurpose. I went to FIVE thrift stores in my new town and came up empty-handed. Panicked and discouraged, I came home and started angrily decluttering and organizing my office. That's when I came across these wicker chargers and knew I had to use them. I mean I really HAD to use them.
Of course, I had to use my new Cricut in this Valentine's Day Art project! I was afraid there would be a huge learning curve but was pleasantly surprised to catch on fairly quickly. If you follow me on Instagram you may have already seen some of my stories of quick little projects I've done so far. But don't worry, you WILL receive an onslaught of projects here too.
How to Make Upcycled Valentine's Day Art
What you'll need:
Wicker Chargers (you can find these at any thrift store)
Paint
Paintbrush
Cardstock (I picked up a pad of Valentine's Day cardstock paper from Target's Dollar Spot)
Silhouette (or pencil and scissors)
How to Make Art from wicker chargers
Clean the wicker chargers really well. After sitting in a thrift store they can get a little dusty/dirty and you don't want that in your paint! I dry-brushed mine with a soft-bristled brush first and then cleaned it with a slightly damp rag.
Paint the chargers in your favorite color. For this project, I used chalk paint, but it would be MUCH faster to use spray paint. Unfortunately for me, it was 20 degrees and windy when I painted them and I was not about to waste my time trying to use spray paint. The chalk paint worked well, it just takes a lot of patience to get into all of the crevices.
While the paint dries, cut out the heart and arrows design on your Cricut. I used files from Cricut Access for mine, but you can create your own too.
Don't have a Cricut? No worries, you can easily freehand a heart and arrows and use scissors to cut them out. Note: the font I used for "Love" is called Gracias.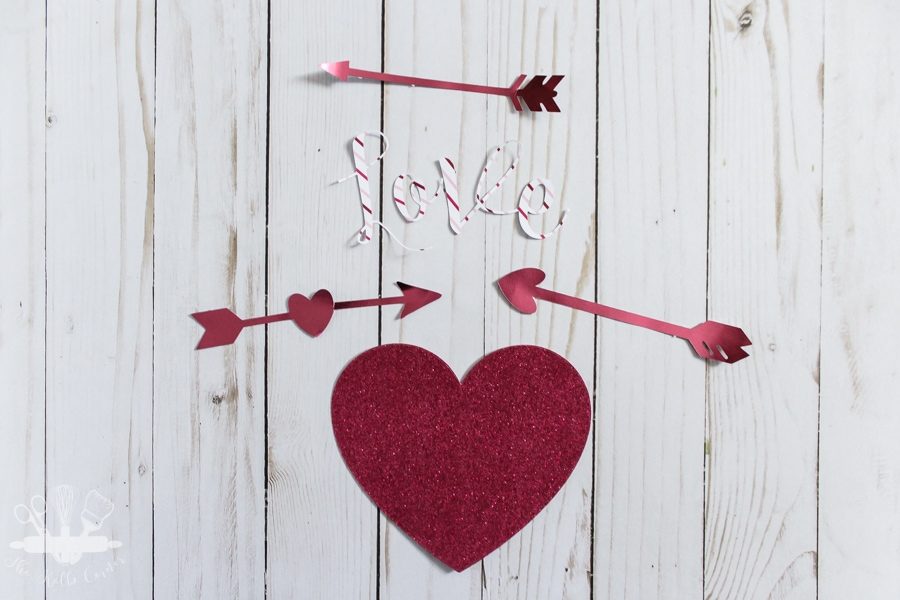 Once the wicker chargers have dried, add the glitter! Make sure you are doing this over a wipeable or disposable surface. I have a large piece of cardboard that I craft on and laid a piece of foil over it for easy cleanup. I'm sure this goes without saying but glitter gets EVERYWHERE! Even when you are careful.
Paint a thin layer of Mod Podge on the edge of the wicker charger and then sprinkle on the glitter. Work in small portions, don't try to do the whole edge of the charger at once, or else the Mod Podge will dry before you can get the glitter on it.
Once the glitter is on and dry, add the cutouts. Figure out the placement first, then apply a layer of Mod Podge onto the back of the cutouts. Place them where you want on the upcycled Valentine's Day Art and press down firmly, holding for about a minute. This will make sure the Mod Podge grabs the charger and keeps the paper in place. It may be necessary to add more Mod Podge in areas where the paper doesn't stick to the charger.
I love how these turned out. Decorating for Valentine's Day isn't a big thing for me, but putting out a few little things here and there is just fine. The best part is that it didn't cost much at all! The paper came from Target's Dollar Spot, the paint, glitter, and Mod Podge I already had, and the wicker chargers were $0.50 each. So for less than $5, I have some custom upcycled Valentine's Day art to display on my mantel. Perfection.
More Valentine's Day Ideas
Love this? Pin it for later!