Remember that trip I made up to Veronica's? And how I mentioned all of the delicious food she made me? I already shared the AWESOME, authentic chicken enchiladas with you, but now I want to share the delicious, mouthwatering appetizers she made. These are pretty fancy folks! I asked Veronica to write up a little blurb about why she chose what she did, and to provide the original recipes to you as well. Here's what she had to say:
Confession: I have a terribly picky husband–terribly picky.
It's seriously like having a child in the house. When I check out at the grocery store I'm sure they assume I have a 10 year old – kid cereal, soda, Kool-Aid, chips, and frozen pizza. Right next to my happy eggs, happy chicken, and gobs of produce. So I long, oh do I long, for a girl's night or even a guy's night where I have the house, and kitchen, to myself. Luckily, Amanda was coming! I took full advantage of her 30-Day Challenge and did an appetizer/dessert night. In typical fashion, regardless of diet, we ate and we drank until we could no longer breathe. Then it took us two days to recover… oh the glory days!
All the recipes I found on Pinterest, my go-to especially if I want to try something new and fun. Check out our menu below!
Crostini with Goat Cheese, Proscuitto, and Fig Jam –just like the name says–Except we used Triscuits instead of baquettes. They were so delicious! The saltiness of the Proscuitto mixed with the sweetness of the Fig Jam really gives your taste buds something to think about!
Caprese Salad–Motzarella, tomato and basil drizzled with a balsamic reduction.
Bacon Wrapped Stuffed Shrimp— Shrimp stuffed with basil, parmesean and garlic, wrapped in bacon and glazed with a sweet BBQ sauce. HEAVEN!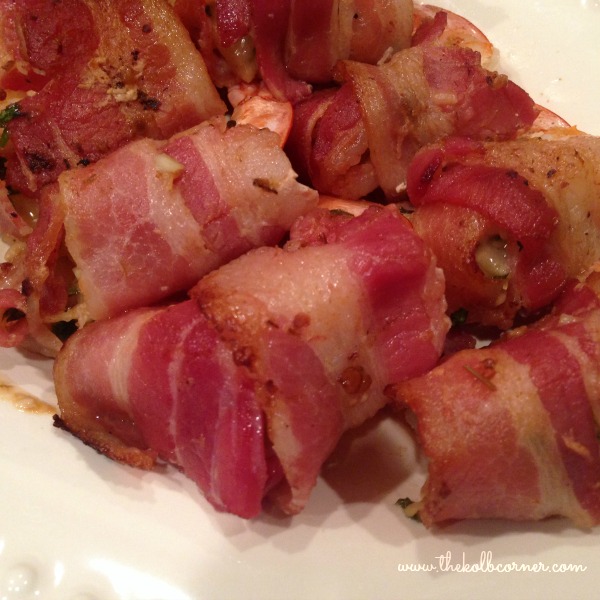 Overnight Chocolate Mousse–Made with Greek yogurt for a healthier take. We topped ours with homemade whipped cream.
Indian Summer Cocktail–Champagne, Mango/Orange juice and Peach Schnapps. By the time I even thought about getting pictures of this declicious creation, we had already downed 3 of them. Needless to say, those pictures are very blurry and downright terrible. So selfie it is!!
The only thing we didn't make from Pinterest was Chocolate Covered Strawberries but that's because they're so simple! Just melt some chocolate chips of your choosing in the microwave or over a double boiler, clean and dip your strawberries, and freeze until the chocolate has set. No fancy ingredients or directions needed!
Enjoy!