Authentic Chicken Enchiladas
Spicy, cheesy and full of Mexican flavor, these authentic chicken enchiladas are perfect for entertaining, or just enjoying a nice dinner with family. These are the kind of enchiladas you get when eating out, but now you can make them in the convenience of your home.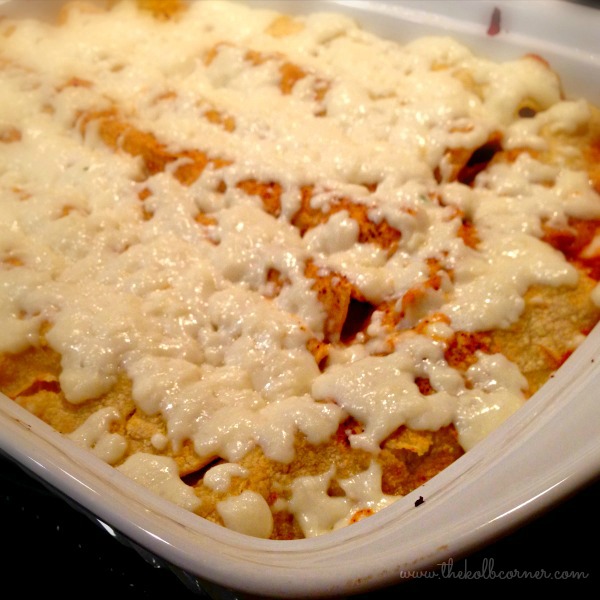 I spent last weekend north of Dallas, Tx with my friend Veronica at her brand new home. She told me in advance that she was going to do her best to keep with my real food eating and only buy/cook with whole foods and ingredients. What a great friend!! Believe me, we ate like royalty that weekend, so I thought I'd have her type up a little blurb along with some of the recipes we ate. Well…she went above and beyond, and detailed out EVERYTHING, so you guys can try what we gorged on all weekend!
First, I'll share the authentic chicken enchiladas recipe she made on Friday night. It's a pretty involved, yet easy to follow recipe that gives these enchiladas a very authentic taste–like you are eating at a real Mexican restaurant. Not only is the taste amazing, but all of the ingredients used are fresh, whole ingredients. You even make your own enchilada sauce!
She got the original recipe from Annie's Eats
So here's what Veronica had to say…
I'd like to say I eat "predominately healthy" – I cook a meal at home majority of the time and try to use as natural ingredients as I can. I buy "happy eggs" and "happy chickens", I love when my family gives me farm raised beef or pork, and especially love when my husband brings home a deer or wild hog. (Gross to some but I've learned to enjoy it.) Back on subject, trying to eat a "clean" or "whole" diet is challenging especially at first. So when Amanda announced her 30-Day Challenge I was very interested in learning her recipes and following her progress. Didn't she make it look simple!? Then she ups the ante by keeping a budget for July!! (I am awful, 100% awful, at budgeting especially when it comes to food.) So when Amanda came to visit last weekend I wanted to support her challenge as well as challenge myself. Admittedly, the task seemed daunting so I turned to a recipe I know well – Authentic Chicken Enchiladas. Plus, it goes wonderfully with mojitos and Amanda's homemade guacamole.
I think what I like most about this recipe is how resilient it is. I typically make this when we have company over so I usually get caught up in conversation and festive beverages and less caught up in my cooking. The first time I made this I realized that Texas jalapenos are much spicier that Illinois jalapenos. (Which explains why I use one good sized jalapeno verses two, and why I now protect my hands from the oils.) Another time I must have doubled the sugar. Everyone enjoyed it but it was definitely off. THIS time I completely messed up the baking directions. Was it still delicious? Of course! Did we clean our plates? Duh! So don't worry if you have cooking A.D.D. like I do… this recipe can handle it!
Of course, while she was cooking I was in charge of taking pictures—only I got so caught up in drinking my Mojitos, and eating guacamole, that I completely missed the first half of the cooking.
Once the enchiladas have baked, let them cool for about 10 minutes. Serve them up with sliced avocado, tomato, sour cream and an ice cold Mojito!
Authentic Chicken Enchiladas
Cook Time:
1 hour
20 minutes
Total Time:
1 hour
35 minutes
Ingredients
1 medium onion – finely chopped
1 good sized jalapeno – seeds and ribs removed, , finely chopped
1 tsp cooking oil, (I used vegetable)
3 cloves garlic – minced
3 tbsp chili powder
2 tsp cumin
1 tbsp sugar
15 oz can tomato sauce
1 cup water
1 good sized tomato –diced
salt and pepper to taste
1 lb boneless, , skinless chicken (I used thighs because they cost less)
2 rounds of queso fresco - crumbled
1 good handful of minced fresh cilantro
soft corn tortillas
Instructions
In a large skillet on medium heat combine the oil, onion, and jalapeno – cook stirring often until softened, about 8-10 minutes
Stir in the garlic, chili powder, cumin, and sugar – cook until fragrant, about 30 seconds
Stir in the tomato sauce, water, and tomato – bring to a simmer then lower the heat, cook until slightly thickened, about 5 minutes
Nestle the chicken into the sauce – reduce heat to low, cover, and fully cook chicken, about 12-20 minutes or until the chicken is 160° F
Transfer the chicken to a dish you can easily shred it in making sure to knock as much sauce off as you can – shred and set aside
Strain sauce through a sieve into a bowl, pressing down on the solids to remove as much liquid as possible
For the stuffing
Combine the solids to the shredded chicken, mix in the cilantro and half of the crumble cheese
For the sauce
Add salt and pepper to taste then set aside
For the assembly
Transfer the tortillas to a plate, cover with plastic wrap, and microwave for 40-60 seconds until warm and pliable. (If you skip this step like I often do the tortillas will most likely split during stuffing.)
Spray a 9x13 baking dish with cooking spray
Take a tortilla and spoon on enough of the chicken mixture so it's full but you can still roll it up tightly, place it seam side down in the baking dish
Repeat until you have used up all of the chicken mixture and the baking dish is full with a single layer of enchiladas
Lightly spray the top of the enchiladas with cooking spray
Cooking
In a preheated 425° F oven bake the enchiladas until they start to brown – about 7 minutes
Remove the enchiladas from the oven, pour on the sauce, top with remaining cheese, and cover with foil
Reduce heat to 400° F, return enchiladas to the oven, and bake for 20 minutes
Remove the foil and bake for an additional 5 minutes or until cheese starts to brown
Let cool for 10 minutes before serving
Notes
Helpful Hints:
This cooking process moves rather quickly in the beginning so I find it easier to have everything chopped, measured, opened, crumbled, and ready to go from the start.

Adapted from Annie's Eats
Nutrition Information
Serving Size

1 grams
Amount Per Serving
Unsaturated Fat

0g