When I was doing our 30 Days of Real Food Challenge, I was really craving ice cream and sweets at night. Most of the store bought stuff has ingredients in them I can't pronounce, or a lot of added sugar. Even the "whole fruit" bars have added artificial ingredients. That's why I came up with these mixed berry and yogurt popsicles to give me something to curb even the strongest sweets cravings.
This post contains affiliate links for your convenience. Read my full disclosure policy here.
I have been seeing a lot of recipes popping up on Pinterest for homemade Popsicles. The only way I had ever made Popsicles as a kid was by freezing juice or kool-aid in ice cube trays, and sticking a toothpick in them. While sure those worked OK, I remember what a mess they made when they started melting. So I decided to look for some easy to use, drip friendly, Popsicle molds on Amazon. I ended up ordering these Green Popscicle Molds. There are a ton of different styles but these were simple enough, and the price was right. What I love most about them is the handle because it actually catches all of the drips once the Popsicle starts to melt.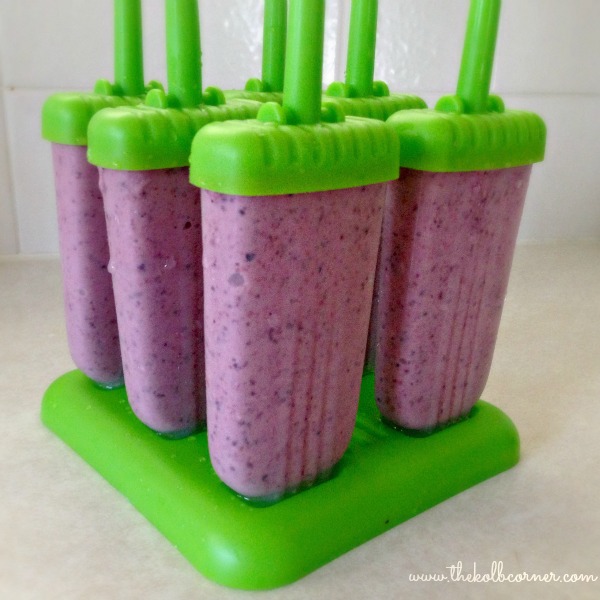 Since they've arrived I've been playing around with different recipes. Some have turned out OK, some have been awesome, and some have been down right gross.
This particular recipe I just made on accident. I was blending up a smoothie for a mid morning snack, and decided to freeze the leftovers to make these mixed berry and yogurt Popsicles instead. They are pretty tasty if I say so myself!
I used strawberries, blueberries, blackberries and raspberries. I had all of these frozen, but you could use fresh too. Since it's not being made into a smoothie, it doesn't matter how thick the "batter" is. I added in vanilla yogurt–you could use Greek or regular–milk and agave for some added sweetness.
Blend it all up in your blender, pour it into your Popsicle molds, freeze for 4-6 hours and there you have delicious, healthy, mixed berry and yogurt Popsicles.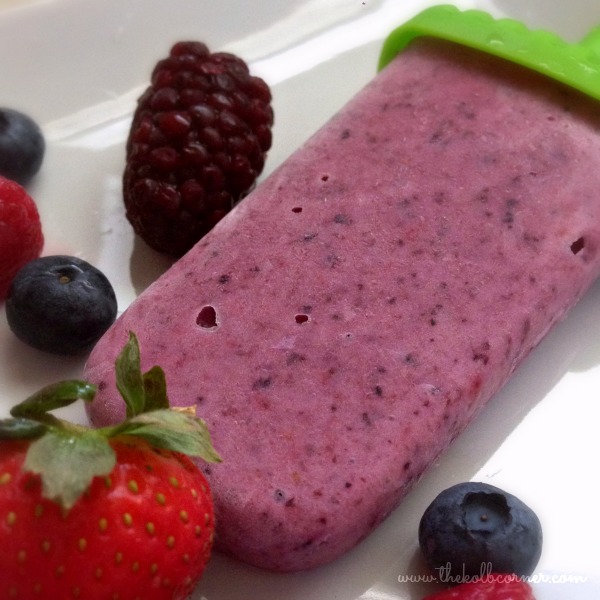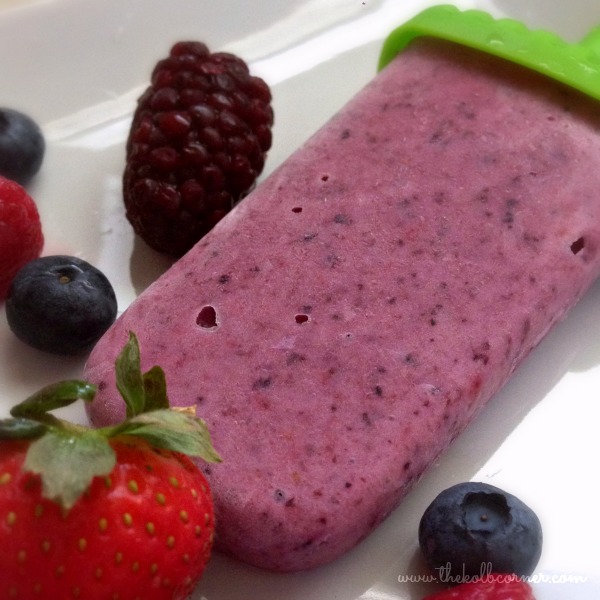 Mixed Berry and Yogurt Popsicles
Ingredients
2 cups mixed berries, (frozen or fresh)
1/2 cup vanilla yogurt, (Greek or regular)
1/2 cup to 3/4 cup milk, (depending on frozen or fresh berries)
Agave to taste
Instructions
Add all ingredients into a blender and mix until smooth.
Pour mixture into Popsicle molds and freeze 4-6 hours.
Nutrition Information
Serving Size

1 grams
Amount Per Serving
Unsaturated Fat

0g