Noodles and Vegetables in a Creamy Peanut Sauce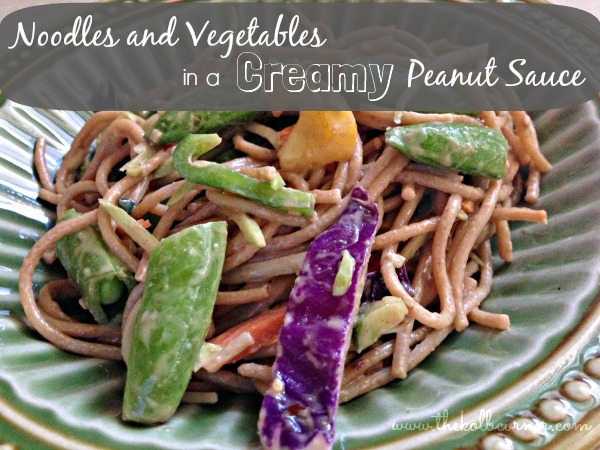 One of my husband and I's favorite meals to make are these super easy noodles that are drenched in a creamy, tangy, spicy Indonesian inspired peanut sauce. I actually got this recipe originally from Rachael Ray, but have adapted it to our taste and preferences. These noodles remind of the Indonesian Peanut Saute at Noodles and Co.–soo yummy!
Anyway, this dish is really simple to make and doesn't take more than 15 minutes to put together. Talk about quick, easy, and delicious!!
I put my noodles on to boil–I have been using whole wheat spaghetti noodles. I bet this recipe would be awesome with rice noodles too!
While my noodles are cooking, I chop all my veggies up. You can really use any combination, but I like to use sugar snap peas, broccoli slaw (I buy it prepackaged by the ready made salads–it has cabbage and some carrots in it as well) yellow and green peppers, and carrots
After all of my veggies are chopped up, the noodles are usually finished cooking. Drain them in COLD water–this stops the cooking process and chills the noodles–and set them aside. You can add a bit of olive oil to them to prevent sticking, but it isn't a necessity.
Next, prepare your creamy peanut sauce. You'll need peanut butter, rice vinegar, sesame oil, and soy sauce (or liquid aminos)
It helps to melt your peanut butter in the microwave for a few seconds before adding the rest of the liquids to it. This way it mixes up really smooth instead of lumpy.
You can also add hot sauce to this to make it spicy–Siracha is a good one to add! We also add crushed red pepper flakes as well. Really gives it a bite!
Once your sauce is mixed up, put your chopped veggies and noodles in a large bowl.
Pour sauce over the mixture and toss until it's all combined. Top with green onion and sesame seeds if desired.
Enjoy!
Noodles and Vegetables in a Creamy Peanut Sauce
Ingredients
1 package whole wheat spaghetti, , or noodles of your choice
1 cup sugar snapped peas-sliced into thin strips
1 cup yellow pepper-sliced into thin strips
1 cup green pepper-sliced into thin strips
1/2 cup carrots-sliced into thin strips
2 cups broccoli slaw mix, (or coleslaw mix)
2-3 green onions-sliced
1/4 cup Soy Sauce or Liquid Aminos
1/4 cup Creamy peanut butter
2 tbsp Rice vinegar
1 tbsp Sesame oil
1-2 tsp hot sauce, (optional)
1 tsp red pepper flakes, (optional)
1-2 tbsp sesame seeds to top it, (optional)
Instructions
In a large pot, cook pasta to al dente. Drain in COLD water and set aside.
In a small bowl, whisk together peanut butter (slightly melted in microwave), soy sauce, vinegar, sesame oil, hot sauce and red pepper flakes.
In a large bowl combine veggies and noodles. Pour sauce over mixture and toss until well coated.
Top with green onion and sesame seeds.
Notes
This dish is served cold, which is why the spaghetti is rinsed in cold water. This stops the cooking process and cools the noodles off.

Adapted from Rachel Ray
Nutrition Information
Serving Size

1 grams
Amount Per Serving
Unsaturated Fat

0g