Delicious 4 ingredient homemade berry cobbler that is a great addition to any cookout. Serve it up with vanilla bean ice cream or good old whipped cream.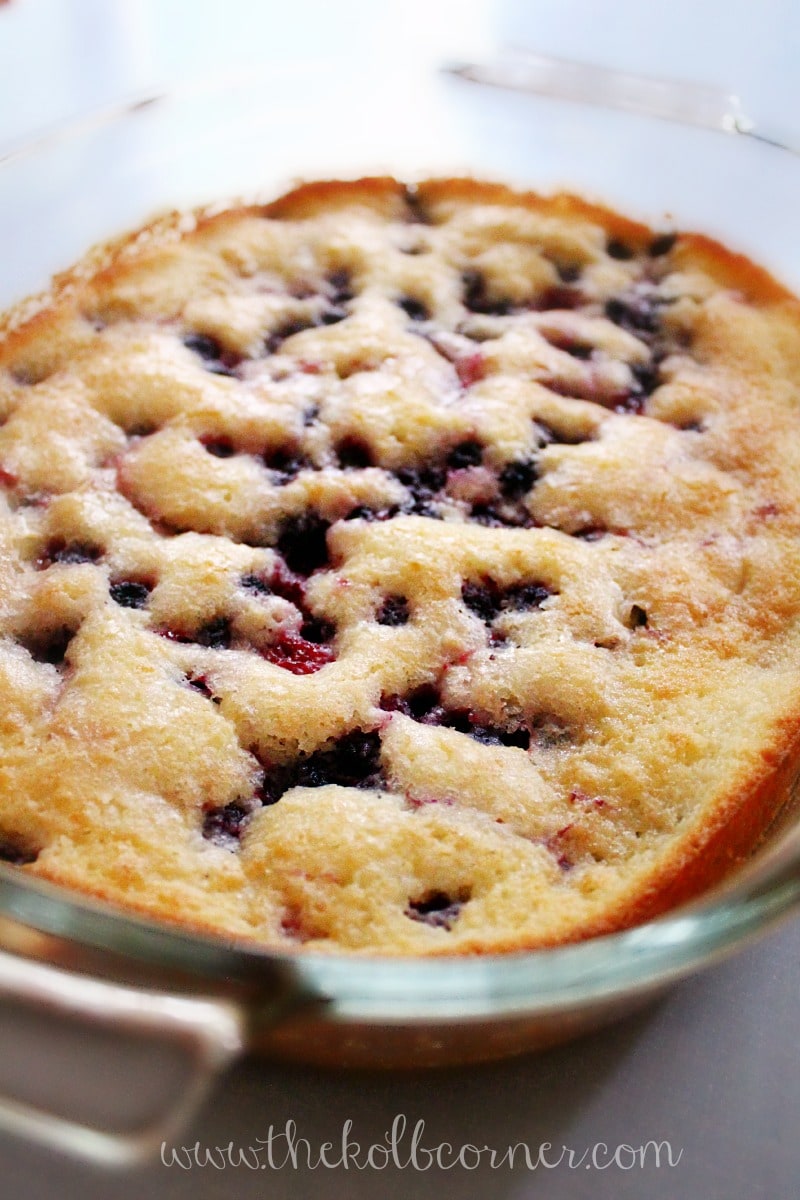 As some of you may know, I spent an entire week with family in Illinois at the end of June. It was a much needed break, and was so nice to just kick back and relax with our families. As we always try to do when my husband and I "come home", we planned a cookout with his family and mine. Everyone gets along so well, and we all have a great time.
We planned our cookout for Father's Day, and even though it was his special day, my dad volunteered to fry fish for everyone. Now, before you feel sorry for him, you should know that he LOVES doing it. It was something we did regularly for our friends when I was growing up.
**before anyone asks, no I will not be sharing his recipe. He keeps it top secret. My mom doesn't even know his recipe. And yes, that is a fried green bean mixed in with the fish.
Back to the point of this post.
I am a baker at heart. If I had to choose between baking, cooking and crafting for the rest of my life, I'd choose baking, hands down. Whenever there is a pot luck or gathering, I always volunteer to bring a dessert. So naturally, with our families getting together, I had the dessert option covered.
My parents live in a very rural area, and just so happen to have a patch of wild berries growing just up the road. When my mom mentioned they were getting ripe, I thought they would be great to make a cobbler with. So we grabbed the two lazy brown dogs, a couple of buckets, and headed to the patch.
We were really disappointed. There were hardly any berries at all! Now I remember as a kid picking bucket fulls of these and my mom would make jam. She told me that a few native "weed" trees, as well as wild honeysuckle were really taking over and killing off other plants. Such a sad thing.
We did manage to at least get a few handfuls of berries, enough for a cobbler anyway. After all, that's all we really needed.
I ended up using The Pioneer Woman's recipe, since my mom had all of those ingredients on hand. It was so easy to make, came together quickly, and tasted amazing.
It has the perfect cobbled look on top. I even snuck in a few raspberries for a little extra flavor.
Serve it warm with vanilla ice cream, or cooled with whipped cream. Either way, this cobbler is sure to please everyone.
Blackberry Cobbler
Total Time:
1 hour
20 minutes
Ingredients
1 cup Self Rising flour
1 1/4 cup sugar
1/2 cup butter, 1 stick
1 cup milk
1 cup raspberries
1 cup blackberries
Instructions
Preheat oven to 350 degrees, and butter a 9x13 baking dish.
Melt butter in small bowl in the microwave.
In a large mixing bowl, combine flour and 1 cup sugar.
Whisk in milk
Stir in melted butter.
Place batter mixture into baking dish.
Sprinkle berries on top of batter mixture.
Use leftover sugar to sprinkle over top.
Bake for 1 hour or until crust is golden brown.
Nutrition Information
Serving Size

1 grams
Amount Per Serving
Calories

2472
Total Fat

100g
Saturated Fat

62g
Trans Fat

4g
Unsaturated Fat

30g
Cholesterol

264mg
Sodium

1720mg
Carbohydrates

383g
Fiber

19g
Sugar

275g
Protein

25g
More yummy recipes: