Cozy up to Fall and create a warm, inviting, and stylish Fall front porch that will welcome your guests and make them feel right at home!
This post was sponsored by Lowe's as part of an Influencer Activation for Influence Central and all opinions expressed in my post are my own.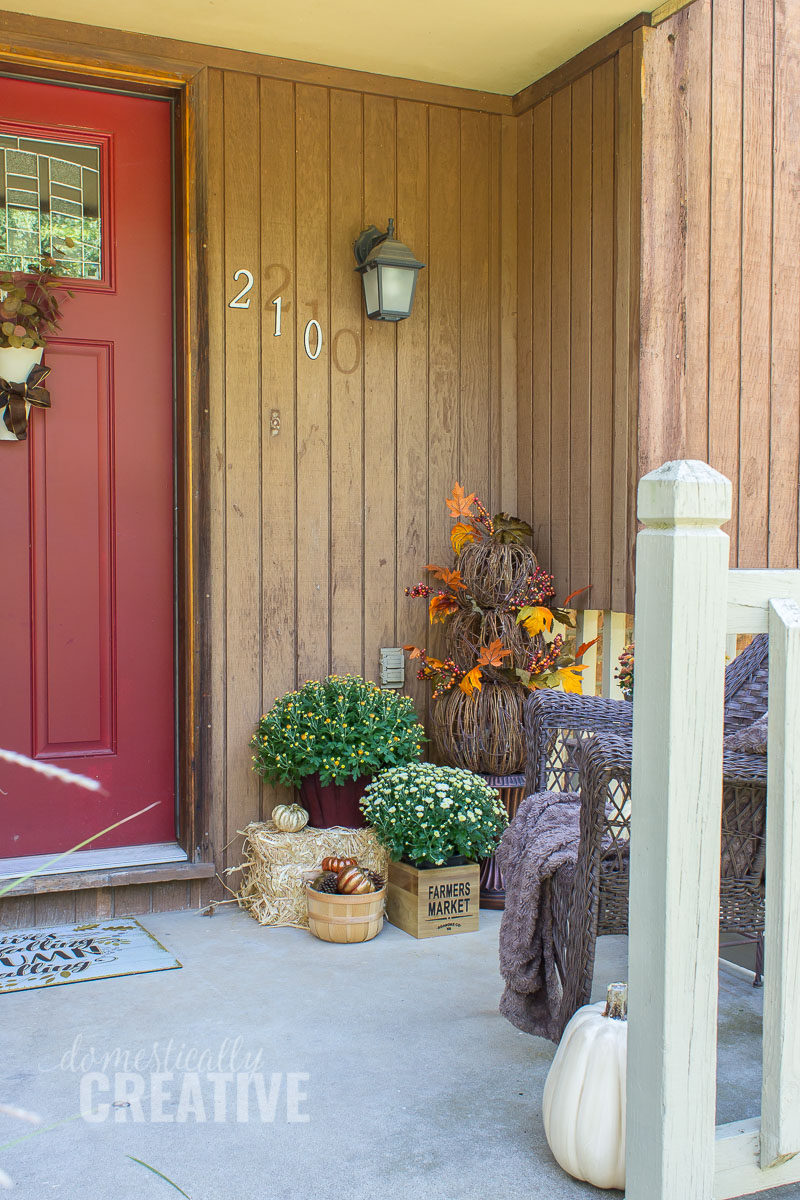 I remember my mom decorating our front porch for Fall every year as a kid. She would go all out with big mums, pumpkins, and gourds from the garden, hay bales, corn stalks, and even those jack o' lantern bags you fill with leaves.
One of my favorite decorations I always got to help with was making a man by stuffing old bib overalls and gloves with leaves, and topping it off with a Halloween trick or treat jack o' lantern bucket for a head. Helping her decorate meant I got to play in the leftover pile of leaves after, and as a kid that was the best part of Fall.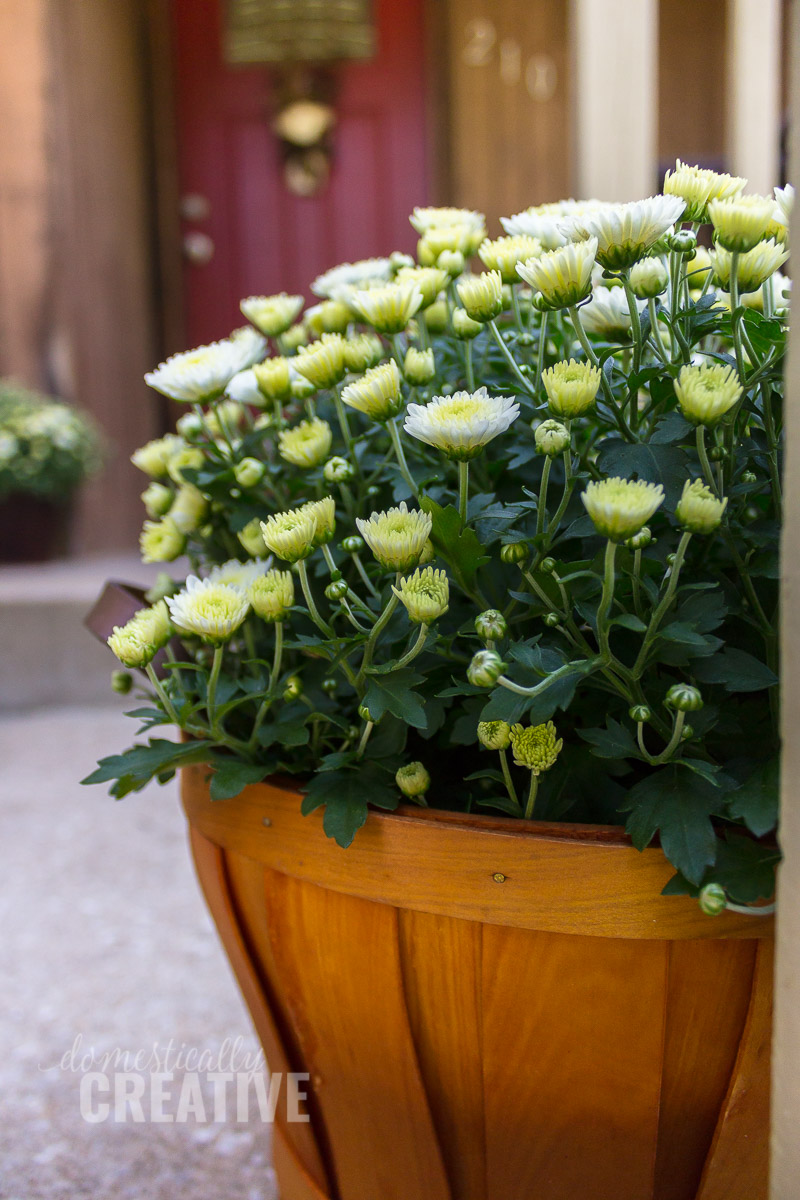 Of course, now that I'm an adult, the best part of Fall is doing the decorating myself to create a welcoming space. My favorite things to add to my cozy Fall front porch are mums and pumpkins. In fact, in years past I've been known to go a little overboard in the pumpkin department.
It's not like I can help it really. I just want them to all come home with me. It's like they look at me and say "please take me home with you, I have no one else" and who could say no to that? Clearly not me.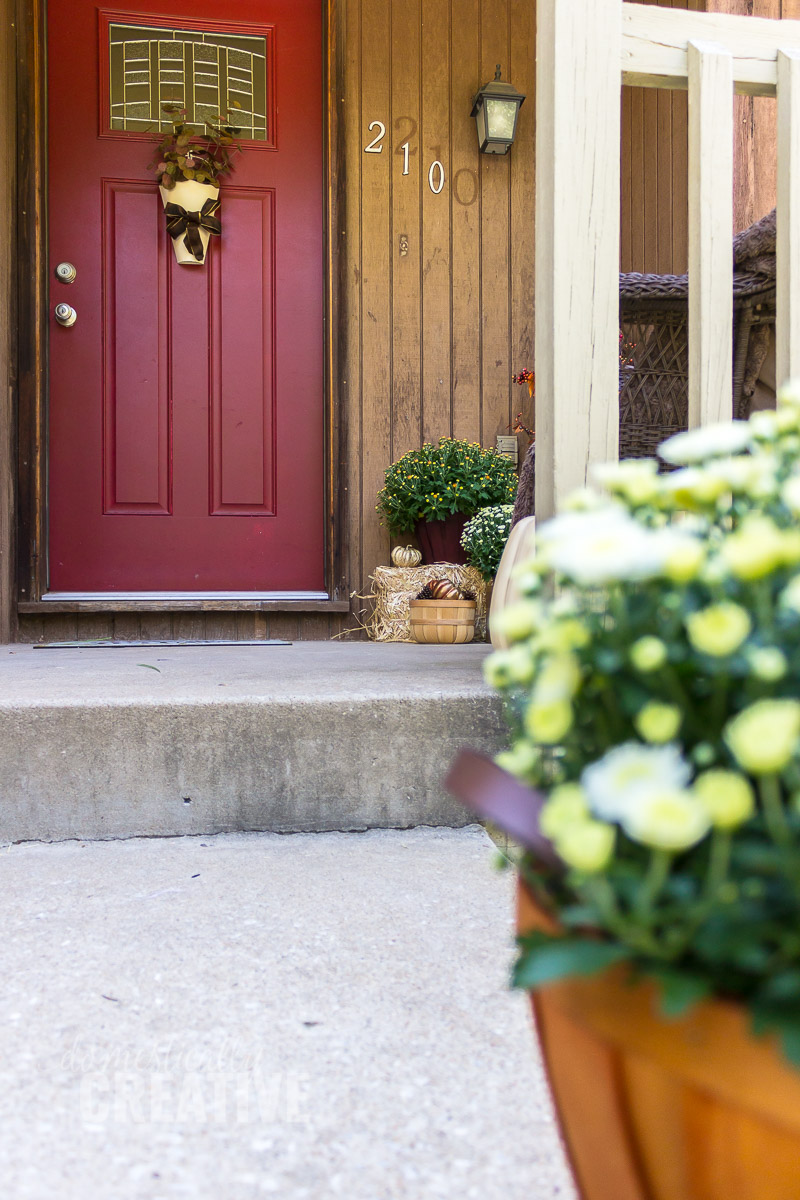 Last weekend I went in to my local Lowe's to see what kind of pumpkins, mums and other Fall Decor they had, and I was not disappointed. I love shopping at our Lowe's because everyone there is always so friendly and the store is easy to navigate. Plus their selection of Fall and Halloween Decor is both stylish and affordable! I almost walked out with things for both a Fall AND Halloween front porch, but I refrained. One thing at a time Amanda.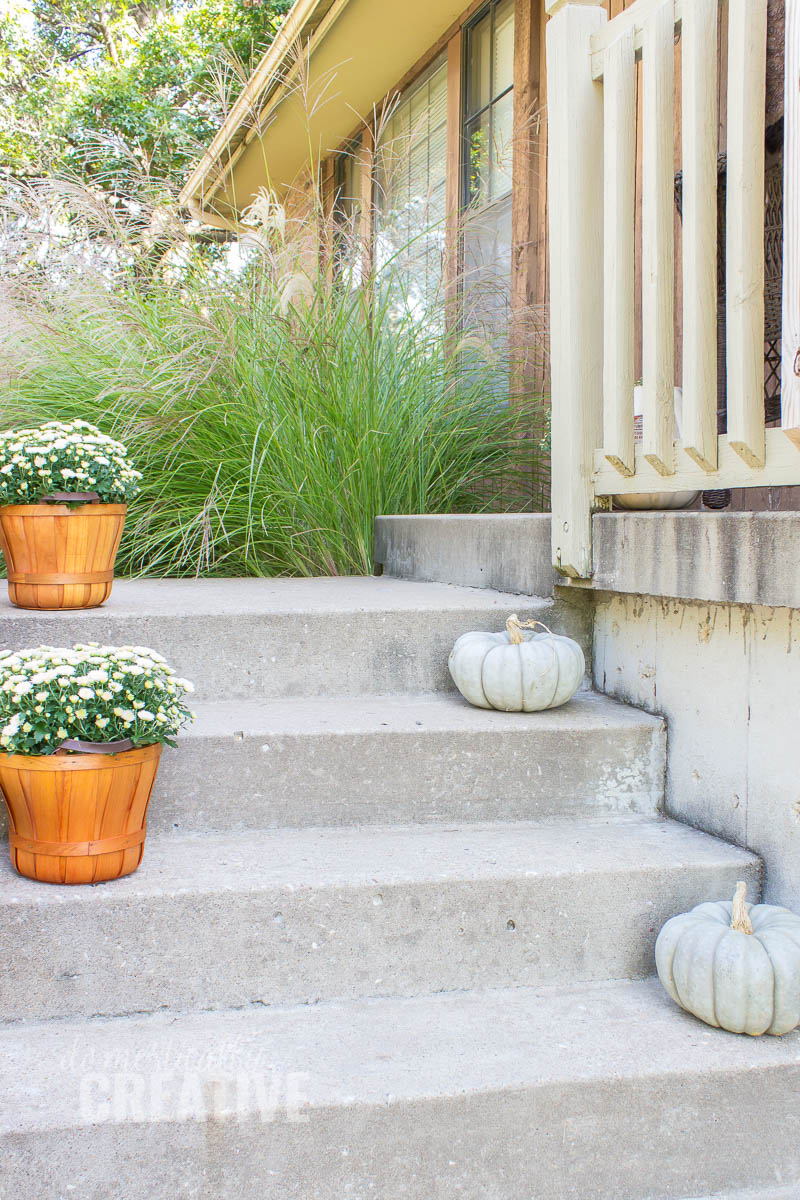 Our front porch on this house can be a little challenging to decorate and photograph. We live in a split level home and have several steps up to our front door. I didn't want to clutter up the steps, but wanted to bring them to life for our cozy Fall front porch. To do this I simply added a few white mums, and these gorgeous rustic blue pumpkins. Seriously aren't they beautiful?
Another thing that makes our front porch difficult to decorate is the red door and dark wood siding. Luckily that color scheme fits right in for Fall! To bring in some of the red and wood tones of the home, I bought this fun pumpkin topiary. It's full of LED lights that are battery powered and looks beautiful lit up at night! I also added some orange and white mums and a few faux metallic pumpkins to tie everything together. Click on any white tag in the photo to shop!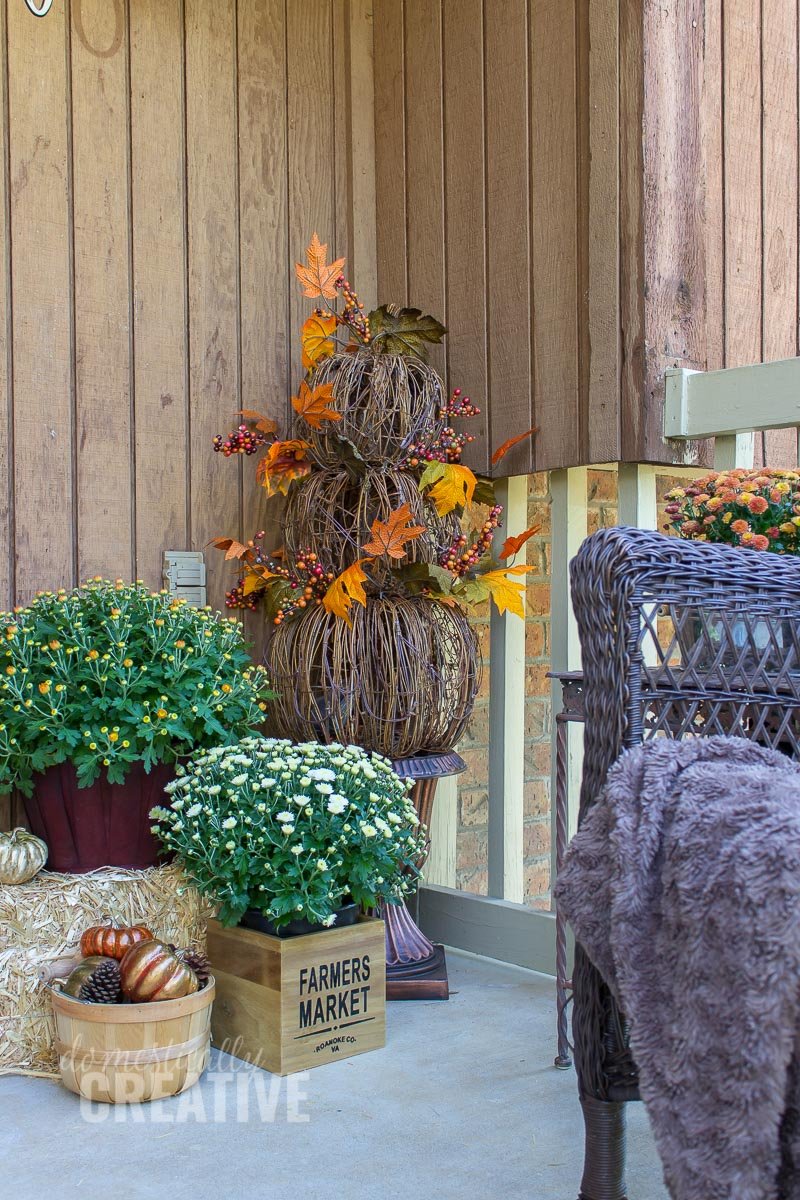 To make our Fall front porch cozy and welcoming, I brought one of our patio chairs from the back deck up, and added a fuzzy blanket and this cute gourd pillow. Of course I had to flank it with another pumpkin. I love having a chair out front to sit and drink my coffee in the mornings. I can't wait until the leaves really start changing and give this space the perfect golden yellow and orange back drop. Can't you just imagine it?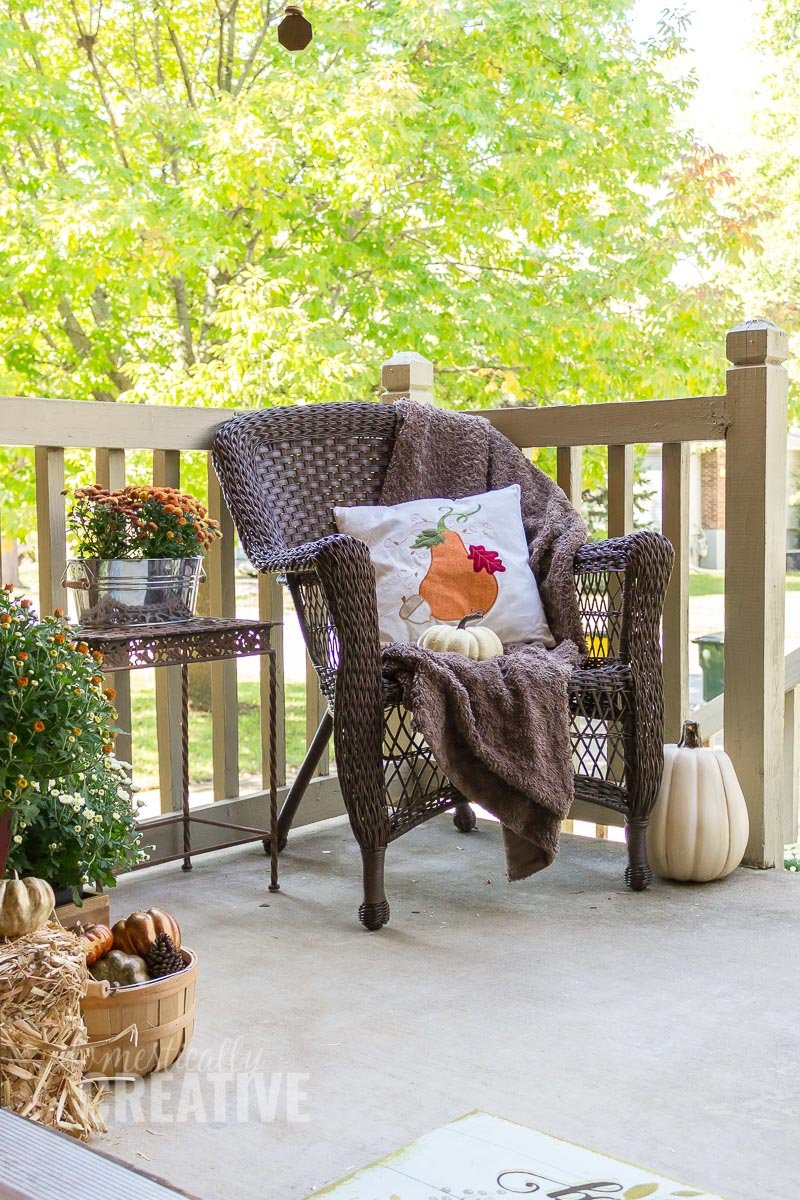 And of course what cozy Fall front porch is complete without a new Autumn inspired door mat? It doesn't even break my husband's rule of not having anything with "welcome" on it. What? Isn't that a normal rule to have?
Apparently in our house it is. But that's ok, we don't have to use words to welcome you into our home. Our cozy Fall front porch does that all on its own!
For more Fall decor inspiration and decorating DIY's be sure to follow Lowe's on your favorite social media platform: Instagram Facebook Twitter Pinterest
and don't forget to pin this post to remember all of the goodies you need to pick up on your next trip to Lowe's!