Low Carb Pumpkin Cheesecake Bars
There's plenty of pumpkin spice flavor packed into these perfectly layered and low carb pumpkin cheesecake bars that you can't help but want to gobble them all up.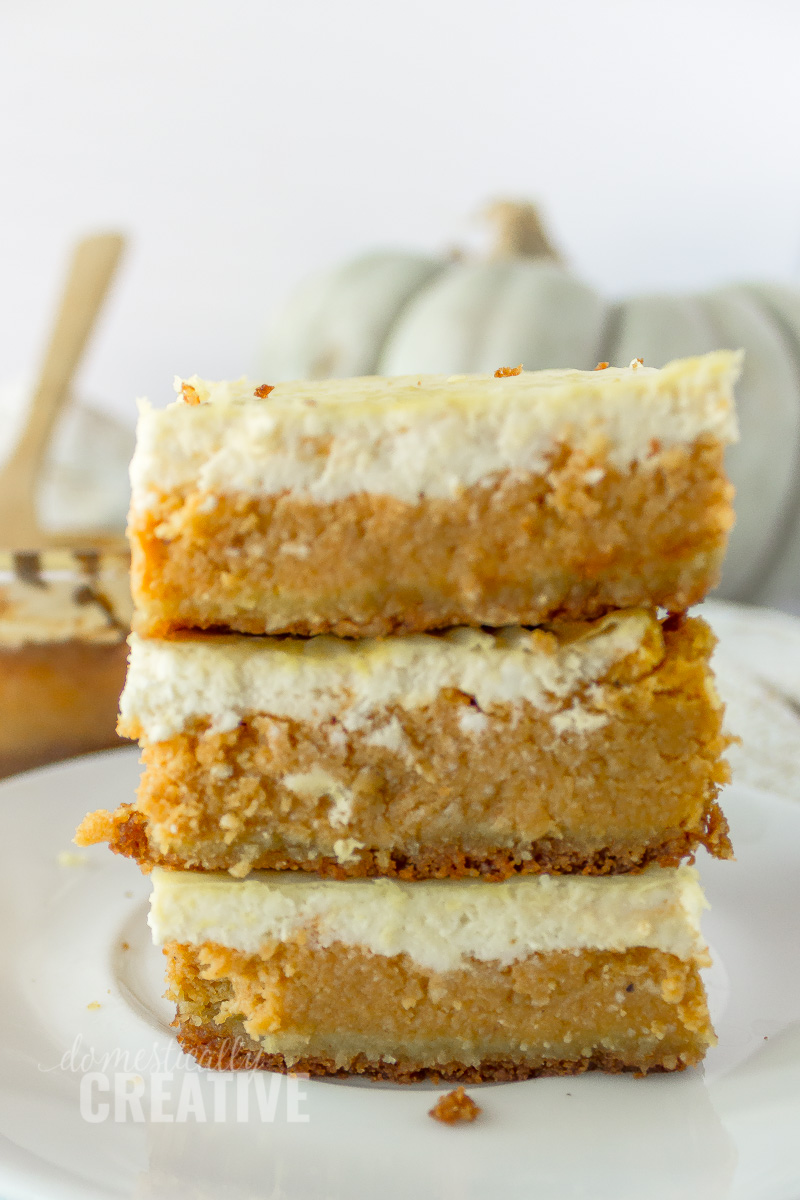 I'm back with my final submission for the Steviva "Sweeten it up" blogger challenge, and I have to say that I think these pumpkin cheesecake bars are my favorite! A big thank you to Steviva for providing me with the sweeteners for these recipes!
I think this is my favorite recipe for the challenge! I am one of those people that goes crazy for pumpkin spice everything at the first glimmer of Fall. This year though, I haven't been able to enjoy my typical pumpkin pie poke cake, pumpkin cinnamon rolls, or even my personal favorite, Pumpkin Spice Latte from Starbucks. I'm sure there is a way to order that baby low carb, but I haven't figured it out yet.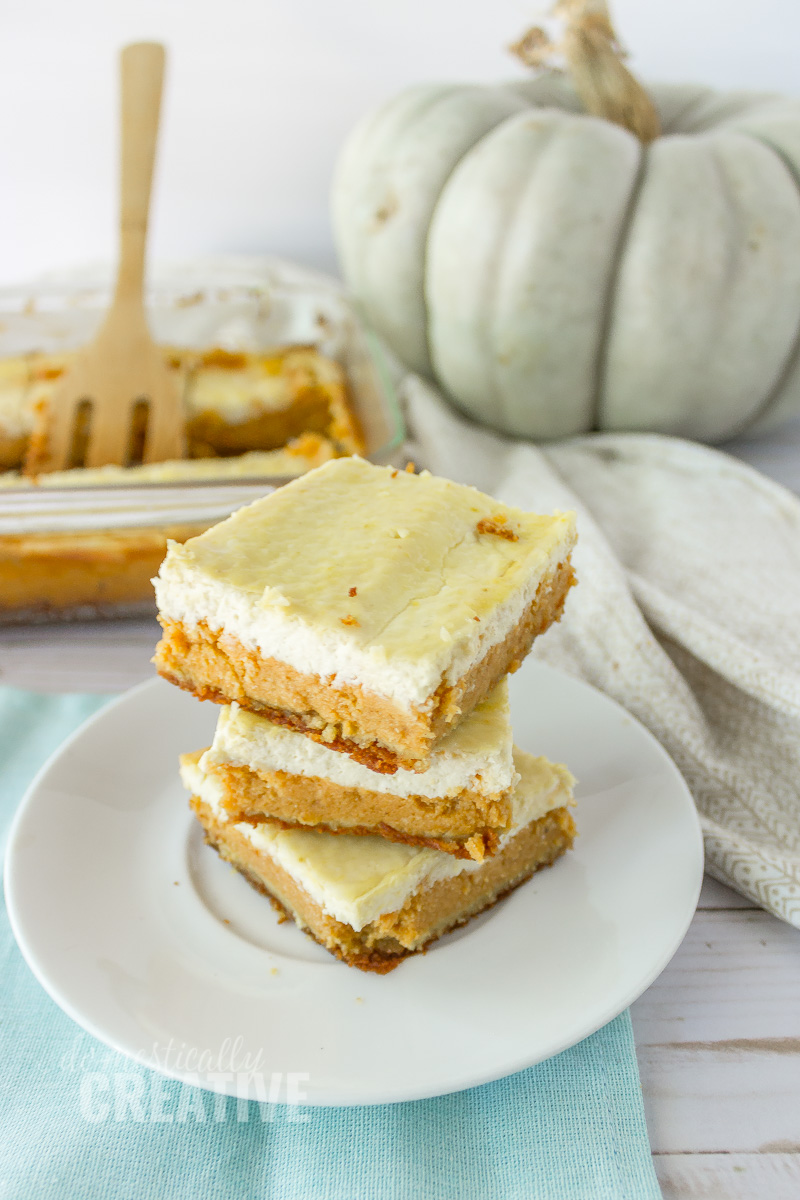 So with the last challenge category being a dessert, I figured this was as good of a time as any to do some experimenting and create a yummy recipe to satisfy my pumpkin spice cravings. And let's just say I think I hit the nail on the head with these low carb pumpkin cheesecake bars.
There is plenty of pumpkin spice flavor packed into these low carb pumpkin cheesecake bars, and since I used Erysweet and Fructevia sweeteners from Steviva, they are lower in carbs too! Fructevia is a blend of Fructose, Inulin, and Stevia Extract, and it is 2x sweeter than sugar. That means it takes only 1/2 the amount of sugar you would use in a recipe, but it acts similarly as sugar since it still has the caramelizing properties. This makes it a great substitute to use in baking!
Erysweet is Steviva's granular erythritol. It's only 70% as sweet as sugar, so I bumped up with sweet factor with the Fructevia, but still got the bulk I needed in the batter from the Erysweet. The result was these sweet and perfectly layered pumpkin cheesecake bars that you can't help but gobble up. Here's the recipe:
Low Carb Pumpkin Cheesecake Bars
Ingredients
Crust:
1/4 cup unsalted butter, softened
1.5 tbsp fructevia
1/2 tsp vanilla extract
1/2 tsp cinnamon
Pumpkin
1/2 cup unsalted butter, softened
1/2 cup Erysweet
1 tsp Fructevia
1 large egg
3/4 cup pumpkin puree, *not pumpkin pie filling*
1 tsp vanilla extract
2 tsp pumpkin pie spice
2 tbsp coconut flour
1/2 tsp baking powder
1/2 tsp salt
Cheesecake
8 oz cream cheese, softened
1 large egg
2 tbsp Fructevia
1 tsp vanilla extract
Instructions
Preheat oven to 350 and liberally grease a 9x9 pan. Set aside
For the crust:
In a medium bowl, beat butter until creamy. Mix in flour, Fructevia and vanilla until well incorporated and dough starts to form.
Press dough into bottom of prepared pan, making an even layer that extends to all sides.
For the Pumpkin portion:
In a small bowl, whisk together flours, pumpkin pie spice and baking powder. Set aside.
In a large bowl, cream together butter, Erysweet and Fructevia. Beat in egg, pumpkin and vanilla until fully incorpoarted.
Mix in dry ingredients and beat until blended together. Mixture will be spreadable but not pourable.
Spread mixture on top of crust layer.
For the Cheesecake layer:
In a medium bowl, beat cream cheese until creamy and smooth.
Mix in egg, vanilla and Fructevia. Beat until fully incorpoarted.
Spread mixture on top of pumpkin layer.
Place in preheated oven and bake for 25-30 minutes, or until toothpick inserted in the center comes out clean.
Nutrition Information
Yield

9
Serving Size

1 bar
Amount Per Serving
Calories

372
Total Fat

35g
Saturated Fat

16g
Trans Fat

0g
Unsaturated Fat

17g
Cholesterol

107mg
Sodium

318mg
Carbohydrates

11g
Fiber

3g
Sugar

3g
Protein

8g
Nutrition values are automatically calculated by third-party software using global standards. Please note that values can vary based on product brands and different nutritional calculators. The values stated here are only for a basic reference and are not evaluated by medical or nutritional professionals.
Pin it for Later:
It's been so fun participating in the Steviva blogger recipe challenge! Be sure to follow them on Instagram, Pinterest, Facebook and Twitter to see what the other bloggers are coming up with as well!
And check out my other submissions to the challenge: