DIY Farmhouse Style Dining Table
This post may contain affiliate links for your convenience. Read our disclosure policy.
Last week I posted 5 Farmhouse style dining rooms for you to drool over. This week, I'm going to show you my version of a farmhouse style dining table.
This post gets a little long, so bear with me!!
My husband and I started this project way back in February. The weather was just starting to warm up a bit, so my husband started tackling some projects. He actually built the table in one weekend, the same weekend he built our smoker. He's pretty handy, that one 😉
We used these Ana White plans, but did a few alterations. And, I have no step by step photos, as I wasn't really involved in the building. I do know that we didn't use the metal pipe running through the bottom, and my husband did some alterations to the legs and stretchers as well. Either way, the directions were pretty easy to follow (so he says).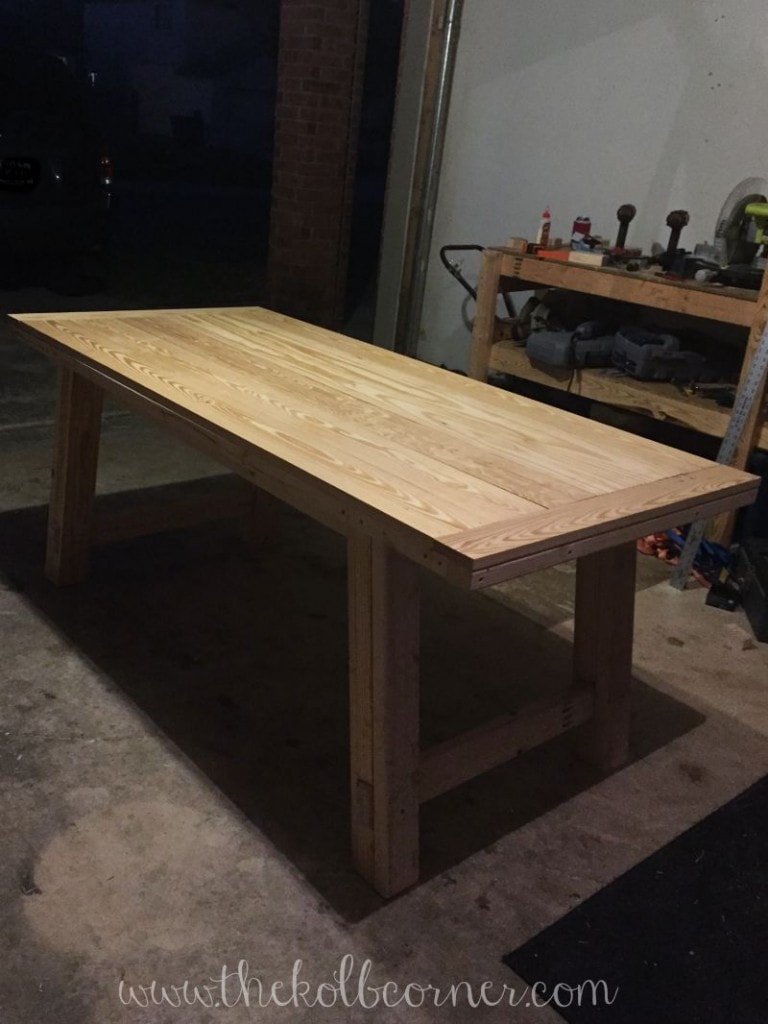 The finishing of the table was completely up to me. I spent a few mornings sticking wood putty in the nail holes, and sanding. I did A LOT of sanding.
When I got to the top planks of the table, I really wanted to beat them up to make them look a little bit old and worn. When we chose the 1x6s at The Home Depot, I made sure to pick ones that had different grain patterns, holes, and knots. The last thing I wanted was it to look like a brand new table.
I ended up taking the planks off, so I could sand the edges and rough them up easily. Had I thought things through before the building started, I would have done this then. Live and learn.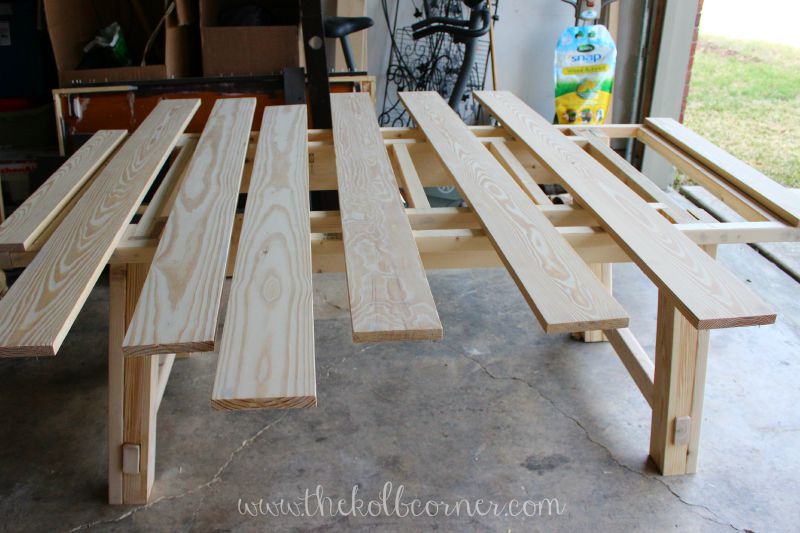 Once I had them off, I used 60 grit sand paper followed by 150, then 200 grit, to round the edges and corners just a bit. This gives it a more roughed in look, rather than looking like brand new, hot off the mill, boards.
Then I had fun!
I used anything I could find to beat up the boards. I took nails and hammered them in upside down to create interesting holes. I used the hammer to dent the wood. I used a chain we use to keep the dog in the yard when we are out front, and beat the planks. I took the biggest bolt I could find and pressed it into the wood. It was fun to see what different tools would do to new, soft wood.
After the planks were sanded and beat up, I left them off the table to paint the bottom and legs.
I decided on a two-tone table, rather than staining the whole thing. My original plan involved an off white chalky paint on the bottom, and a weathered looking stain on the top.
Let me just say, this was my first time working with chalk paint, and it didn't go as I had planned. AT.ALL.
First off, bare wood soaks up chalk paint just as much as it does oil or latex paint. I didn't realize that.
I also had the bright idea to put a little stain on the edges of the legs and other areas that I would distress later on.
I posted this photo on Instagram RAVING about how it was looking. I thought after another coat of paint and a little distressing, it would be finished.
Well, I let it sit overnight, and the next day I was sorely disappointed.
Not only did the chalk paint absorb into the bare wood, but it also yellowed where the stain was applied.
I put on 2 more coats of chalk paint, and each time I got the same results.
Thinking back, I should have known better than to try and fake antiquing with the stain, but hindsight is 20/20.
After many many curse words, a few tears of frustration and about 2 weeks of letting it sit, I decided to go a different route. I sanded some of the chalk paint off, but not down to bare wood. Then I applied 1 coat of primer and 2 coats of antique white latex paint.
Not exactly what I envisioned, but it still turned out well.
For the planks I used Rust-Oleum's Sunbleached stain first, then applied Minwax stain in Walnut over top. In the light, it takes on a grungy look which I love.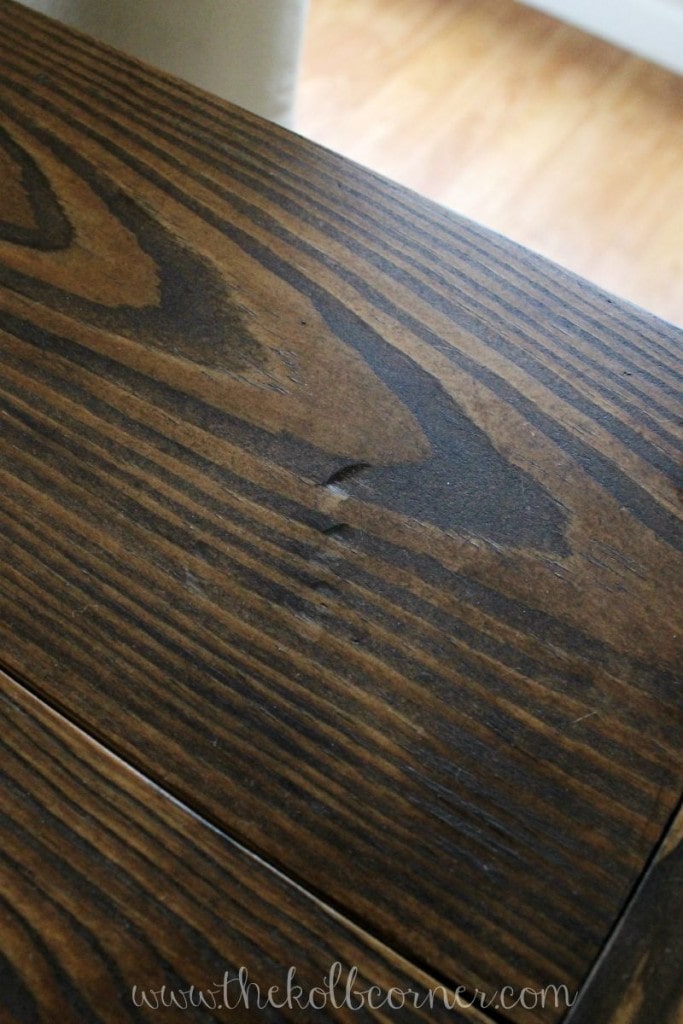 This is after we first brought it in the house. Jack was kind enough to model it for me. I can always count on my fur babies to help out.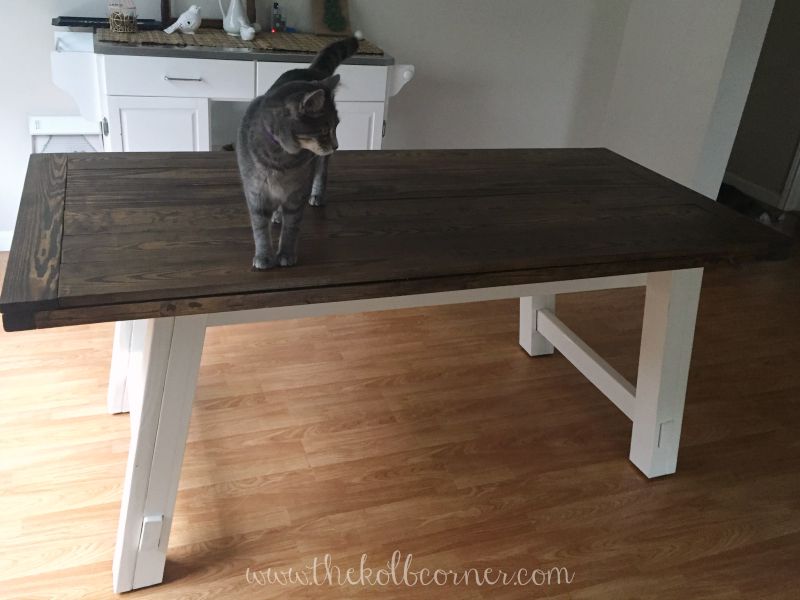 And here it is with a few little Fall decorations. I'll be tackling that bookshelf next!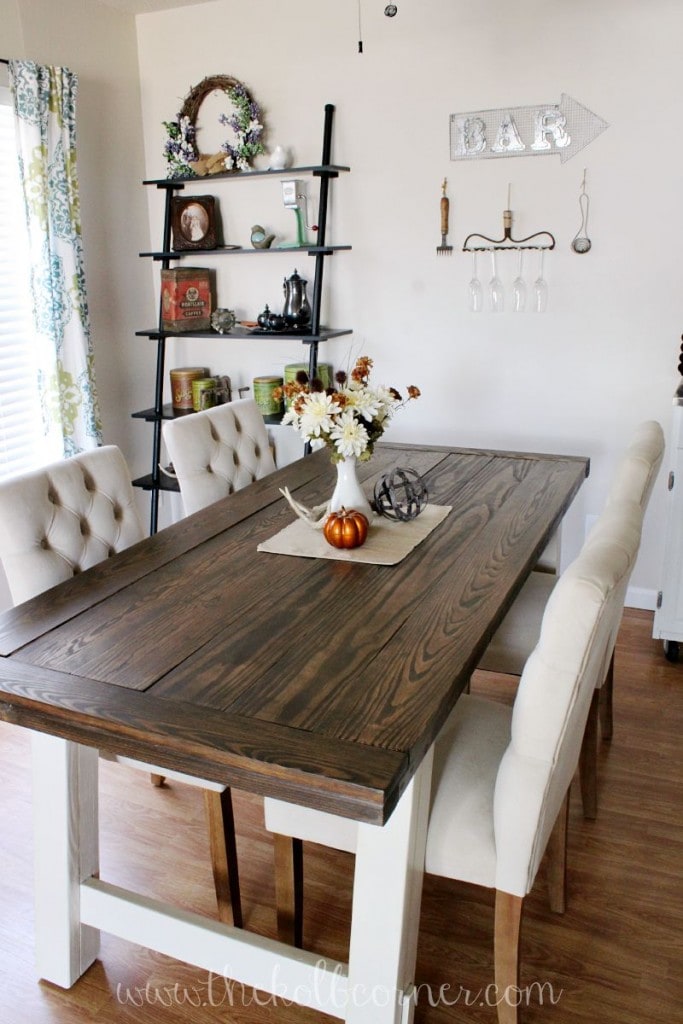 This room is still a work in progress, but having a table finally makes it feel like home when I walk in the door.
What DIY disasters have you experienced? Please tell me I am not the only one who experiences these calamities!