8 Crock Pot Freezer Meals
A few weeks ago, I experienced life as a single woman. My husband went out of town on business, and I was alone for an entire week. Some women would LOVE this, but I did not. My husband and I go everywhere together, so for him to be experiencing a new state and city, without me, wasn't exactly my idea of a fun week. But I did manage to make the best of it.
In true Amanda fashion, I spent most of my single woman weekend cooking. Yes, cooking.
I love cooking though, and I must admit, it's easier for me to spend a day in the kitchen when I am alone. I can turn on some music, crank up the volume, and sing along, without worrying about my husband catching me 😉 Let's face it, I was not blessed with a singer's voice, nor was I given anything resembling rhythm when it comes to dancing.
My main focus for the day was to make as many freezer meals as I possibly could, before my legs and feet told me to knock it off. I've only made freezer meals once before, and since then I've only been asked to do more.
This time around, I concentrated on Crock Pot meals. You know, ones you can throw all the ingredients in a gallon zip-lock bag. All you have to do is thaw the night before and put the contents in a slow cooker. Seriously, where would I be without my Crock Pot?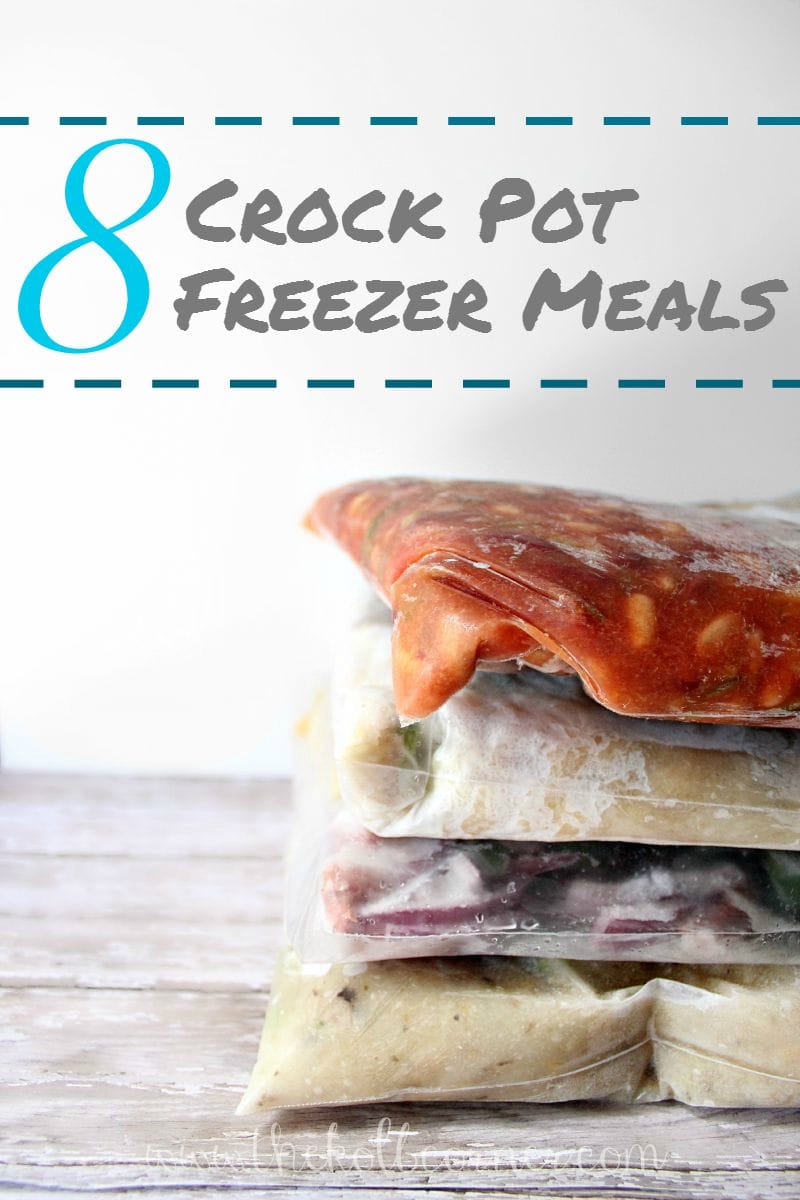 I also made a few casserole meals, and 5 different types of breakfast items, that I'll be sharing with you guys at a later date. *UPDATE* Here are my 5 Freezer Friendly Breakfasts.
Here's a list, with links, of what I made this time around. I tripled the first 7 recipes and doubled the Italian Beef for a total of 23 meals. Using 3 a week, that's almost 2 months of Crock Pot freezer meals!
Thai Chicken Legs–I omitted the ginger because I personally cannot stand the taste and the meal still turned out well.
White Chicken Chili–I replaced dry beans with 2 cans each, and did not add broth to freezer bag. Write on each bag to add 5 cups chicken broth
Southwest Chicken— I didn't add Pinto beans and wrote on the bag to add a block of cream cheese 30 minutes prior to serving (optional)
Italian Beef **
**To save money, find a good sale on chuck roast or arm roasts. Buy the largest one (6 pounds if possible) and cut it in half. Now you have 2 meals from one roast.
These meals were really easy to assemble. To make chopping and slicing veggies easier and quicker, I used my food processor. I was able to chop up the onions and slice peppers in no time. For the chili and taco chili I had to cook the ground beef which took about 20 minutes. I ended up only using 4lbs, instead of 6, and stretching it to save money. If you are a family of 4 you probably want to use all 6lbs.
While the ground beef was cooking I assembled the other meals. The whole process took an hour from start to finish!
And, because I am such a nice, thoughtful person, I have a printable grocery list for you! This list is for exactly what I made, tripling all recipes except for the Italian Beef. That one is doubled.
Subscribe to my members only freebie library below and you'll be sent the access instructions via email!
I can't believe I waited an entire year to do a second round of freezer meals! This was so easy, and took no time at all to finish. Even better I have plenty of meals to choose from on busy weeknights. Just throw it in the crock pot in the mornings and dinner is ready when you get home!
Here's some other Crock Pot friendly meals:
Don't Forget to Pin it!