It's no secret that I've been working on our dining room, little by little. Back in February I even posted on Instagram some of the progress we had made with our very own DIY farmhouse table.
The truth is, I am the absolute SLOWEST person when it comes to putting an entire space together. The proof is in the pudding folks–remember how long it took me to "finish" my office? And the space wasn't, and still isn't, 100% finished. I don't think it ever will be.
See that's the thing about me. I like to add, and add, and change, and add some more. I will never, ever, be totally happy with whatever space or vision I'm trying to create. But that's OK, because it keeps me very busy, and inspired.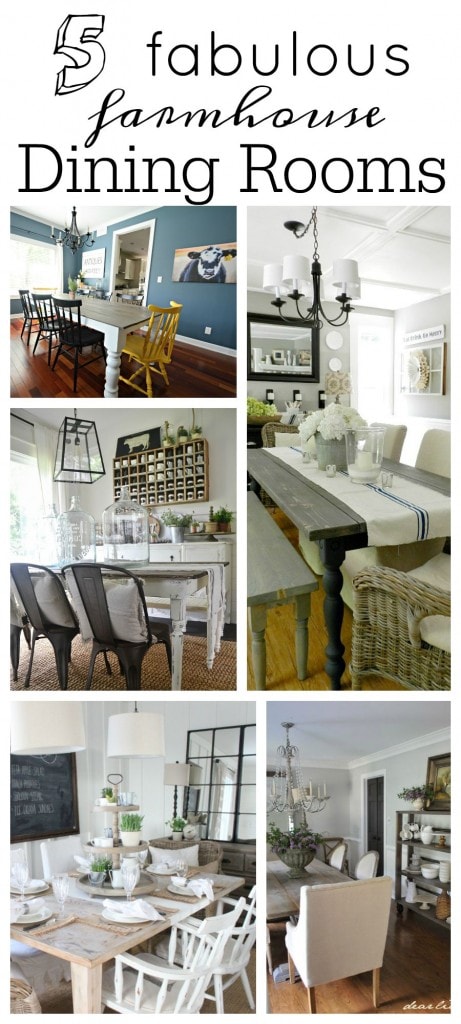 So for our dining room, I have dreamed up quite a few ideas to turn it into a fabulous, farmhouse inspired space, and I hope to have some very real progress to show for it soon! But in the meantime, I've gathered up some other, very swoon-worthy, farmhouse dining rooms for you to drool over.
Oh, and while you're at it, be sure to check out the rest of these fabulous bloggers' homes. I mean really, every single space is perfectly thought out and put together.
***Update you can check out my finished dining room table here, and the semi finished space here.
---
Where do I start? I am in love with everything in this room from the giant jugs on the table, the cubbies on the wall, all the way down to that rug.
---
The stain on the table and bench is perfect for this space, and the wicker chairs at each end of the table really pulls everything together. The chalkboard painted onto the door panel is genius!
---
This one may not be your traditional aged farmhouse dining room, but it's quirky with just enough farmhouse glam pulled in. I am loving the pops of color with the chairs, wall and cow print. And vintage Pyrex–I think we were meant to be the best of friends.
---
That cart with the beautiful cream dishes and cake stands is just enough to make my heart skip a beat. And did you see the chandelier? The perfect finishing touch.
---
I can't get enough of the board and batten on the walls in this space. It really brightens everything up, and adds to the farmhouse feel.
---
More Farmhouse inspiration just for you: