Ever since we cut out processed foods, my husband and I have been eating yogurt topped with granola and fruit for breakfast. Our favorite was from Sprout's Farmer's Market, in bulk, called French Vanilla Almond. That stuff is yummy! Unfortunately, it's pretty pricey running at $3.49/lb regular price. They do run an occassional sale on it at $1.99/lb but never seem to keep the bin stocked up.
Granola has been on my shopping list for 2 weeks now, and guess what I forgot at the store yesterday? You got it. Luckily, I keep quick oats in our pantry because for whatever odd reason, hubby likes to add that to his yogurt too. I don't like when my granola gets soggy in the yogurt, so I can't imagine how just uncooked oats would be like.
Anyway, since I had the oats, and I also had some slivered almonds, I thought maybe I could make some from scratch. How hard could it be anyway? So I took to Pinterest and found a few recipes I liked.
I sort of combined a few and came up with the PERFECT, easy homemade granola recipe.
The best part? It's cheaper, and much lower in sugar than the store bought. Not to mention, it tastes great!
Enjoy!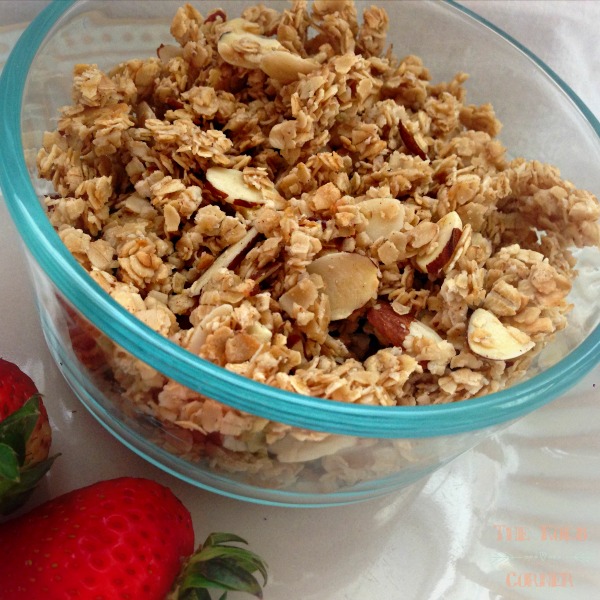 Homemade Granola
An easy, delicious recipe to make your very own granola. Eat it as a snack, or add it to fruit and yogurt for a quick, simple breakfast.
Ingredients
3 cups quick oats
1/4 cup melted coconut oil
1/3 cup honey
1/4 tsp salt
1/4 tsp cinnamon
1/4 tsp almond extract
1 tbsp vanilla extract
Slivered almonds, (optional)
Instructions
In a medium bowl, combine oats, cinnamon and salt.
In a smaller bowl, whisk together coconut oil, honey, vanilla and almond extracts.
Pour liquid over oat mixture and stir together until well coated.
Spread out thinly on a cookie sheet lined with parchment paper.
Bake at 300 for 20-25 minutes.
Allow to cool completely before removing from sheet.
Store in an airtight container for up to 3 weeks.
Nutrition Information
Serving Size

1 grams
Amount Per Serving
Unsaturated Fat

0g