Simple Oven Roasted Zucchini
Looking for an easy side dish you can whip up in no time? This delicious and simple oven roasted zucchini recipe has you covered. Just a few ingredients and a little bit of time in the oven is all you need to create a yummy baked zucchini slices recipe everyone in the family will love.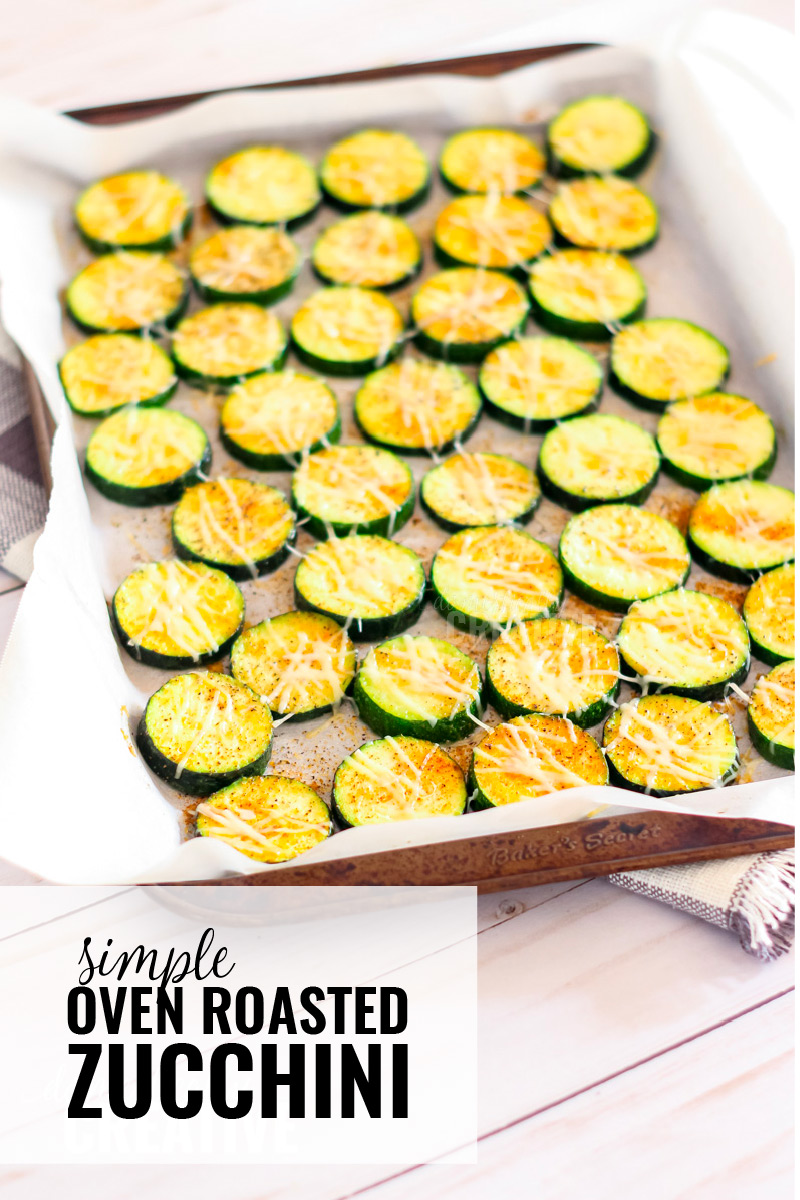 I had never really been a huge fan of zucchini, until recently. I don't know why–maybe it's because I never really ate it growing up? Anyway, I never usually buy the stuff or grow it, but when I did my freezer cooking a few weeks ago, I bought more than I needed.
Initially I thought I would whip up a batch of zucchini bread, because everyone needs a little zucchini bread in their lives. Amiright?
Well, I sort of forgot I had that extra zucchini after I did all of my freezer cooking. It just so happened that while I was searching for a green pepper, I came across two very sad looking zucchini (zucchinis? is this one of those weird words that the singular and plural versions are the same?) Anyway, they needed eaten–stat.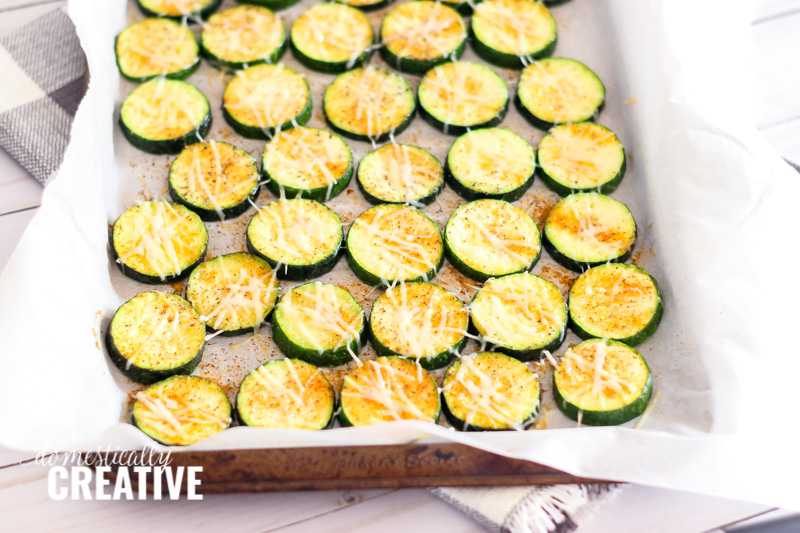 My husband wasn't convinced my oven roasted zucchini would be good, but one taste and he LOVED them. Zucchini may just be making a regular appearance on my dinner table in the form of these roasty, cheesy, salty rounds. Yum!
How to Bake Zucchini Slices in the Oven
First things first, slice the zucchini into even, about 1/4″ width round slices. Place the zucchini slices in a bowl and drizzle olive oil over top. Toss the zucchini slices to coat in oil. Sprinkle salt, pepper, garlic powder and paprika in the bowl and toss again to completely coat the sliced zucchini. Place the zucchini rounds on a parchment paper lined baking sheet and bake at 350 for 10 minutes. Remove zucchini from the oven, and top with grated parmesan cheese. Return the pan to the oven and bake for another 5 minutes, or until the cheese is slightly golden.
Tips for roasting zucchini or courgette in the oven
Don't over cook the zucchini. I've found that roasting zucchini for too long can make it become a bit soggy and limp.
Your cooking time will depend on the thickness of each sliced zucchini or courgette, so try to stay consistent at around 1/4″ thick.
Use a skinnier vs wider zucchini or courgette for this recipe to give you more even and uniform slices.
Broil the zucchini for a few minutes at the end of the roasting time to give the outer edges of the cooked zucchini rounds a bit of a crunch.
I really think what sets these delicious baked zucchini slices apart is the fresh Parmesan cheese on top! It's even better when the cheese gets a little crisp under the broiler. Delish!
More delicious side dish recipes you'll love:
Don't forget to pin it!
Oven Roasted Zucchini
Easy, oven baked zucchini rounds that are tossed in oil and spices, sprinkled with fresh grated Parmesan and roasted to perfection!
Ingredients
2-3 medium to large Zucchini, sliced 1/4" thick rounds
1 tbsp Olive Oil
1 tsp Garlic powder
1 tsp Paprika
Salt and Pepper to taste
3 tbsp Parmesan cheese
Instructions
Preheat oven to 375 and line a baking sheet with foil or parchment paper.
Place zucchini rounds in a medium sized bowl (or gallon Ziploc bag). Add oil and spices to bowl and toss zucchini to coat.
Lay zucchini on prepared baking sheet in a single layer
Bake for 10 minutes. Remove from oven and sprinkle with Parmesan cheese. Return to oven for 5 more minutes
Optional, broil for 2-3 minutes to give the outer edge a little crispier and cheese a golden brown color
Nutrition Information
Yield

4
Serving Size

4 servings
Amount Per Serving
Calories

74
Total Fat

5g
Saturated Fat

1g
Trans Fat

0g
Unsaturated Fat

3g
Cholesterol

3mg
Sodium

147mg
Carbohydrates

6g
Fiber

2g
Sugar

3g
Protein

3g