Cool down this Summer with a refreshing and fizzy blueberry lemonade recipe that is both easy to make and sugar-free! Only a few simple ingredients needed!
My favorite Summertime drinks are any type of flavored lemonade. Lemonade is such a staple drink of Summer probably because it's such a light and refreshing drink. I prefer my lemonade on the more tart side, while others like it a little sweeter.
Not surprisingly, most store-bought and even homemade lemonade has a ton of added sugar in it to give it the sweeter flavor. So to make this blueberry lemonade recipe sugar free and therefore lower in carbs, I had to get a little bit creative! Most flavored lemonade recipes start with a simple syrup that is made with the fruit of choice, sugar, and water.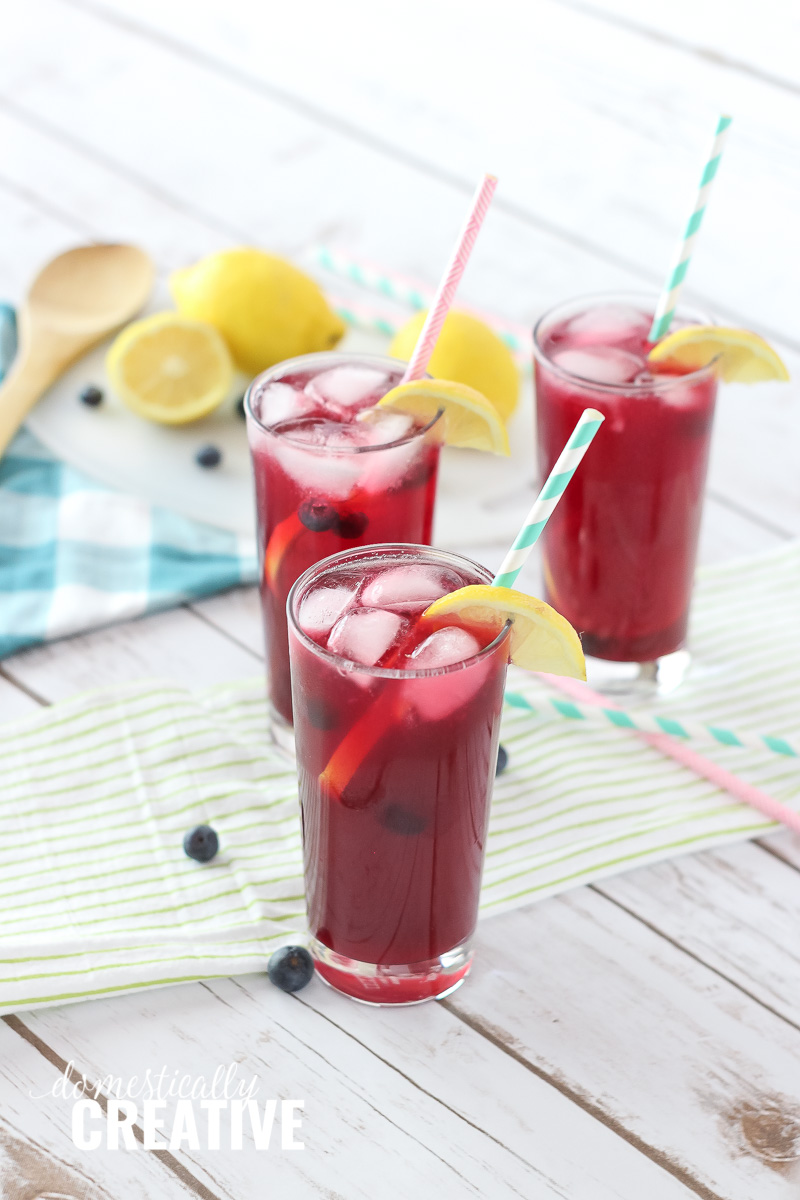 To make a "sugar-free" blueberry simple syrup, I experimented with replacing the sugar with Swerve granular sweetener instead. It worked! While a sugar-free simple syrup using Swerve does not thicken as much as a traditional simple syrup, it does break down and thickens slightly. Please note that I haven't tried making a simple syrup from any other Erythritol or Stevia based sweeteners, so they may yield different results.
That really is the base of this recipe! To make the lemonade, you just need to juice several lemons (about 7-8), add water and then sweeten to taste. You could use any sweetener you choose, but I do like using liquid Stevia because it disperses and dissolves well. A lot of Erythritol based sweeteners don't dissolve as nicely in cold liquid.
Just add the blueberry simple syrup to the lemonade and you are set!! To make it an even more refreshing Summer drink, top your glass off with some sparkling water. And if you want to get real fancy, add some Lemon or Berry LaCroix to take it over the top!
Fizzy Blueberry Lemonade--Sugar-Free
Refreshing and sugar free blueberry lemonade recipe that is perfect for a hot Summer day.
Ingredients
1 cup frozen blueberries
1 1/2 cups water
1/2 cups Swerve Granular Sweetener
1 cup lemon juice, about 7-8 lemons juiced
5 cups water
10-12 drops liquid stevia
2 cups sparkling water, unsweetened
Instructions
In a medium saucepan, add blueberries, 1 1/2 cups water and 1/2 cups Swerve granulated sweetener.
Bring to a boil, reduce heat and let simmer until blueberries have expanded and start to break down, about 10 minutes.
Pour over a fine mesh strainer into a glass container to separate out berries and seeds. Toss berries and place blueberry mixture in fridge to cool.
While berry mixture is cooling, juice 7-8 lemons (or use regular unsweetened lemon juice) and place in a pitcher.
Stir in 5 cups water and 10-12 drops liquid Stevia (probably 2-3 packet equivalent) to taste.
Stir in blueberry mixture.
Serve over ice and only fill 3/4 of glass. Top with sparkling water for fizz! Garnish with extra lemons and blueberries.
**Mix in vodka or rum for a refreshing adult beverage!**
Nutrition Information
Yield

8
Serving Size

1cups
Amount Per Serving
Calories

44
Total Fat

0g
Saturated Fat

0g
Trans Fat

0g
Unsaturated Fat

0g
Cholesterol

0mg
Sodium

18mg
Carbohydrates

17g
Net Carbohydrates

4gg
Fiber

3g
Sugar

5g
Sugar Alcohols

10gg
Protein

1g
Nutrition values are automatically calculated by third-party software using global standards. Please note that values can vary based on product brands and different nutritional calculators. The values stated here are only for a basic reference and are not evaluated by medical or nutritional professionals.
More Summer Drink Recipes:
Love it? Don't forget to pin it!