Framed Monogram Winter Wreath
This post may contain affiliate links for your convenience. Read our disclosure policy.
Decorate your front door for the Winter months by creating this easy and inexpensive framed monogram winter wreath.
It's Day 9 of the 12 Days of Christmas blog hop and today is all about holiday wreaths! If you missed any of the previous days, you can start HERE and work your way back! For my take on a holiday wreath, I created this easy framed monogram winter wreath.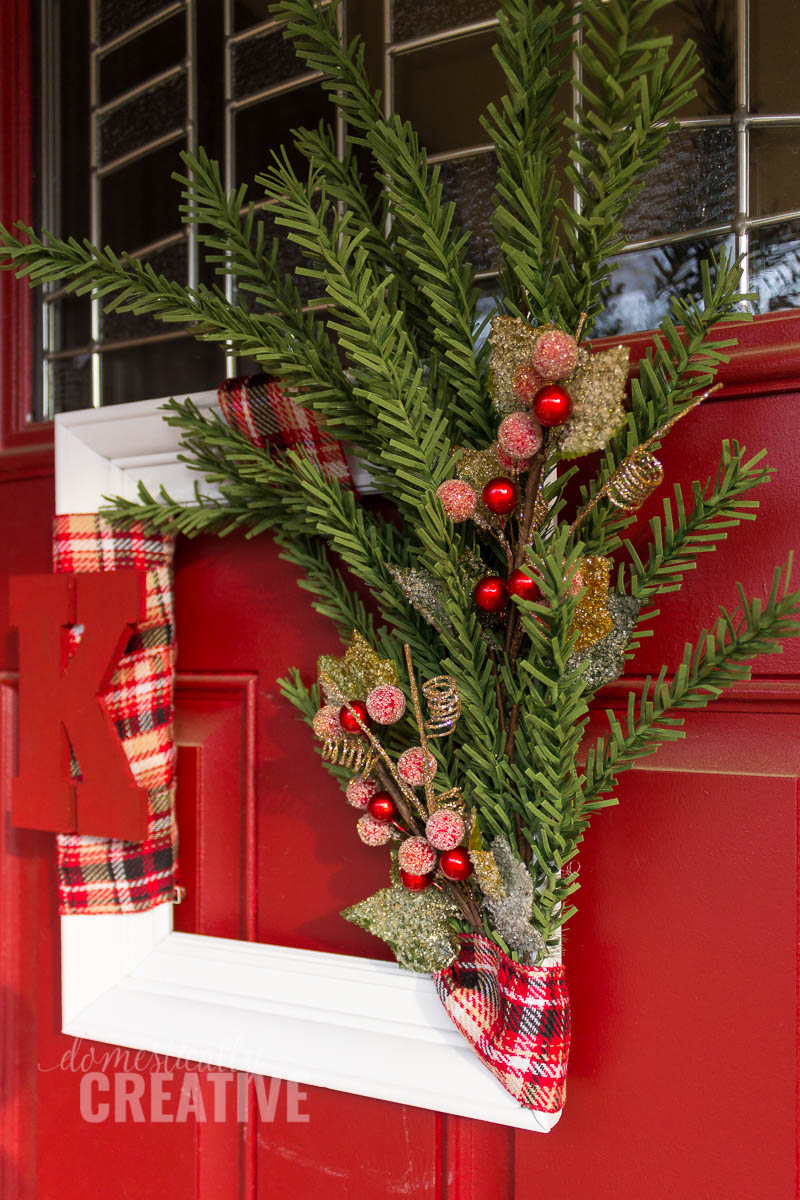 Not only is this a relatively cheap project (using a thrift store frame) but I can leave it up past Christmas into the Winter months. Inexpensive and multi purpose projects are my favorite! Scroll down to read the tutorial on how I made it, and don't forget to check out what the other bloggers came up with!
---
Welcome to the third annual 12 Days of Christmas Blog Hop!
Stop by every day from December first through the twelfth for new ideas you can use to make your season brighter!
Meet Your Hosts
Shirley~Intelligent Domestications | Alli~An Alli Event | Michelle~Our Crafty Mom
Marie~DIY Adulation | Erlene~My Pinterventures | Beverly~Across The Blvd.
Debra~Shoppe No. 5 | Victoria~Dazzle While Frazzled | Deborah~Salvage Sister & Mister
Michelle~Michelle James Designs | Amanda~Domestically Creative | Megan~C'mon Get Crafty
Jeanie~Create & Babble | Sherry~Olives & Okra | Jenny~Cookies Coffee & Crafts
Emily~Domestic Deadline | Bonbon~Farmhouse 40 | Leanna~Of Faeries & Fauna
Pam Larmore~P.S. I Love You Crafts | Kelly~North Country Nest | Marie~The Inspiration Vault
Gail~Purple Hues and Me | Lynne~My Family Thyme | Karen~Dragonfly and Lily Pads
Trisha~Blowing Away Out West | Lorrin~Embrace The Perfect Mess | Terri~Christmas Tree Lane
Sam~Raggedy Bits | Cyn~Creative Cynchronicity | Valerie~Val Event Gal |
Yami~The Latina Next Door | Tania~Little Vintage Cottage
Lauren~Wonderfully Made | Vanessa~DIY 180 | Kimberly~A Wonderful Thought
Kim~Everyday Parties | Dru~Polka Dot Poplars
---
Framed Monogram Winter Wreath
Supplies you'll need:
large frame
wooden initial
plaid ribbon
greenery stems
berry sprigs
acryllic paint
paint brush
I started with a rather ugly and beaten up picture frame that I picked up awhile back at a thrift store. I gave it a few coats of my favorite spray paint-Rustoleum 2x in white and let it dry.
While it was drying, I painted my wooden initial with red acryllic paint and let that dry. You can use any color you want to go a long with your accent colors. I'm actually thinking about changing the color on this as the red blends in too much with my red door, but only time will tell if I actually do that!
Once everything is dry it's time to start decorating! I cut my greenery into individual pieces to make it easier to glue to the frame. Arrange the stems how you would like on the frame before gluing down. This way you have a layout in mind. I wanted my greenery to be on one side and the monogram on the other.
After the greenery is glued down for a base, add some accent berry sprigs (or other accents). I just added two sprigs to keep it simple.
Next you will want to cover up all of those visible stems with a bit of ribbon. I love the way this plaid looks with the greenery and the berry sprigs!! I just wrapped a small piece around the corner to hide the stems, and then glued the ends together on the back of the frame so it's hidden.
Wrap the other side of the frame with more plaid ribbon so that there is a base for the wooden initial. Glue the end of the ribbon to the back of the frame again to hide it. Then glue down the initial on top of the ribbon.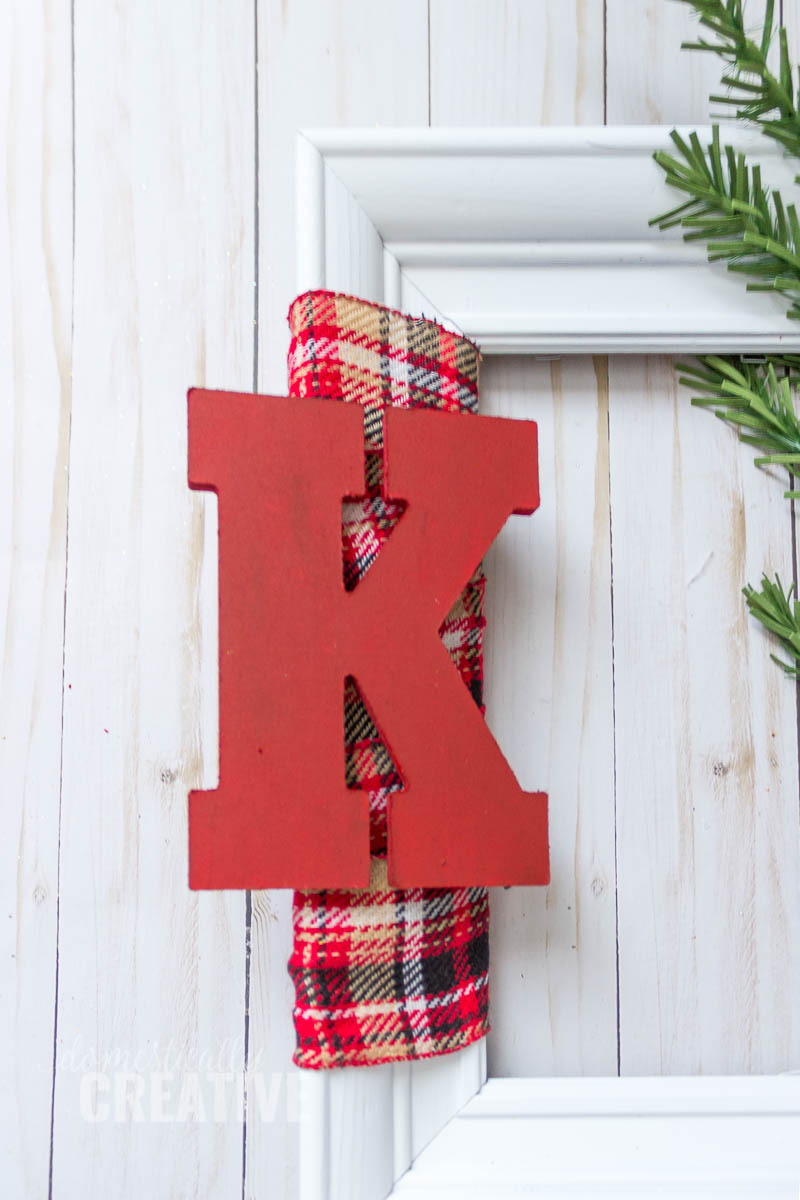 Optional, wrap more ribbon around the top or tie a bow to hang the wreath. My frame still had a wall hanger in it, so that's what I used to hang my framed monogram winter wreath.
I'm thinking I may want to change out the color on my "k" to gold or maybe even use some glitter to make it stand out from the red door. What do you think? What color would you use?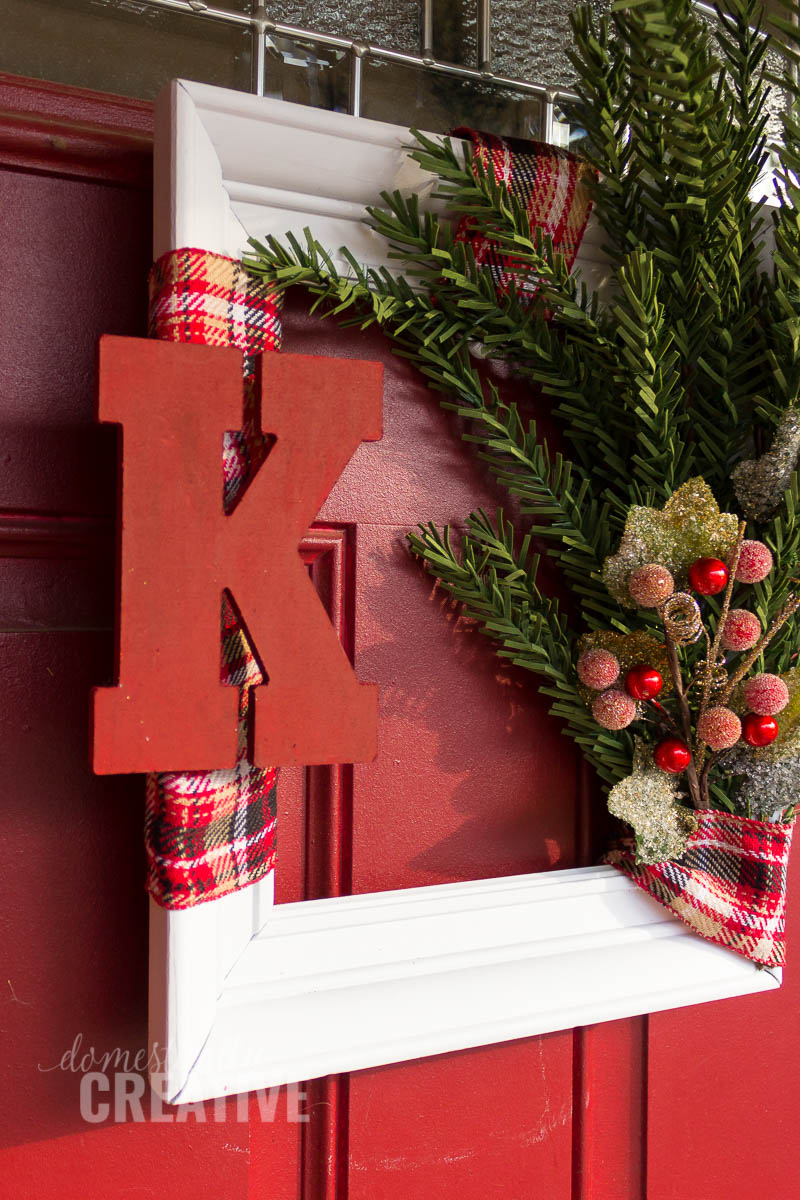 Love this? Pin it for later!
---
Be sure to visit our fellow 12 Days of Christmas Bloggers below for even more creative ideas this holiday season!
');