Halloween Fabric Scrap Wreath
This post may contain affiliate links for your convenience. Read our disclosure policy.
You can make this simple Halloween inspired fabric scrap wreath with just a few items from the Dollar Tree.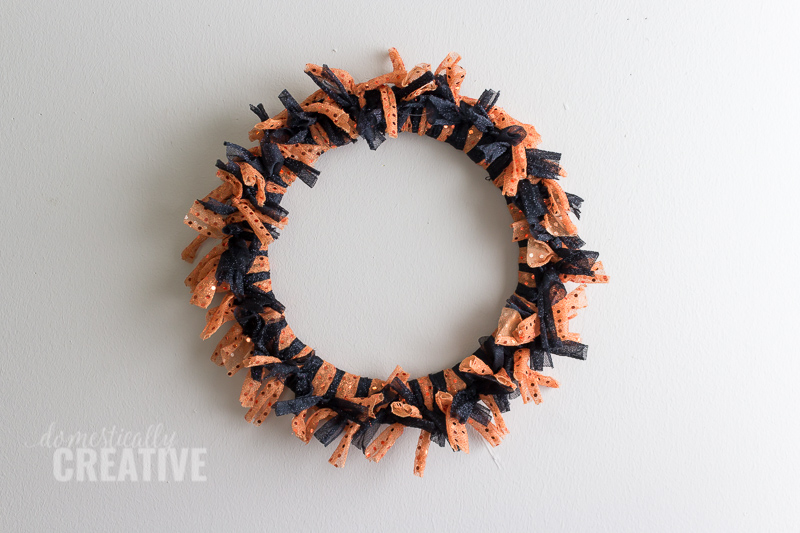 Before we get in to the tutorial, let me just tell you that this Halloween fabric scrap wreath was a complete accident. The idea came after getting super frustrated at my original idea and giving up on it. I originally thought that I could somehow use these adorable Halloween costume tutus from the Dollar Tree in whole to make a bubble style wreath.
Well after trying this way and that way, and a lot of colorful language that would make my grandmother blush, I decided to scrap the idea (literally). It was super therapeutic to aggressively cut these tutus into strips of fabric after my frustration with my first idea. Anyway, here's the tutorial on how I made this Halloween inspired fabric scrap wreath.
How to Make a Halloween Fabric Scrap Wreath
Supplies You'll Need–Most of these came directly from Dollar Tree in their Halloween Section
Foam wreath form
Black fabric netting
Orange tutu x 2
Black tutu x 2
Purple spiderweb bow
I started by covering the ugly green foam wreath form with the black fabric netting (called creepy cloth). This gives you a good base for covering the wreath. You don't have to worry about any green popping through when you are finished.
Next, using my rotary cutter on the cutting mat, I cut the fabric of the tutu away from the waist band. I decided only to use the top layer of fabric from the tutus because the tulle layer was extremely stretchy and looked silly once I started tying the strips to the wreath.
Then I cut each piece of fabric into approximately 1.5″ strips. I didn't measure, just eye balled it because I wanted this fabric scrap wreath to look kind of messy.
Once all the strips were cut, I just started tying them on to the wreath. It took some time, but was so easy! I just plopped myself down on the floor, turned on a podcast and went at it!
I offset the knots at different areas on the wreath to make it look fuller, but you can fluff it up however you like. If you want all of the knots to sit on the outside of the wreath, go for it! If you want them facing the inside–sure!
I decided to finish off the Halloween fabric scrap wreath with a big sparkly purple bow, but I'm still not sure which version I like better. What do you think? Bow, or no bow?
Pin it for later:
More Halloween inspiration: