Halloween Washi Tape Pumpkins
Ugly foam pumpkins from the Dollar Tree become beautiful Halloween Washi Tape Pumpkins with a little bit of chalk paint and washi tape. This tutorial is simple with 2 steps and the hardest part is letting the paint dry!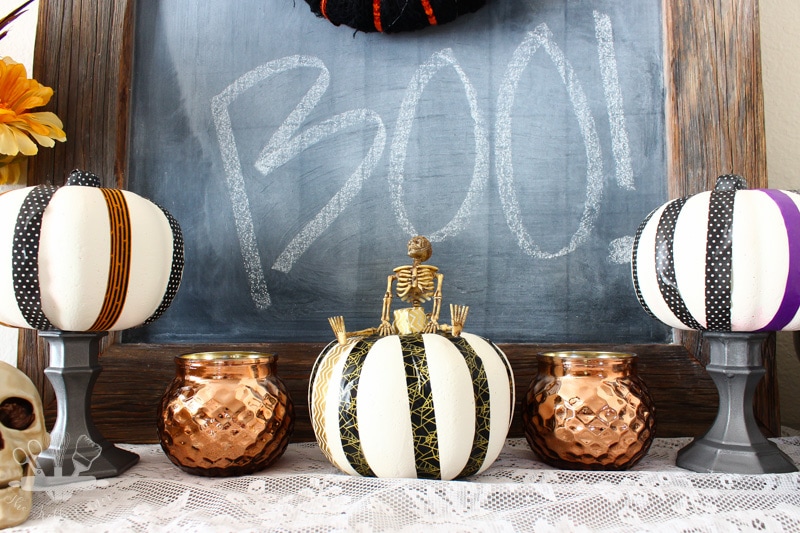 I told you I was on a mission to decorate for Halloween this year.
I promised you there would be more tutorials for inexpensive decor coming your way.
I warned you.
This tutorial is so easy I almost didn't even include numbers in the steps. It's literally as simple as painting some foam pumpkins and laying on Washi Tape. By the way, have I ever told you about my addiction to washi tape? Oh yea, I did. Several times in fact.
I have been collecting Halloween inspired washi tape for the past year, and now I finally have something to show for my hoards. AND I didn't even use all of the patterns I have in my stash.
Halloween Washi Tape Pumpkins
What You'll Need:
Foam pumpkins
Chalk paint (in your color of choice)
paint brush
Washi Tape (in Halloween colors)
Scissors
Start by painting the foam pumpkins. I chose Sheepskin from FolkArt
Once dry, apply washi tape in your desired pattern and colors.
That's it!
Note: If you wanted the pumpkins to be permanent Halloween washi tape pumpkins you could paint on a layer of Mod Podge. I didn't.
I have HUGE commitment issues when it comes to my decor. Seasonal or not. I'll most likely change my mind about these Halloween washi tape pumpkins next year.
More Halloween goodies: