Quick and Easy Mexican 7-Layer Dip
Layers of refried beans, guacamole, sour cream and cheese make this Mexican 7-layer dip both flavorful and addicting. You'll definitely want this yummy dip for your next party!
Next to my garlic, bacon ranch cheeseball, this Mexican 7-layer dip is my most requested appetizer to make for any gathering. Not only is it really easy to make, but it is SO unbelievably good. All of the flavors blend together into this creamy, cheesy Mexican flavor-packed concoction and you can't stop at just one bite.
My favorite way to eat this dip is with tortilla chips, but it's also a great dip to accompany carrot and celery sticks. Or, you could just grab a spoon and dig in! There's no judgment from me on how you eat it but just be warned that once you start, it's hard to stop.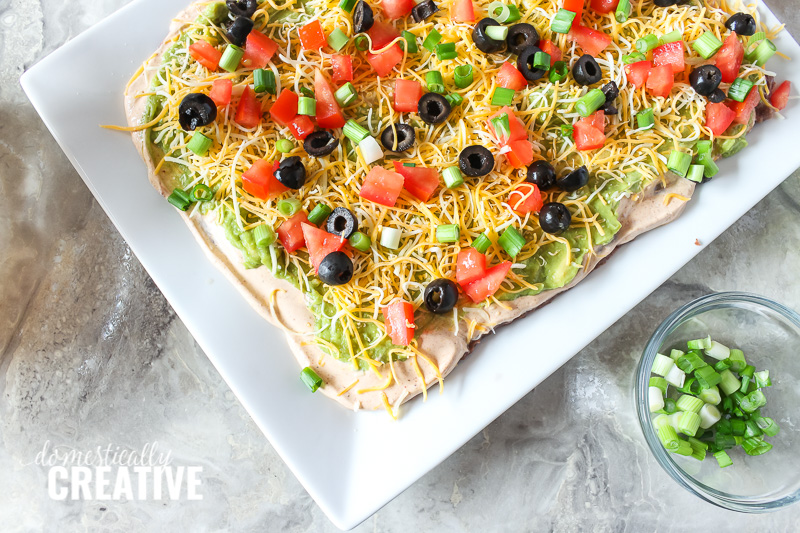 The original recipe I've used for years calls for green onion but you can also use regular onion as well. The green onion is a little more flavorful and makes the dip more colorful. And who doesn't like a colorful appetizer recipe?
I'll be honest though when I make this Mexican 7-layer dip to my taste, it's usually a 5-layer dip. I cannot stand black olives and am not a fan of tomatoes. I'll tolerate tomatoes when necessary, but the black olives have to go! If I have my choice those two toppings never make it onto my seven-layer dip and I'm just fine without them.
It makes a great party dip, because there is a ton of it! You can also switch up the ingredients if you wish. Trade out the refried beans for taco meat, or leave the guacamole out. You can switch up the veggies, or even add some like green chiles. Seriously you cannot go wrong with this taco dip.
This dip is extremely easy to make–literally, all of the ingredients are layered one on top of the other until you have a delicious Mexican flavored concoction!! Even the most challenged person in the kitchen can make this easy taco dip. There's no ingenuity or genius required, which is exactly the kind of recipe I love to make.
How to Make Seven Layer Dip
I like to start with a large platter for our seven-layer dip, but many people will use a 9×13 casserole dish or foil pan. It doesn't matter!
Next, spread out a can of refried beans to create a nice smooth base layer. Mix together sour cream and a packet of taco seasoning for the next layer and spread on top of the beans.
The next layer is guacamole, which can be a little tricky to layer on top of the sour cream. My best advice is to drop the guacamole on top of the sour cream layer by the spoonful. Then do your best to spread the guacamole out. It may mix into the sour cream a bit, but that's OK!
Then top with cheese, green onion olives, and tomatoes to complete the seven-layer dip. If you want to get creative with toppings feel free. Some have even added lettuce for a well-rounded snack.
Watch the quick less than 3-minute video to see the process for making your very own easy Mexican 7-layer dip!
Looking for more snack ideas? Check these out:
Pin for later!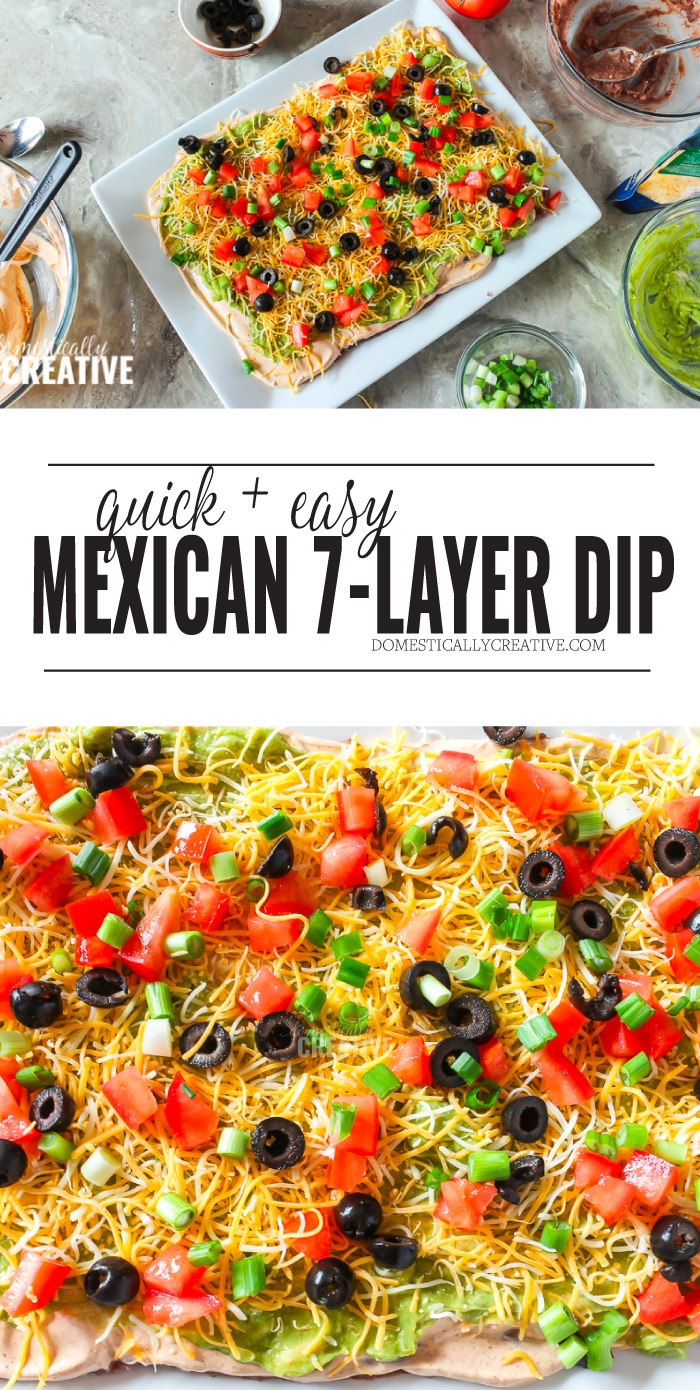 Mexican 7-Layer Dip
Layers of beans, guac, sour cream, cheese and veggies make this quick and easy Mexican 7 layer dip a sure hit for any gathering!
Ingredients
1 can refried beans
1 container pre made guacamole, or make your own
16 oz container sour cream
1 package taco seasoning, or make your own
1 ½ cups shredded cheese
½ cup chopped green onion
½ cup chopped tomato
1 can black olives
Instructions
In a medium bowl, stir together sour cream and taco seasoning. Set aside
On a platter or shallow dish, spread out 1 can of refried beans smooth.
Spoon on sour cream mixture and spread over the guacamole.
Next layer the guacamole on top of the beans.
Sprinkle cheese over the guacamole.
Top with green onion, tomato and black olives over top of the shredded cheese.
Serve chilled with tortilla chips!