Here's a fool proof bread machine recipe for whole wheat pizza dough. There's no extra rise time or pre-baking needed. Simply roll, top and bake!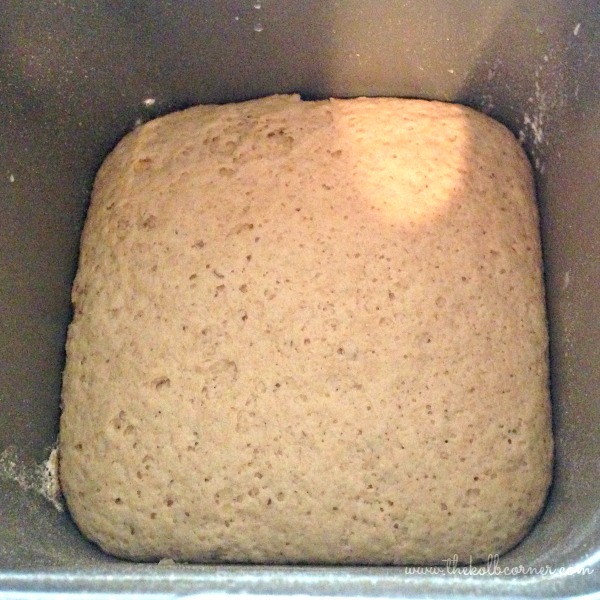 This post contains affiliate links. Purchases made from links in this post may earn me a commission. But don't worry there's no extra cost or hassle to you! Read my full disclosure policy here.
Every so often my husband and I like to have homemade pizza for dinner. Usually I will do this on Fridays, or sometimes Saturday night. I've always used my bread machine to make regular pizza dough. During our 30 days of real food challenge, I cut out bleached all-purpose flour and switched to whole wheat flour–specifically the King Arthur White Whole Wheat Flour
. This particular flour has a lighter taste, where as some other whole wheat flours can make a recipe very dense and heavy.
I had been using the dough recipe that I used in the white pizza with chicken and herbs recipe. The other day, though, I happened across my bread machine's original recipe book. Did you know that some bread machines are capable of making jams?! Mind.Blown.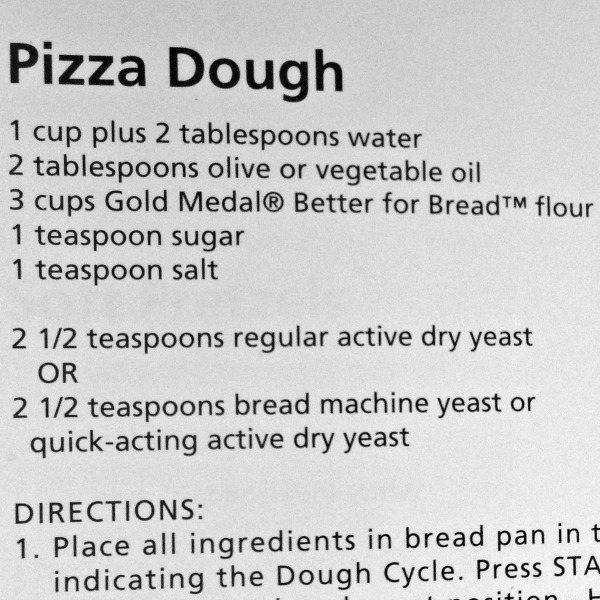 I didn't capture it in the picture, but below the recipe it does specify to make a whole wheat version, substitute 1/2 of the bread flour for whole wheat flour. Well, I didn't read it close enough and I substituted ALL of the bread flour with whole wheat flour. And that folks is exactly how I come up with new recipes! Completely by accident because I just assume I know where the recipe is headed without reading it fully. And you know what they say about assuming.
Well, at least in this situation that omen was not completely true because this recipe turned out fantastic. It was so fantastic that I made a second batch again a few nights ago, just to make sure that I was on to something. I was..err am.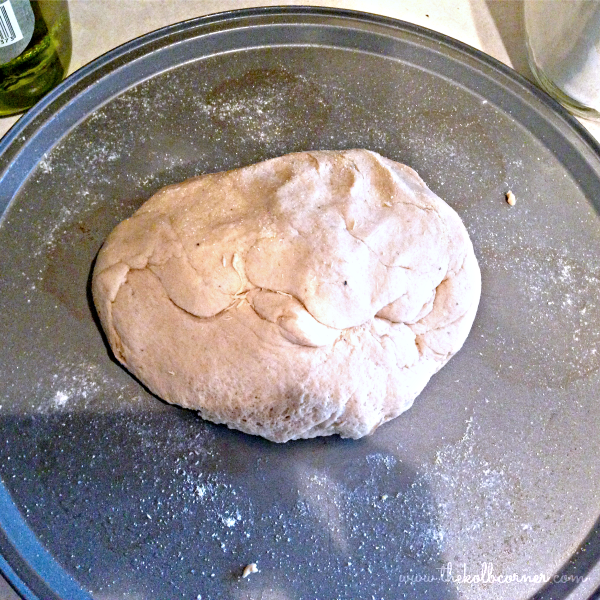 Be sure to add the ingredients in order to your bread machine. Most machines will tell you to add the wet ingredients first, then the dry, and the yeast last. Getting the yeast mixed in with the liquids and sugars first can ruin your dough if you are using the delay setting. I use my delay setting all the time, mostly because when I think about making bread/dough for dinner it's usually 9 am. If I wait until later to get everything ready I usually forget.
One great thing about this whole wheat pizza dough recipe is that there is no pre baking needed. Once it's rolled out there is no extra rise time or pre baking time. It's ready to be topped and baked. I even made ours a "stuffed crust" version, by cutting small strips of cheese and rolling it up into the crust. Because I'm fancy like that. And because my husband and I love cheese. Our last name does sort of pay homage to a popular cheese after all.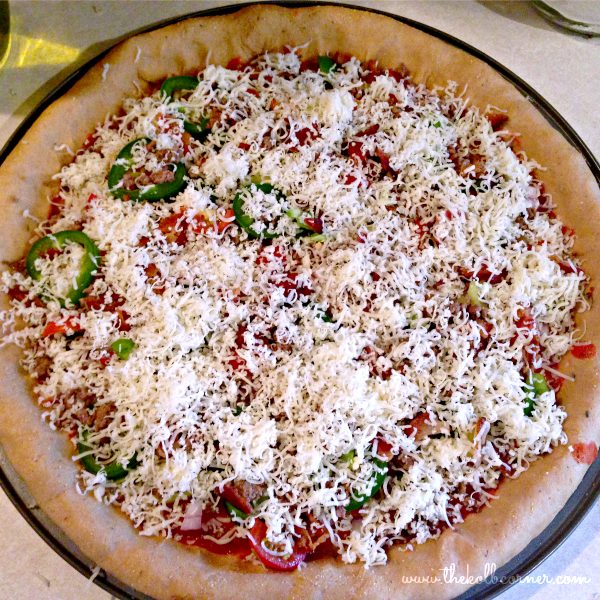 Once it was topped, I brushed some garlic olive oil onto the crust to give it more flavor and help it get golden brown. You will want to bake at 400 for 15-20 mins or until the crust is completely cooked through and golden brown. Since I left my dough recipe whole and made a really thick crust, it took the whole 20 minutes to bake all the way through. If you make a regular crust 15 minutes should be good.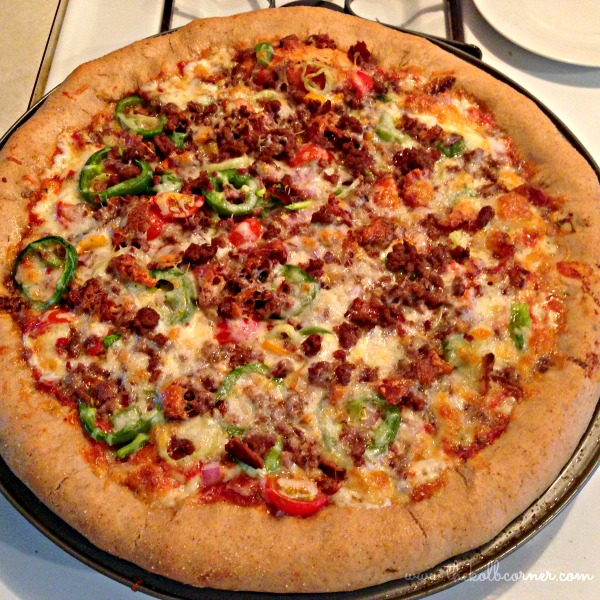 For this pizza we used italian seasoned ground beef, red onion, banana pepper, green and orange pepper, and jalapenos for my hubby's side. I used a traditional sauce by taking tomato sauce and mixing in oregano, basil, parsley and pepper.
Here's the full recipe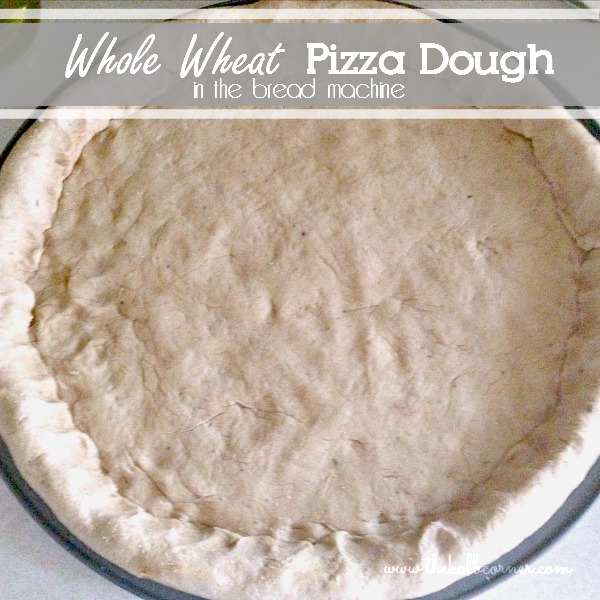 Print Recipe
Whole Wheat Pizza Dough in a Bread Maker
Ingredients
1

cup

plus 2 tbsps warm water

2

tbsp

olive oil

3

cups

whole wheat flour

1

tsp

sugar

1

tsp

salt

2 1/2

tsp

active dry yeast

1

tsp

oregano

optional

1

tsp

basil

optional

1

tsp

garlic

optional
Instructions
Place ingredients, in order, into bread machine.

Cook on the dough cylce.

Once cycle is complete, roll out onto floured surface and divide dough in 2. See notes below if only using 1 dough.

Roll dough out onto a greased and floured pizza pan.

Top with favorite ingredients and sauce.

Bake on 400 for 15-20 minutes, until golden brown and cooked through.
Notes
This recipe can make one very large thick crust pizza or 2 regular crust pizzas.
You can freeze the dough by simply wrapping in plastic wrap, then wax paper and storing in a large freezer bag. To use, thaw completely. An hour before using, let it come to room temperature in a bowl covered in plastic wrap. Roll out, top and bake as normal.
Adapted from from the Oster bread machine recipe book