Office Renovation Inspiration Board
This post may contain affiliate links for your convenience. Read our disclosure policy.
So remember way wwwaaaayyy back, when I said I was going to start undertaking my office renovation? I even shared a nice little inspiration board with you, and let you in on what I had planned for that space. Well, we moved before I could get started, so now that I am no longer in that same house, I have made a few little modifications to said plan. When I say a few modifications, I really mean, the only thing that is the same is my color scheme.
If you went on my home tour last week, you may have caught a sneak peak at my office in progress. I've already started making some changes to it and can't wait to show you what I've done!
First thing's first–an Inspiration Board! This really is just to give you all the feel I'm going for. Something clean and feminine. I won't be painting the walls, per hubby's only request, so I will have to make my statement in accessories. But that's OK, it just gives all the more reasons for pretty things 😀
I've also found some pictures of some spaces that have inspired me-the sources are linked below the photos.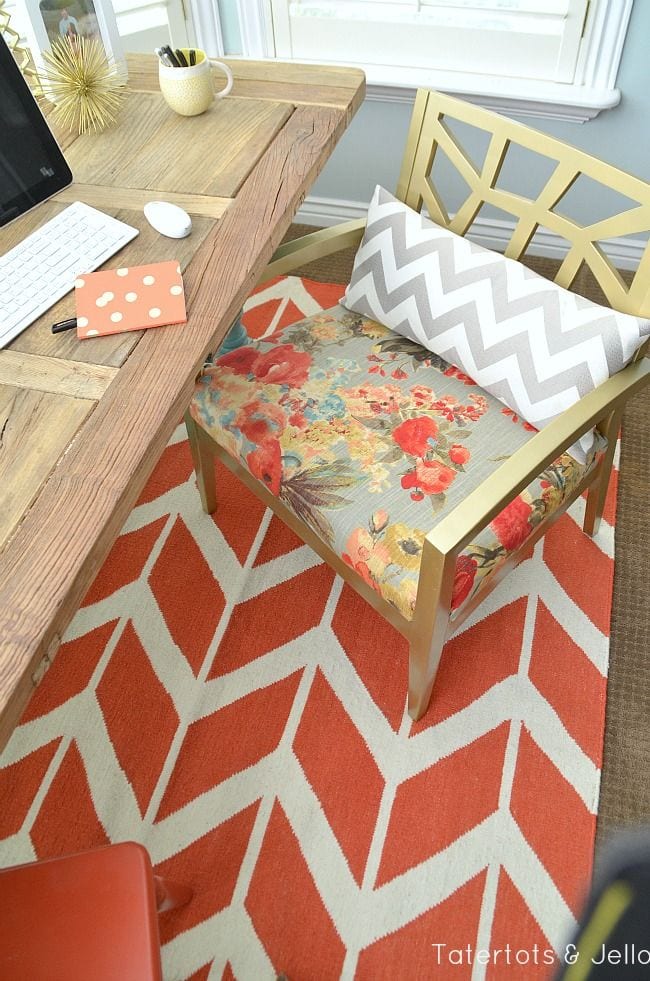 Source
Here's what I am planning for the space:
1-New desk–DONE!
2-New desk chair
3-Replace black open bookshelf, with white closed bookcase.
4-Build a craft/sewing table (because my desk just isn't big enough for double duty)
5- Design a paper organization system
6-Artwork!
7-Organization using baskets, boxes, drawers etc. for all of my miscellaneous crafty things
8- A large Pin board to keep my ideas, and brainstorming sessions neat and tidy
9-New computer–so this doesn't play into design, but this is my office and a working computer is always a plus. Especially since mine is literally a conglomerate of half working parts from old "project" computers my husband has lying around. It functions, but who knows when the functioning will stop?
I'm also excited to be using some wall paper from Graham and Brown in my new space. The samples are in transit as we speak! You will have to stay tuned to see how I use the wall paper–and it's not how you think!
I'm so ready to get this project finished! I can't wait to have my very own, girly space to work and create in!