One Pot Cheesy Chicken and Zoodles
This is a sponsored post written by me on behalf of Dairy MAX for IZEA Worldwide. All opinions are 100% mine.
One pan is all you need to cook this easy and delicious one pot cheesy chicken and zoodles dish that's packed full of creamy cheesy goodness!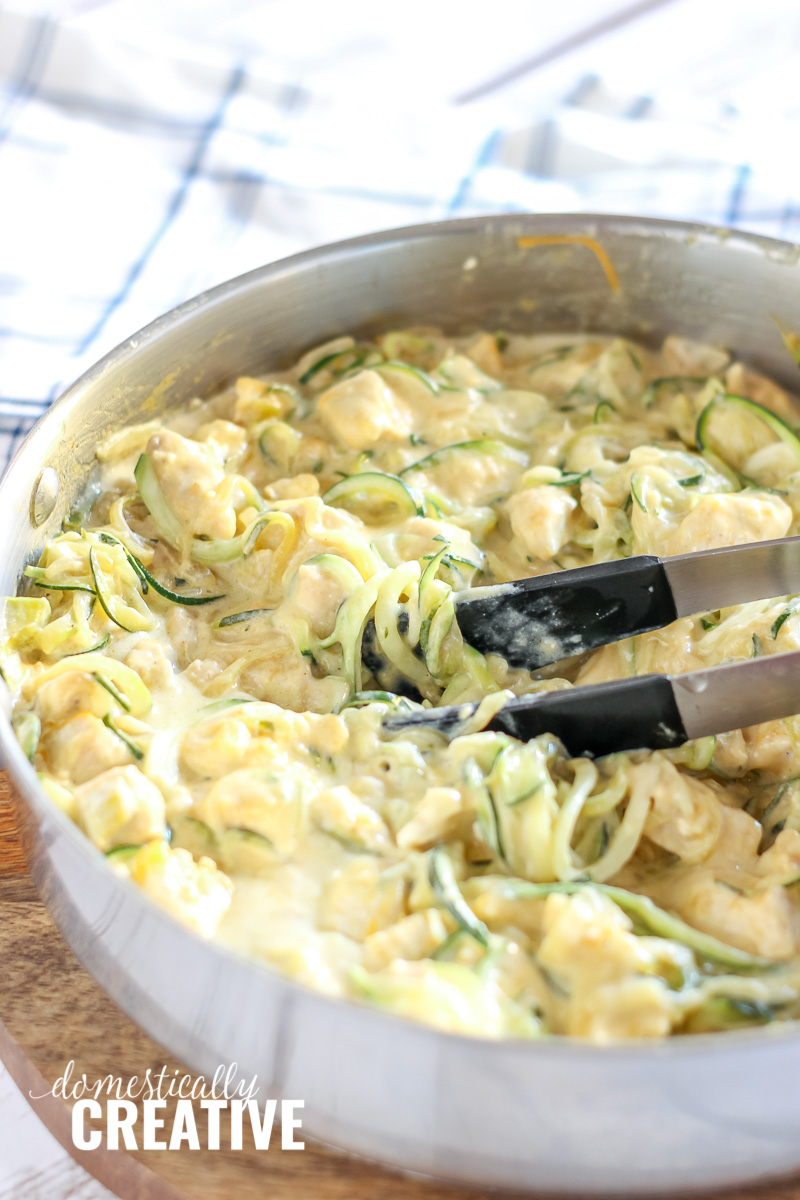 We've always been a cheese loving family, but when my husband and I decided to start eating low carb, we found ourselves consuming even more dairy. Dairy is packed full of healthy fats and protein and is an important addition to any diet.
We love grabbing cheese for a quick snack or protein boost because it's easy, tasty and portable. I also find that I tend to use cream in dishes that I would have otherwise bought pre-made sauces for. Using cream to make sauces from scratch is not only easy, but the flavor is so much better than anything we can buy in the store.
Every time you buy a dairy product, you are making the decision to serve your family important vitamins and nutrients like Vitamin D, Calcium and Phosphorus just to name a few. Not only that, you are also helping to support local dairy farmers and their families, like the farmers and families of Dairy MAX.
Dairy MAX is a non-profit dairy council that represents dairy farmers in Colorado, Southwestern Kansas, Wyoming, Montana, Western Oklahoma, New Mexico and Texas. They are experts when it comes to dairy farming, and are passionate about their products and the health benefits that come from consuming dairy.
To play my part in creating more awareness surrounding the importance of dairy, I'm sharing a family favorite recipe. This one pot cheesy chicken and zoodles dish is the perfect balance of nutrients, and includes a hefty serving of dairy.
It's packed full of zucchini and vegetables and tossed in a creamy, cheesy sauce. You can easily throw this one pot dish together for a quick and simple weeknight dinner because it comes together in 30 minutes!
Each portion of cheesy chicken and zoodles includes almost 1 full serving of dairy. Serve it to your family with a tall glass of milk and you are well on your way to meeting the daily dairy recommendations. Did you know that your daily diet should include 3 servings of dairy? How many servings are you getting in your diet?
Check out the many recipes, tips, and nutrition information Dairy MAX has available to you here and be sure to follow Dairy MAX on Facebook, Twitter, Instagram, Pinterest and Youtube
Let me know in the comments what your favorite type of dairy is and how you add more of it to your diet!
More low carb goodness:
Love this? Pin it for later!
One Pan Cheesy Chicken and Zoodles
One pan is all you need to cook this easy and delicious one pot cheesy chicken and zoodles dish that's packed full of creamy cheesy goodness!
Ingredients
3 boneless, skinless chicken breasts
3 tbsp olive oil, **
2 tbsp cajun season, or your favorite blend
1/2 cup onion, diced
1/2 cup green pepper, diced
2-3 cloves garlic, chopped
1 cup heavy cream
2 cups shredded sharp cheddar
3 large zucchini, spiralized
Instructions
Cut each chicken breast into cubes and season with Cajun season (or your favorite blend!)
In a large skillet, heat 2 tbsp olive oil to medium heat and add chicken to skillet.
Brown chicken on both sides and cook until no longer pink, about 7 minutes. Remove from skillet and set aside.
Heat additional 1 tbsp olive oil and add onions and peppers to skillet. Saute for 3-4 minutes until soft and onions are translucent. Add in garlic and saute additional minute until garlic is fragrant.
Whisk in heavy cream and bring mixture to a low boil. Be careful to continue whisking so cream does not scald. Once boiling immediately turn down heat to simmer.
Toss spiralized zucchini into skillet and coat with the sauce mixture. Place lid on top of pot and let simmer for about 3 minutes until the zucchini is just tender.
Remove skillet from heat, add chicken back to pan and stir in cheddar cheese. This will help the sauce thicken up the rest of the way.
Let rest for 1-2 minutes before serving!
Notes
** You could substitute butter for the oil. Please note it will make a much richer sauce, and will add to the fat macros.
Nutrition Information
Yield

4
Serving Size

4 Servings
Amount Per Serving
Calories

589
Saturated Fat

27g
Cholesterol

195mg
Sodium

495mg
Carbohydrates

10g
Net Carbohydrates

6g
Fiber

4g
Sugar

6g
Protein

37g