Painted Dollar Store Pumpkins
This post may contain affiliate links for your convenience. Read our disclosure policy.
If you're like me you love to decorate for Fall, but you hate spending a lot of money doing it. That's where these cute painted dollar store pumpkins come in.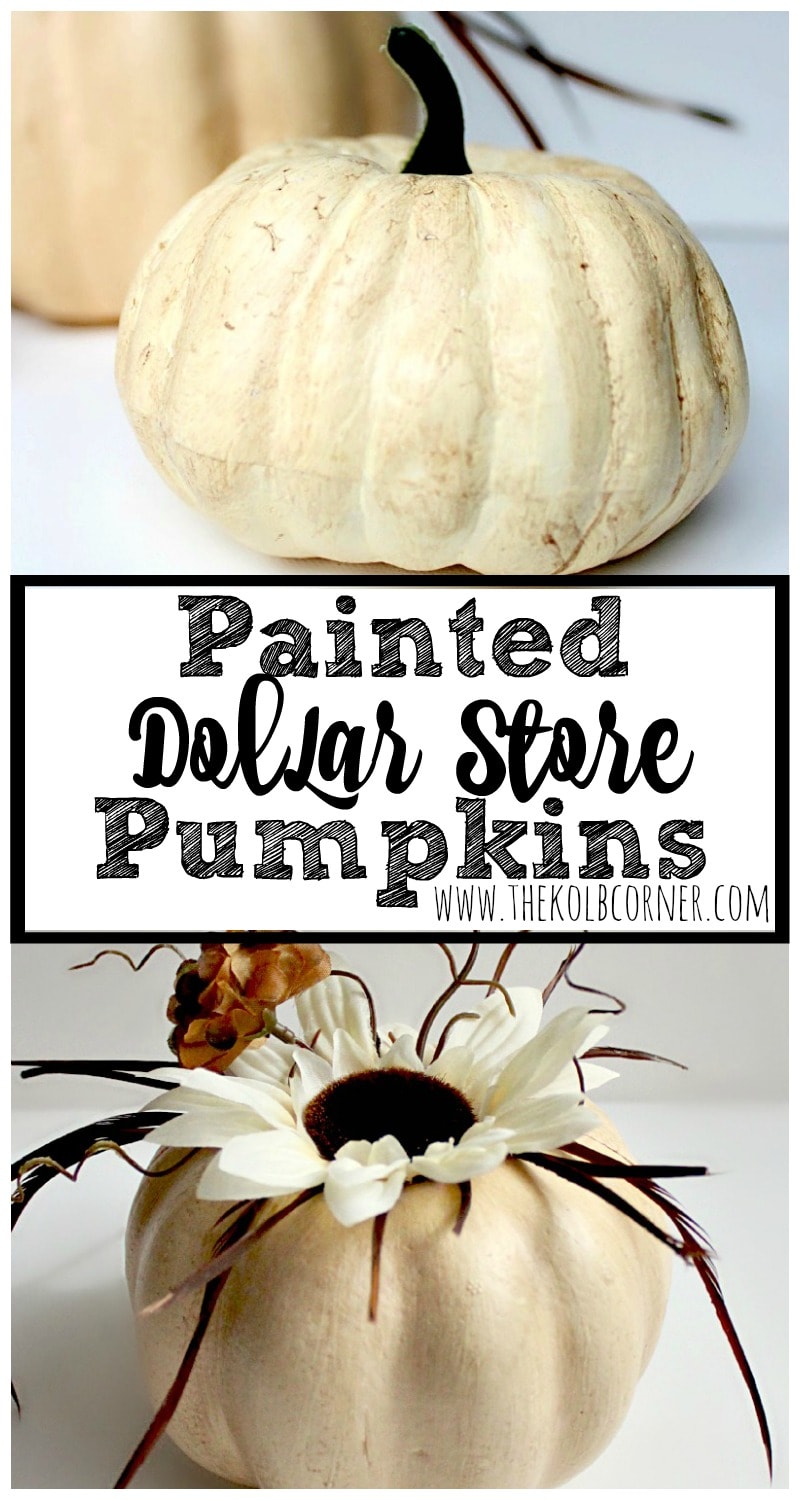 My local Dollar Tree is packed with Fall decor, and while some of the little pumpkins and gourds are cute as is, a lot of the colors are too bright and bold for my taste. For Fall I love neutrals with pops of muted oranges and maroons.
On one of my trips to Dollar Tree I picked up an assortment of fake pumpkins and gourds, figuring I would figure out a way to transform them into something more me. I started with a few small orange pumpkins, and gourds, as well as a larger foam pumpkin, and using paint I was able to transform them to fit into our newly decorated dining room.
I don't have great before pictures, but I started with a large orange foam pumpkin, 2 smaller plastic pumpkins, and 2 gourds-one plain and one crackled. Not pictured are the 2 gourds before.
I started by removing the stems from the pumpkins. The plastic ones were just inserted in, but the foam pumpkin I actually broke off the stem. You'll see why later.
For one of the small pumpkins and the larger foam pumpkin I decided to do a few layers of an antique white chalky paint, and went over it with brown wax, I love how the wax crept into all of the nooks and crannies to give them a realistic look!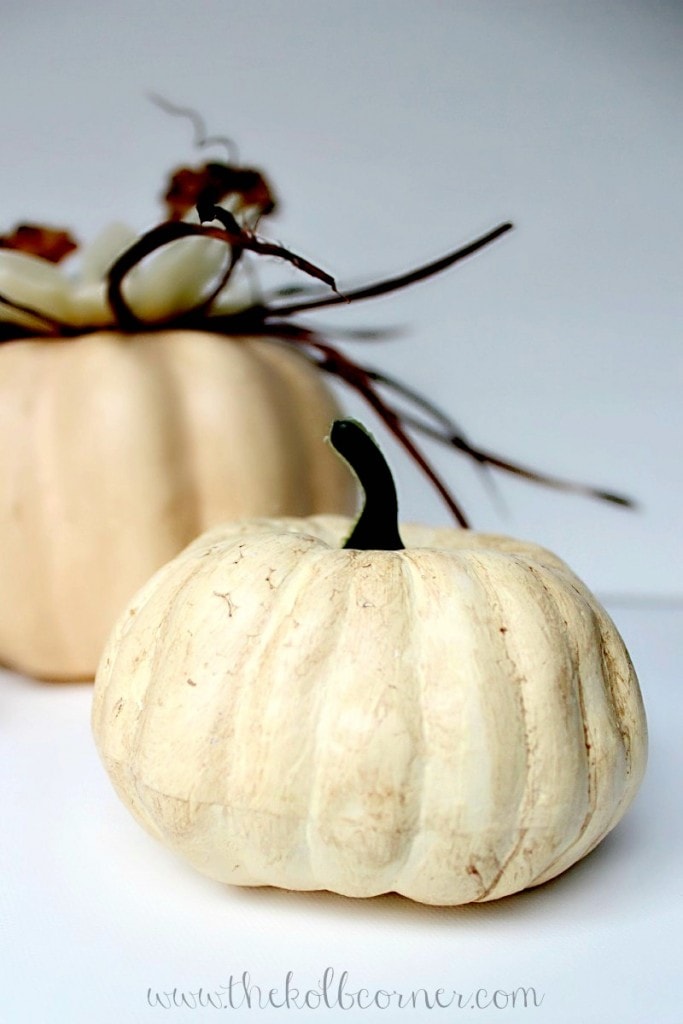 The crackled gourd I painted 2 layers of white chalky paint. Once that was dry, I went over it with a brown wax, really working it into the cracks and crevices. You can see where the original crackles were, but instead of being a gaudy orange it's now a beautiful neutral, fitting in with the rest of my Fall decor.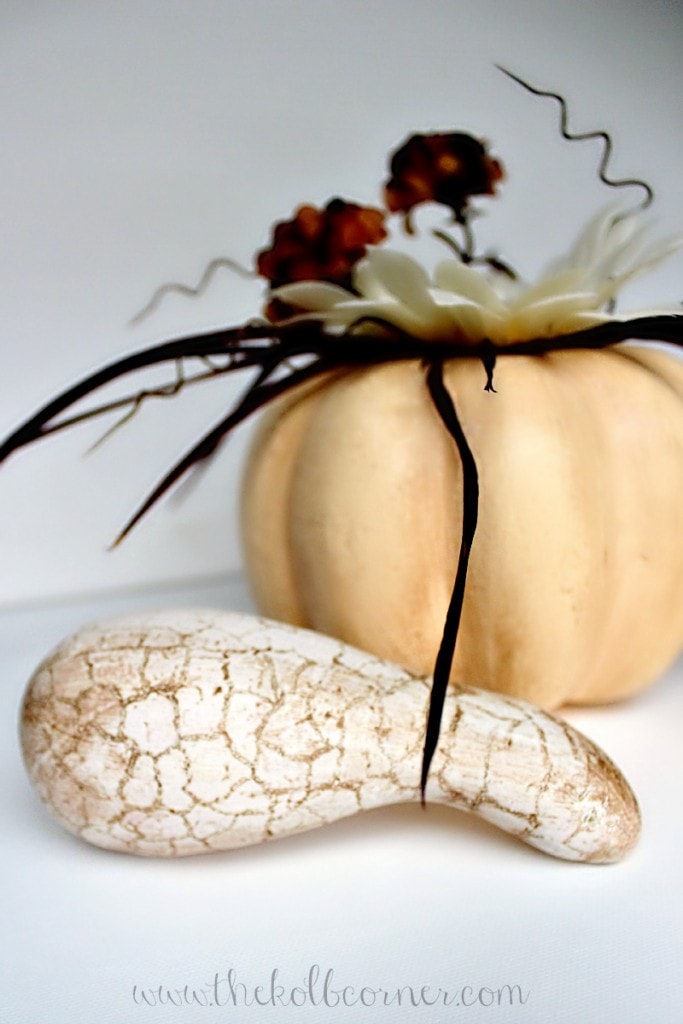 For the last small pumpkin and gourd, I decided just to paint them a plain gray to put on my newly painted ladder shelf in our dining room. I used a white primer first, then used regular acrylic paint for the gray.
The large foam pumpkin I turned into a small centerpiece by gluing on faux flowers and dried grasses. I think it looks beautiful sitting on our farmhouse table, and will be the perfect touch for the rest of the Fall season.
In all, $5 in faux pumpkins and gourds really went a long way in giving our dining room the perfect little touches of Fall.