You only need a few simple ingredients to whip up this super easy and tasty Pumpkin Pie Poke Cake! It's sure to be a hit at your next Fall get together.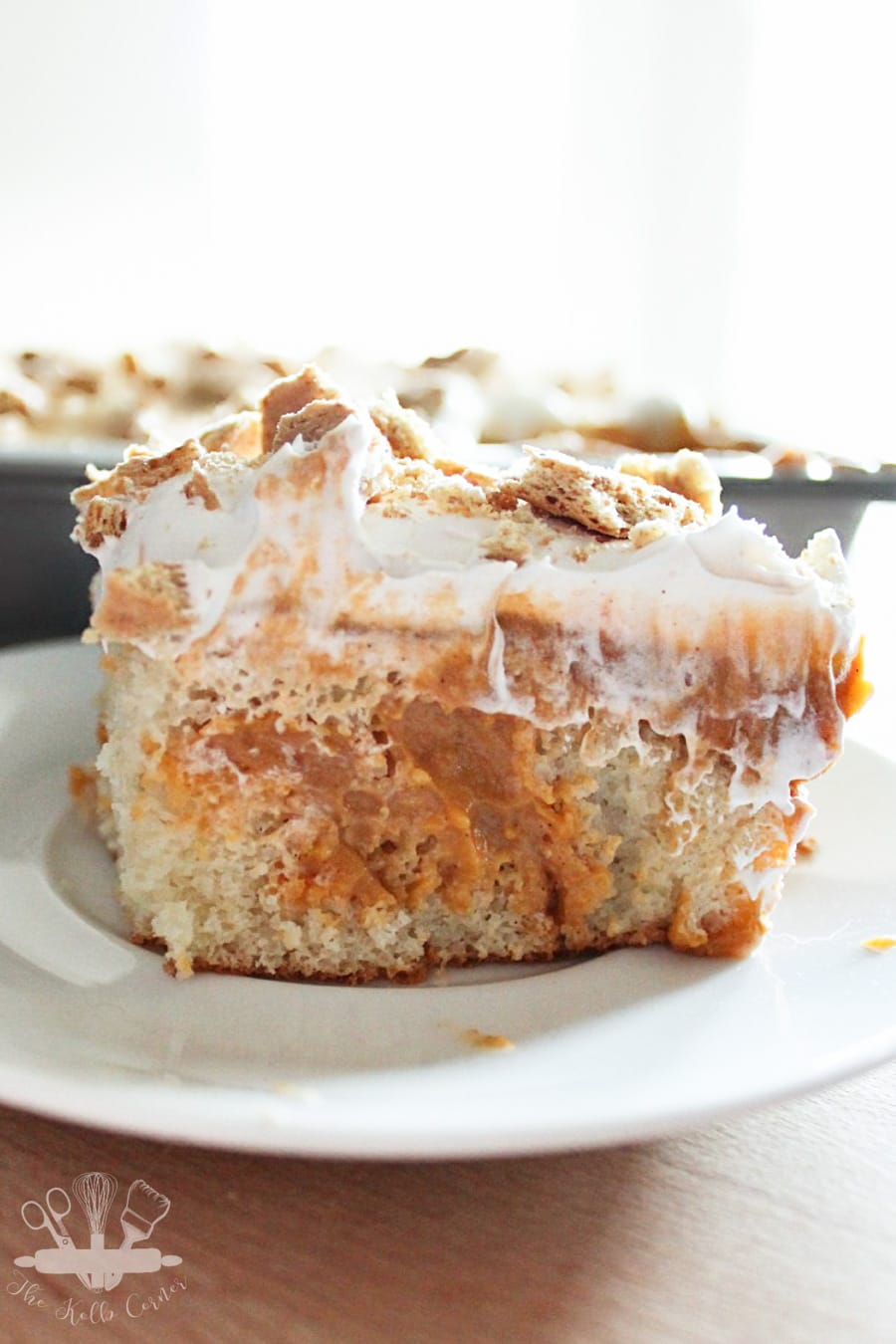 Are you tired of pumpkin yet? Me neither. But this will be the last pumpkin dessert that I share with you this pumpkin season. I know, I know, I am just as sad as you are. Truth is, there is only so much pumpkin I can throw in to my baking before my husband looks at me like I've completely lost my mind. Even if he secretly loved this Pumpkin Pie Poke cake I'm about to share with you.
Yes you read that right. Pumpkin pie–in poke cake form.
I am all about easy–easy crafts, easy food, easy decor–which is why poke cakes are top on my list of things to make. Never heard of a poke cake before? That's OK, up until a few years ago I hadn't either. It was actually my mom who surprised me by making one for a cookout. We had no dessert to bring, and not much time to whip something up. She pulled out a white cake mix, and a box of Raspberry Jello, and declared "I'll just make a poke cake".
A poke cake is literally when you bake a cake, and before it cools you take a skewer or some other poking capable device, and poke holes all over it. Then you pour jello(or pudding in this case) over the cake before it sets. Top with Cool Whip and BAM–you just made a poke cake. Easy. Am I right?
This Pumpkin Pie Poke Cake is just as easy. Trade the jello for the seasonal Pumpkin Spice Pudding (yes it does exist) and sprinkle some crushed graham crackers on top of the Cool Whip. It's the easiest pumpkin pie you'll ever make. Trust me.
Love it? Pin it!
Craving even more pumpkin? Here's some other yummy desserts ideas:
Pumpkin Pie Poke Cake
This delicious Fall pumpkin pie poke cake is not only easy to make with a boxed cake mix, but tastes just like you are biting into a yummy pumpkin pie!
Ingredients
1 French Vanilla cake mix
Ingredients to make cake, (usually water oil and eggs)
2 (3.4 oz) boxes Instant Pumpkin Spice Pudding Mix
4 cups Milk for Pudding
8oz container Cool Whip
1 sleeve honey Graham Crackers, crumbled
Instructions
Preheat your oven to 350 degrees, and lightly grease a 9x13 cake pan. Set aside.
In a large bowl, prepare the cake mix according to the directions on the box.
Bake according to the instructions on the box.
Once the cake has fully baked, using a skewer or wooden spoon handle, poke several holes in the cake.
Let the cake cool completely.
Prepare pudding mix according to the instructions on the box.
Immediately pour the pudding mixture over cooled cake, making sure to get the mixture into the holes.
Cover the cake and refrigerate it until the pudding is set.
Remove the cake from the refrigerator and frost with Cool Whip.
Top the Cool Whip with crumbled graham crackers.