Lately, while I've been pretty M.I.A. from the blog, I have been doing some smallish projects around my home. Things like hanging pictures and art, and putting out little knick-knacks. You know, things that probably shouldn't have taken me 7 months to get around to.
I've been concentrating some on our dining room (as well as that darn office I just can't seem to finish). You may have seen me post a few pictures on Instagram a couple of months back of the farmhouse dining table my husband and I were working on. We did finally finish it at the end of April, but more on that later.
The reason I even bring up any of this is because of a little project I managed to finish AND photograph. Way back before my husband and I moved to Texas, my mom gave me a few vintage kitchen gadgets to decorate with. She also happened to have this rusted ol' rake lying in her pile of things to get rid of and I knew I had to have it.
At the time I had seen on Pinterest someone take an old rake and turn it into a wine glass holder. So I brought it home, with the intention of putting it to use.
Unfortunately, I never got to display it in our home in Tennessee. I had actually forgotten about it until a few weeks ago when I was going through boxes of decor. I was so excited to finally be able to make my rake wine glass holder, and I had the perfect place for it.
All I did was wrap some jute twine around the end and made a loop to hang the rake on the wall. Then I topped it off with a galvanized "bar" sign I found on clearance at Target in January. I gave it an extra little something by flanking the rake with a few of those vintage gadgets, and hung up my champagne flutes.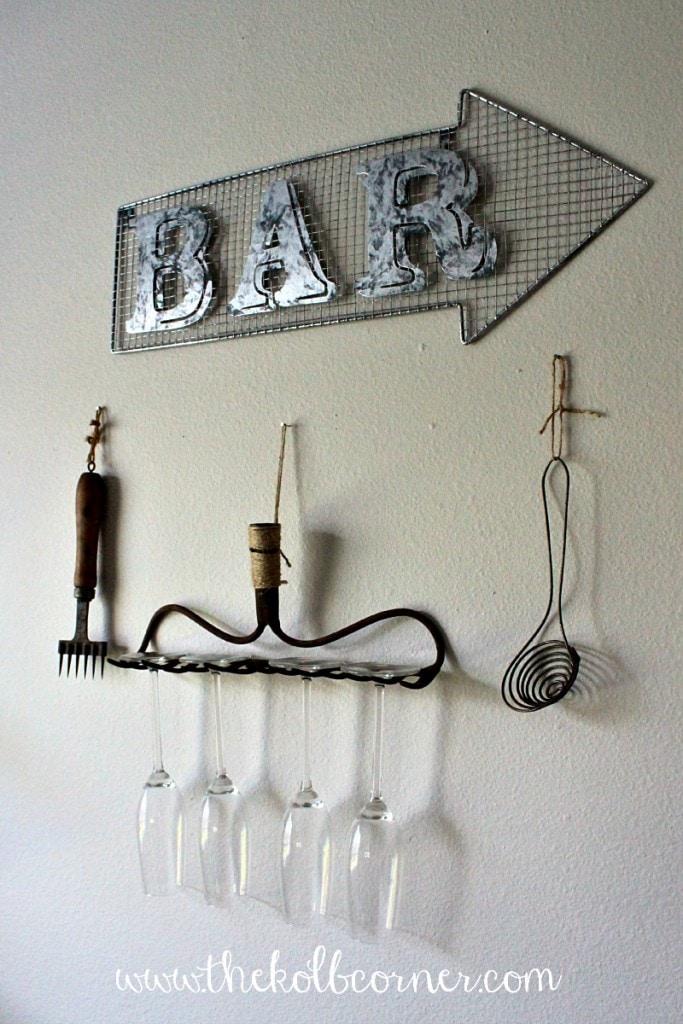 And there you have it–a rake wine glass holder! I love the way it turned out, and it goes perfectly with the picture I have in my head of my finished dining room. Hopefully I will have a few more pictures and updates as I slowly finish the room.