An easy 4th of July craft made from ribbon and fabric. Show your patriotism with your own ribbon flag wreath this holiday and hang it on your door or anywhere in your home.
I was trying to rack my brain for a new craft to kick off our 4th Spring Craft Blog Hop, but kept coming up short on ideas. Between scrambling to finish up my office space and being knee deep in dining room projects, my creativity was at an all time low.
So I called on a few of my friends for inspiration.
Of course they came through for me by coming up with a million and one ideas. One of them particularly resonated with me. It was a rustic looking flag made from scraps of fabric. Instead of making a flag from scraps of fabric though, I decided to go a slightly different route by using different styles of ribbons.
How to make your own DIY Ribbon Flag Wreath for the 4th of July
Items You'll Need:
I started by cutting a strip of cardboard to the width I wanted my flag to be. This will serve as a base to glue the burlap and ribbon to.
Next, cut the burlap or other base fabric to size and glue it to the cardboard. I used burlap ribbon because that's what I had. I just glued the peices to each other to create a better base for the red and cream ribbon.
Then I cut the red and cream ribbon to desired length. I cut some pieces slightly longer than others to give it a haphazard look. I do suggest lying them out in your desired pattern before glue-ing down. This way you can change up the pattern if needed.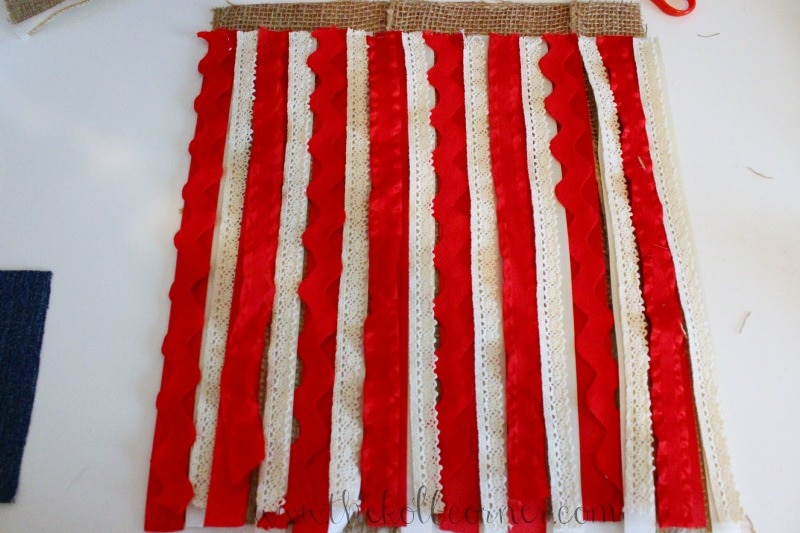 Then cut a square of blue fabric. I used denim from an old pair of jeans, but anything blue would work.
Paint on stars, polka dots, X's or whatever you prefer, and glue it onto the cardboard.
Optional: Finish the top with a piece of ribbon or fabric.
To make it easy to hang, punch a hole on each side of the cardboard with a single hole punch
And pull ribbon, twine, string–whatever you want to use to hang it with–through the hole.
Tie the two ends together and it's ready to hang!
You can place your DIY ribbon flag on the front door for the season, or you can use it as a wall hanging for your 4th of July parties. Either way, it's a sure fire way to bring a little festive to your home for the holiday.
More Red, White and Blue Inspiration: