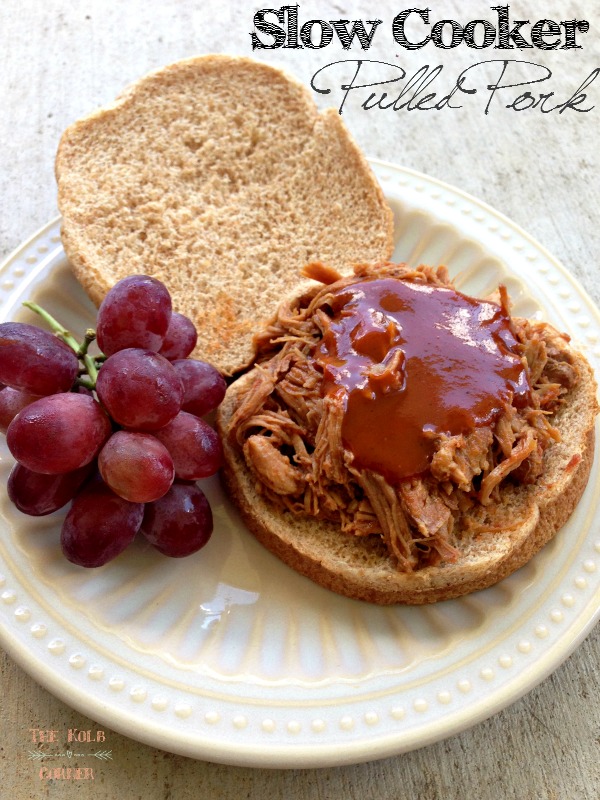 I never really cared for barbeque growing up. I remember anytime my dad would make barbeque chicken on the grill, he would keep one chicken breast plain for me. That is how much I didn't like barbeque. Cut to 5 years ago when I moved the Chattanooga. I finally broke down and tried some Tennessee barbeque–and I've never looked back!!
Until recently, anytime I would make barbeque, I'd use bottle sauce. Usually I'd just plop a pork roast in the crock pot, dump a bottle of bbq sauce all over it and let it go to town. Well, since we have cut out processed foods, and started making things from scratch, I needed to come up with a new way of making pulled pork, or anything else that I used bbq sauce with.
That is EXACTLY what I did yesterday, and lucky for all of you–I took notes! I have tried to get myself in the habit of measuring out what I do, and writing it down. I'm bad about just throwing things in a dish and then not remembering what it was or how much.
It all started with a pork butt I got marked down at Target-of course. It was $6.35 originally and marked down $3. $3.35 for a 3.5lb roast–you do the math.
So I plopped it in my slow cooker, and poured my concoction over it. It cooked for about 8 hours on low, then I took the roast out and shredded it up with 2 forks. After it was shredded I put the meat back in the slow cooker and let it cook on low for another 30 minutes.
Serve it warm on buns, for pulled pork sandwiches, or plain for barbeque pork. I added a little bit of homemade barbeque sauce to mine.
Enjoy!
Homemade BBQ sauce
Easy, homemade version of bottled, store bought barbeque sauce
Ingredients
1

cup

Ketchup

(all natural!)

1/8

cup

apple cider vinegar

4

tbsp

brown sugar

1/2

tsp

each garlic powder

, pepper, paprika, onion powder

1

tbsp

Worcestershire sauce

1

tsp

Mustard

(or 1/2 tsp ground mustard)
Instructions
Combine all ingredients in a medium saucepan.

Heat to boiling.

Reduce heat and simmer for 15 minutes, stirring occasionally.

Remove from heat and let cool before serving.
Notes
Adjust spices and mustard to taste.
Slow Cooker Pulled Pork
An easy slow cooker recipe for pulled pork, using all natural ingredients.
Ingredients
3-4

lb

pork butt

1 3/4

cups

tomato sauce

1/4

cup

brown sugar

1/4

cup

applecider vinegar

1

tbsp

mustard--or 1 tsp ground dry mustard

1

tbsp

Worchestershire

1/2

tsp

pepper

1

tsp

garlic powder

1/2

tsp

onion powder

1/2

tsp

paprika

Cayenne pepper for heat--to taste
Instructions
Whisk together all ingredients (minus pork) in a medium bowl.

Place pork in the slow cooker and pour mixture over meat.

Cook on low 8 hours.

Take meat out and shred with 2 forks.

Return shredded meat to slow cooker and cook for 30 more minutes.
Notes
*** If making this as a freezer meals, combine all ingredients MINUS the apple cider vinegar in a large gallon freezer bag. When ready to cook, thaw completely and add in the apple cider vinegar.