Where to Find Affordable King Size Bedding (that actually fits!)
Do you have a king bed that is almost impossible to find affordable bedding for that actually fits? Check out these ideas for finding king bedding that fits and doesn't break the bank!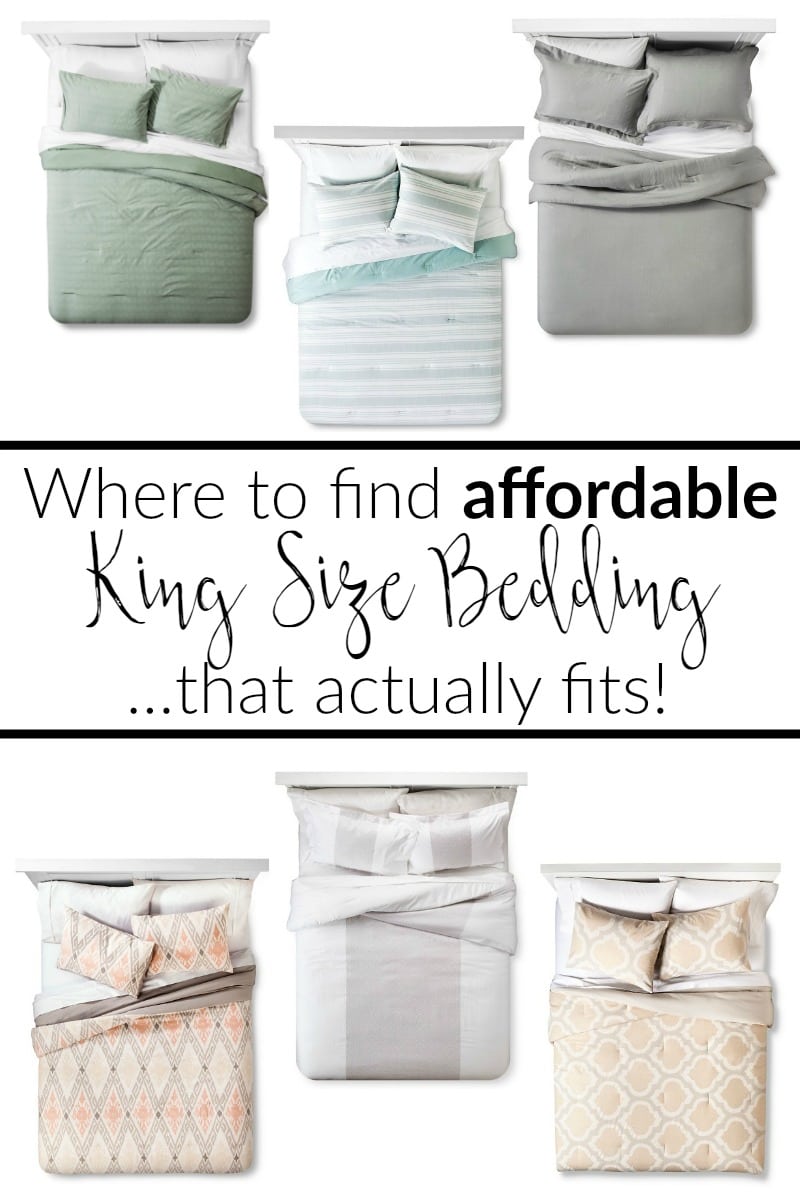 If you caught my mini master bedroom makeover plan yesterday, then you already know that we finally purchased some much needed new bedding. After 5 years of surviving with just a quilt, we finally have upgraded to a plush and comfy linen comforter for our bed. You might be wondering why this is so important? Well, ever since purchasing our king size bed several years ago, we have struggled with finding bedding that actually fits the bed properly. When we had a queen bed, I'd always buy king bedding to make sure it fit well!
The first comforter I bought for our king bed was a set that I loved. The problem was it never came close to fitting our whole bed. My husband and I would constantly fight with the covers, pulling them back and forth to make sure we had enough.
Then I purchased an aqua colored quilt from Target that actually fit the king bed. The problem? When we still lived in Tennessee, it got cold in the Winter. So I also purchased a white cotton blanket to go under the quilt for extra warmth.
Much to my dismay, the blanket never fit properly either, and since it's 100% cotton it shrank with every wash. So with a mixture of the 3 pieces we made do, but I was always on the lookout for something new.
When we moved to Texas we found that it was warm enough to get by with just the quilt and thin blanket, so I abandoned my search for a king-sized comforter that fit. Well, Missouri gets pretty cold in the Winter, and our comforter has not aged well. It was well past the time to upgrade, but I wasn't looking forward to spending an arm and a leg because king size bedding is EXPENSIVE!
Or so I thought.
Where to Find Affordable King Size Bedding (that actually fits!)
I thought for sure that we had an oddball mattress that was bigger than a standard king and we would have to pay an arm and a leg for "oversized" bedding. Especially since I was never successful in the past at finding bedding that would be big enough.
But, after measuring our mattress my mind was put to rest that our mattress was a normal size king! So why is typical King size bedding so short on the sides? I don't have the answer to that, but I do have some tips on finding bedding that fits.
After spending a few weeks searching and measuring and searching again, I finally found something that would fit. And I found it at Target! Believe it or not, Target has several options of bedding sets that will fit a King sized mattress properly. The brands offered at Target that have big enough king comforters are Fieldcrest, Opalhouse and Hearth & Hand with Magnolia. Threshold brand also has some bigger options.

What to look for in King Size Bedding
Avoid the "bed in a bag" sets. While you can typically get the biggest bang for your buck, these sets are usually on the smaller size. To put it this way, the very first comforter set we bought for our King bed doesn't even really properly fit our queen guest bed. In fact, we use it in our RV which is a small queen and still fight over the covers.
Our mattress will fit a comforter set that is at minimum 108″ x 94″. I prefer the oversized look, so I aim for bigger sizes. You'll find that most king comforters measure around 104″ x 92″, while our first bed in a bag was 98″ x 92″! It might not seem like a lot of difference, but believe me, it is when you are constantly fighting over the blankets.
Always check what the material is made out of. If 100% cotton, that baby WILL SHRINK in the dryer. Why is this important? Well if the comforter fits just snuggly on your bed but shrinks a tad in the dryer, it won't fit anymore. If the material is a blend, you can worry less about it shrinking.
Here are a few of my favorite bedding sets that come in larger sizes and are available at Target. Order online or through the Cartwheel app and choose in-store pickup! So easy!
***This list has been updated since the orginal posting due to product availability!***

Which one is your favorite? And please tell me I am not the only one who has struggled so much with finding affordable king size bedding that actually fits!
You may also enjoy these: