An easy to make, buttery apple crisp recipe. Serve this Fall dessert warm with a huge dollop of whipped cream or vanilla ice cream for the perfect treat.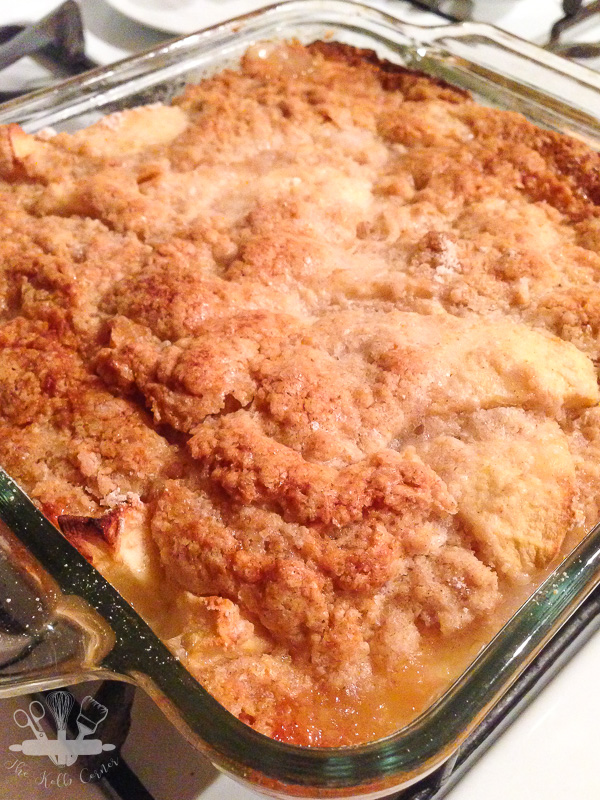 Did you know that October is National Cookie Month?  Well, in honor of that, as well as kick starting the holiday season, the other Merry Monday hosts and I are going to be sharing cookie and dessert recipes with you all month long!  Once a week, I will post a new dessert recipe that will also include a linkup of what the other hosts are sharing.  We have also opened up the sharing to our Merry Monday linkers to share their favorite cookie or dessert recipes at the Merry Monday Link Party.   We will be adding your recipes to a separate linkup that is at the bottom of this page.  We've also included all of the recipes the hosts are sharing so you can find them in one easy place.  Make sure to come back each week to see what everyone is sharing!
This week I'm sharing another old recipe with you–Buttery Apple Crisp. This recipe came from an old church recipe book (different one than before!) but it's one that I haven't made before. When I think about Fall and the holiday season, I think about pumpkins, sweaters, and APPLES.
My husband is an apple pie fanatic. And being German, he eats his slice of pie with whipped cream and cheddar cheese. Nope, you don't need to get your eyes checked. I wrote cheddar cheese. Apparently it's a German thing, so he says. Or it's just a Kolb thing. Seriously, his entire family eats apple pie this way.
I'm not a fan of fruit pies, however, I will help demolish a Dutch Apple Pie. You know the kind that have the crumbly, buttery, sugary topping and sometimes even some caramel drizzled on top?   Yea, those. But I'm lazy and this buttery apple crisp sounded easy.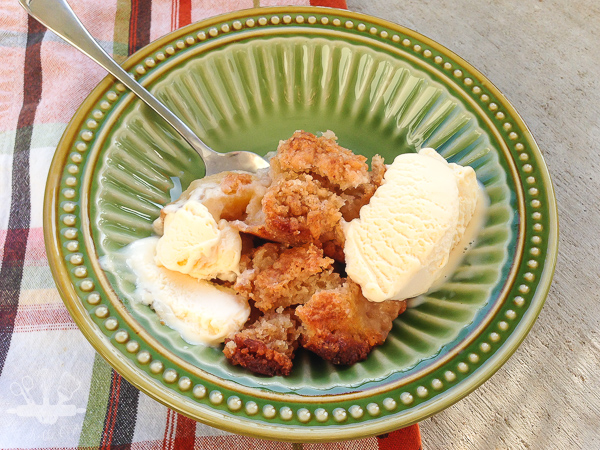 Oh boy was it easy! The only difficult part was peeling and coring the apples. If you have a fancy apple peeler/corer then you are set. I only used 4 apples for this recipe (golden delicious) so it wasn't terrible to peel the apples by hand. Although, I do happen to have one of those handy apple slicers to speed things up. You could even skip the peeling, but apple skins gross me out.
Once everything is ready and topped with a crumbly topping, pop it in the oven and bake to a delicious golden crisp. Then, try your hardest to refrain from eating your buttery apple crisp straight from the oven. And don't beat yourself up if you fail at it because I did too.
And that cold vanilla ice cream I piled on top melted right into my apple crisp and made it that much better. You could swap the ice cream for cool whip, or even serve it with a big ol' slice of cheddar cheese if that's your thing. And why yes, it is perfectly acceptable to eat this apple crisp for breakfast.
Pin it for later
Buttery Apple Crisp
Warm, buttery, gooey apple crisp. Serve with vanilla ice cream or a dollop of whipped cream.
Ingredients
3-5

apples

, depending on size

1

tbsp

lemon juice

1

cup

sugar

1 1/2

tsp

baking powder

1

cup

flour

1

tsp

cinnamon

1/2

tsp

nutmeg

1

egg

1/2

cup

butter

, melted
Instructions
Peel, slice, core apples and fill a 9x9 glass baking dish half full.

Sprinkle lemon juice over apples and set aside.

Mix together flour, sugar, baking powder, cinnamon, nutmeg, and egg in a medium bowl.

Spread mixture over apples.

Melt butter in microwave and pour over apples.

Bake at 350 for 1 hour or until apples are cooked and top is golden brown.

Serve warm with vanilla ice cream or whipped cream.
See what the other hosts of Merry Monday are sharing:

Love what you see??
Subscribe to get our weekly email updates and subscriber only freebies. You'll never miss out on recipes, DIY projects or helpful tips and life hacks.