A new family favorite! Incredibly easy recipe for Dutch Apple Pie with a perfectly flaky crust, and crumbly, sweet topping.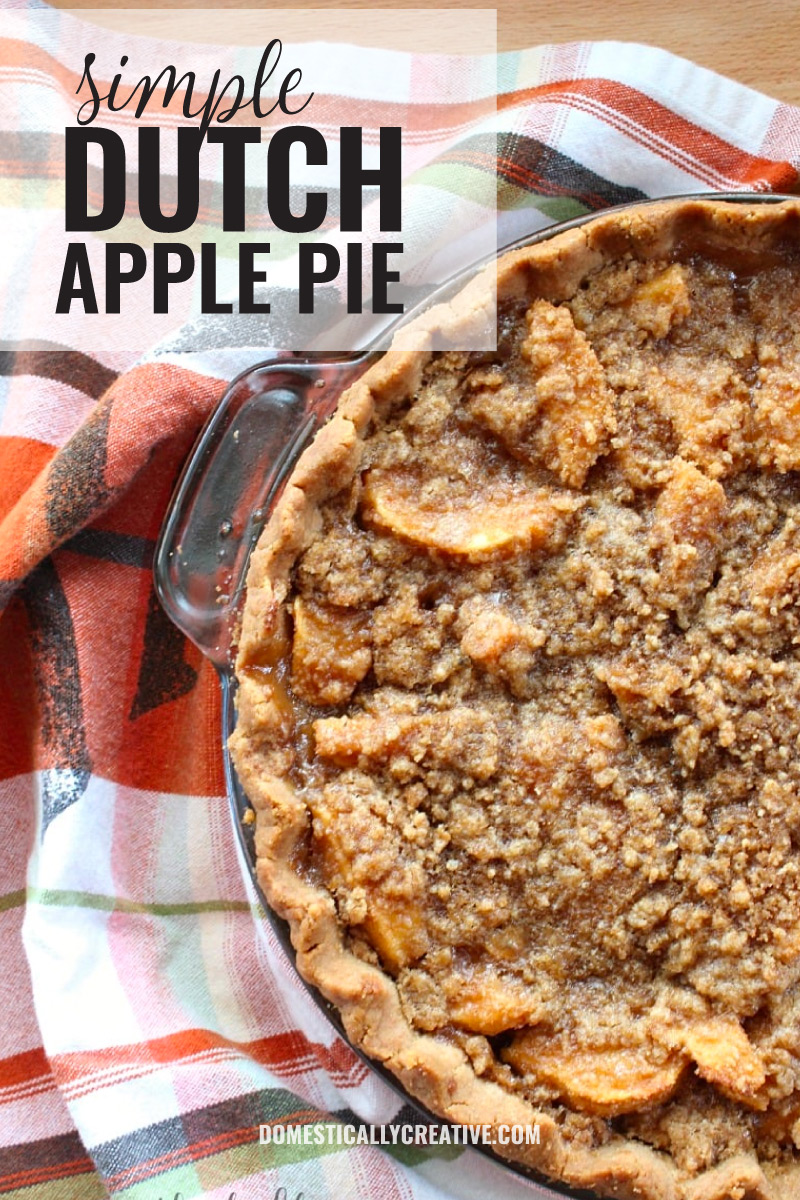 My husband is not big on most desserts. I know, unheard of right? I mean how is it that I survive being married to man who isn't as crazy about sweets as I am? Especially me who loves to bake. Well, there is one way around his no sweets rule–any type of FRUIT pie. I guess if there is fruit involved, it's not really a dessert right? Whatever helps him sleep at night.
Me? I don't really discriminate when it comes to dessert, but fruit pies have never been my first choice. They do say opposites attract folks.
Anyway, when I make all of my delicious desserts for blog posts, I am the one who always ends up eating the majority. Great for my ever increasing waistline right? Sometimes I think ahead and give them to the neighbors, like my Pumpkin Spice Bars I shared last week.
The last time I whipped up a dessert, I did so with my hubby in mind. Probably his favorite type of pie is plain ol' apple (next to this cheesecake). I've told you the story before about how his family eats apple pie with cheese. Yes you read that right–a big hunk of cheese. Imagine my shock the first Thanksgiving I spent with his family when they served apple pie and passed around that block of Colby cheese.
Since I wanted something sweet, but didn't want to be the one responsible for eating the entire pie, I made this easy Dutch apple pie. Dutch apple pie is just like a normal apple pie, but instead of topping it with more pie crust, you top with a crumbly brown sugar topping. The brown sugar caramelizes while baking to give it an extra layer of sweet, and some crunch.
I even made this dutch apple pie crust using some whole wheat flour to make it "healthy". You know, because when you have apples and whole wheat flour, that trumps any additional calories you add with ice cream or whipped cream (or cheese).
What are the favorite desserts in your household?
Don't Forget to Pin it!
More delicious Apple recipes: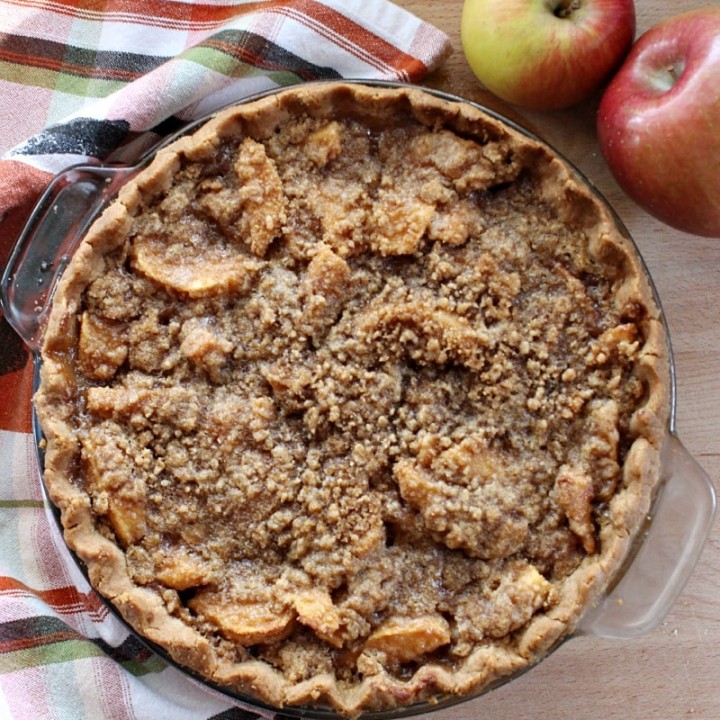 Dutch Apple Pie
Easy recipe for Dutch Apple Pie with the perfect, flaky crust, and crumbly, sweet topping.
Ingredients
For the Crust
1 1/2 cups All purpose flour
1/4 tsp Salt
1 1/2 tsp Sugar
1/2 cup COLD butter
2 Tbsp COLD milk, (could use ice water)
For the Filling
4 cups tart apples peeled, cored, and sliced (I used Pink Lady)
1 cup sugar
3 Tbsp All Purpose flour
1/4 tsp Cinnamon
1/8 tsp Salt
1 tsp Vanilla extract
1 1/2 tsp lemon juice
For the Topping
1/2 cup All Purpose flour
3/4 cup brown sugar
1/2 cup cold butter
Instructions
For the Crust
Combine flour salt and sugar in a large bowl.
With a pastry blender, or 2 forks, cut in cold butter until mixture resembles coarse crumbs.
Add in cold milk (or water) slowly, until dough begins to come together into a ball. May need more or less depending on dough.
Wrap dough and chill 30 minutes to an hour (or while you are making up the filling and topping)
For the Filling
In a medium bowl, toss apples with sugar, flour, cinnamon and salt.
Add in vanilla and lemon juice, and mix until apples are fully coated. Set aside
For the Topping
Mix together flour and brown sugar.
With a pastry blender, or two forks, cut in butter until mixture resembles coarse crumbs. Set aside.
To assemble
Preheat oven to 350 and grease a 9" glass pie dish.
On a lightly floured surface, roll out chilled dough into a 12" circle.
Place dough into pie plate, and press into sides.
Trim excess dough to 1/2" and crimp ends.
Pour in filling mixture, and sprinkle topping over it.
Bake for 50-60 minutes, or until apples are soft, and crust is a nice golden brown. It may be necessary to cover outer crust with foil to avoid excessive browning if extra baking time is needed.
Remove from oven and let cool several hours on a wire rack.
Serve with whipped cream or ice cream.
Nutrition Information
Yield

8
Serving Size

1 grams
Amount Per Serving
Calories

542
Total Fat

24g
Saturated Fat

15g
Unsaturated Fat

0g
Cholesterol

61mg
Sodium

321mg
Carbohydrates

81g
Fiber

2g
Sugar

53g
Protein

4g