Caramel Frappucino with Cold Brewed Coffee
Creamy and frothy this caramel frappucino made with cold brewed coffee is the perfect treat to cool you down on a hot summer's day.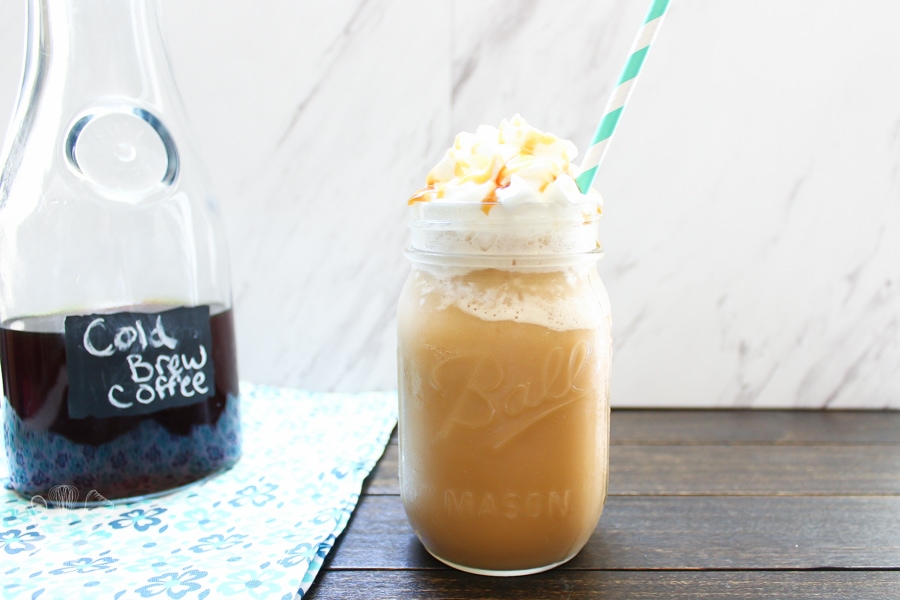 I don't know about you, but I can drink hot coffee in any season including the scorching hot summers of Texas. Sometimes though, nothing beats a cool refreshing iced coffee in the Summertime, which is why I have been making cold brewed coffee like it's going out of style. If you've never tried it, you are missing out! I know a lot of people will make iced coffee with strong coffee that's cooled, or by freezing coffee in ice cube form and while that certainly works in a pinch nothing beats the flavor of cold brewed coffee.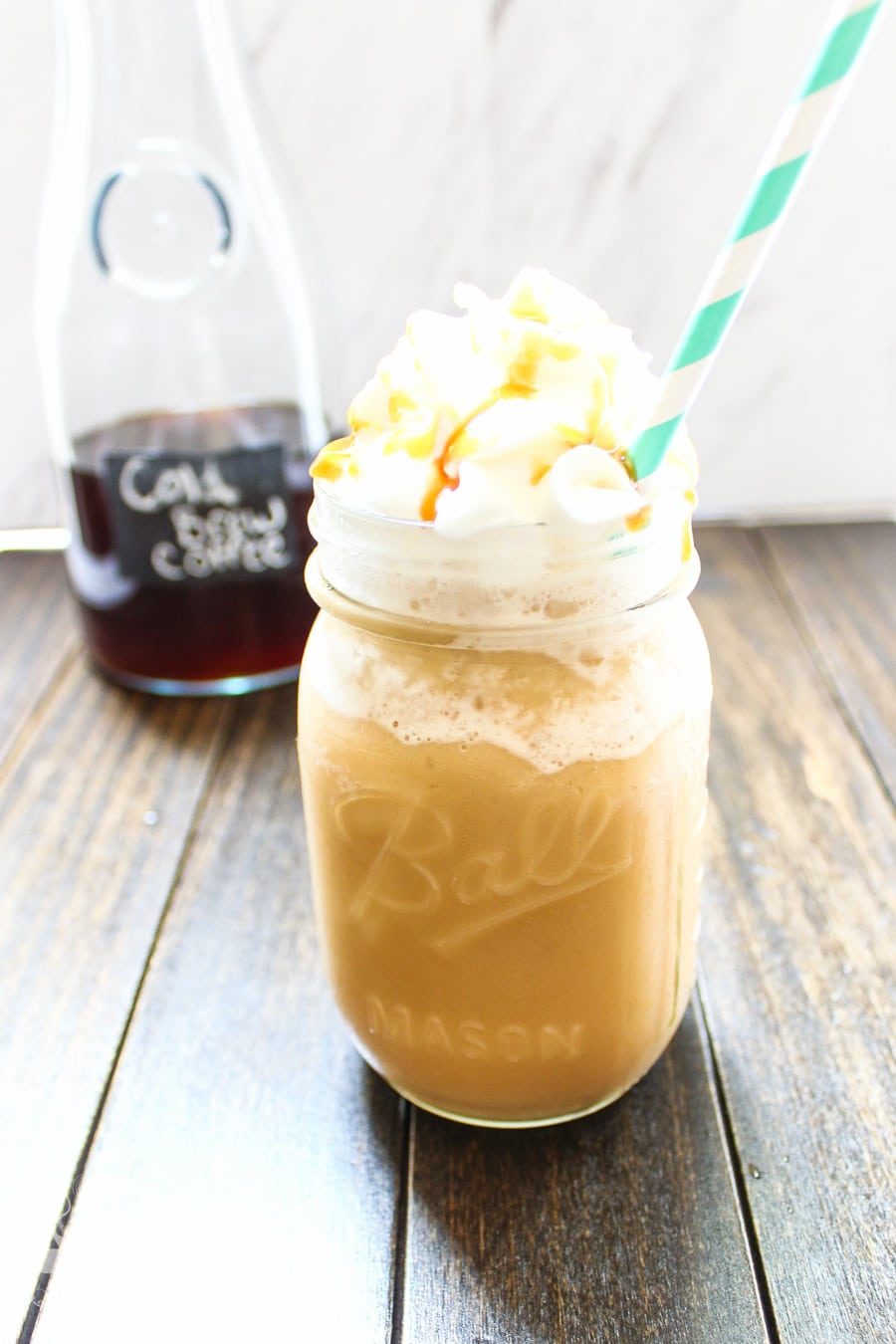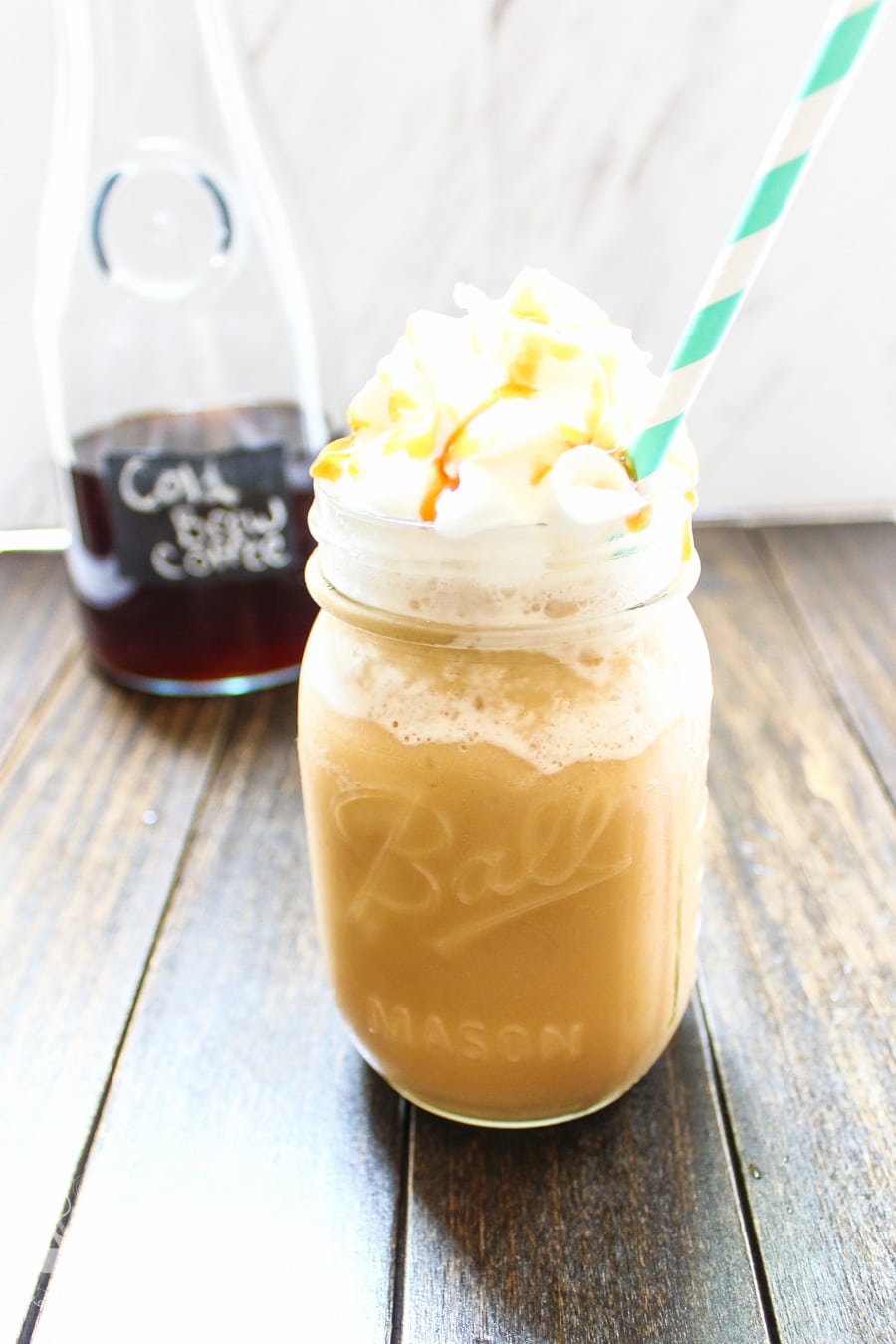 Cold brewed coffee is brewed with cold water, and is much less bitter with more flavor. If you don't believe me, try it for yourself! It's really easy to make as long as you have a little bit of patience–you know, the whole "brew" for 12 hours thing can kinda put a damper on last minute plans. I will usually whip up a batch of cold brewed coffee at night, let it sit in the fridge while I'm sleeping, and strain it in the morning.
Plus you can use the cold brewed coffee in more than just iced coffee drinks–like this caramel frappucino. All you have to do is blend coffee milk and ice together, add in some caramel sauce and you have a creamy, frothy, sweet coffee beverage to enjoy on the hottest days. Even better? You aren't spending over $5 for this yummy caramel frappucino like you would at any coffee place. I call that a win.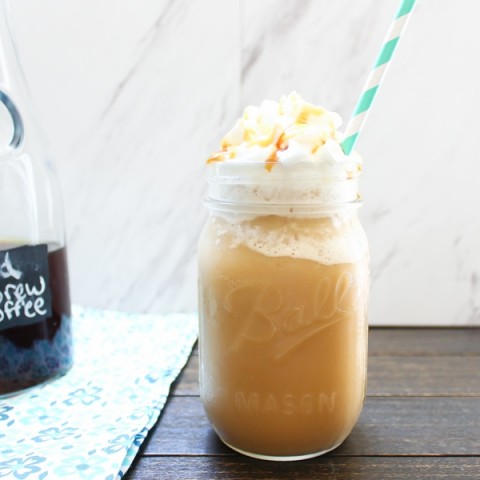 Caramel Frappucino with Cold Brewed Coffee
Ingredients
Cold Brewed Coffee
1 cup ground coffee
4 cups cold water
fine mesh cloth
strainer
large container
Caramel Frappucino
1 cup cold brewed coffee
1 cup milk or almond milk
2 cups ice
3 tbsp sugar
1 tbsp caramel sauce
Optional: Whipped Cream
Instructions
Cold Brewed Coffee
In a large container, stir together ground coffee and water. Cover and let sit in fridge overnight or for 8-12 hours.
Place fine mesh cloth over strainer.
Pour coffee over strainer to catch the grounds and you are left with liquid gold. Or coffee.
Discard grounds.
Caramel Frappucino
In a larger blender pulse together coffee, milk and ice until smooth.
Blend in sugar and caramel.
Pour in a glass, top with whipped cream and enjoy!
Nutrition Information
Serving Size

1 grams
Amount Per Serving
Unsaturated Fat

0g
You may also enjoy: