This easy to make cilantro lime chicken marinade only needs 30 minutes before the chicken is ready to throw on the grill! It's a perfectly simple and tasty dinner idea that is sure to be your family's new favorite.
We've had a very mild start to summer here in the KCMO area, with lots of rain and quite a few cool days. We even had to kick the heat back on a few nights when it dipped down into the low 40's. I know it certainly isn't normal, but after spending the last 3 years in Texas, where summer is 10 months long, I will certainly not complain.
Although, I am ready for some sunshine and slightly warmer weather. I'm also ready for a steady stream of delicious grilled recipes. With our new Keto friendly lifestyle, we eat a lot of meat. I mean, a lot. And while there is nothing necessarily wrong with that, it gets a little tricky trying to come up with new ways to prepare it.
We have so many boneless skinless chicken breasts from when I ordered in bulk from Zaycon Farms back in March. We got 40lbs at a ridicuously low price of $1.49 per pound! Since we have so much chicken in the deep freeze, I need to make sure we go through it all before it gets freezer burnt. Maybe I should really invest in a Food Saver?
Anyway. Chicken. Meat. Lots of it. That's the point of this story. Thinking up new ways to enjoy grilled chicken can be a little tough. Luckily though, this easy 30 minute cilantro lime chicken marinade is a life saver. Not only do I always have fresh cilantro on hand in the garden, but limes are pretty much a staple in my fridge. Plus the marinade is really easy to make.
Have you ever gotten excited about a recipe for homemade marinade only to realize it requires actually marinading the meat for 4 or more hours? Yea, me too. But my cilantro lime chicken marinade only needs 30 minutes! After that the chicken is good to go on the grill. Of course, you could let it go longer if you wish, but who really has time for that?
You can whip up the cilantro lime chicken marinade, and while the chicken soaks it all up you can do other important things. Like maybe whip up a pitcher of margaritas to go along with the chicken? Or better yet, how about some yummy mojitos? Of course, you could just do both. I won't judge.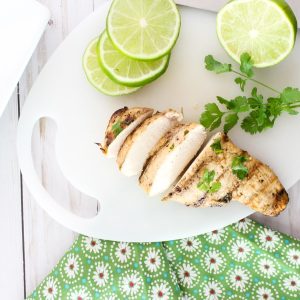 30 Minute Cilantro Lime Chicken Marinade
Print
Rate
Ingredients
1 1/2

pounds

boneless

, skinless chicken breasts

3

tbsp

olive oil

Juice from 2 large limes

1/2

cup

cilantro

(tightly packed)

3

cloves

garlic

2

tsp

cumin powder

2

tsp

paprika

1

tsp

each salt and pepper
Instructions
Add olive oil, lime juice, cilantro, garlic cloves and seasonings to the bowl of a food processor. Pulse a few times until garlic and cilantro are finely minced and well incorporated.

Pour marinade into a gallon ziploc bag.

Add chicken breasts to bag, seal tightly releasing all of the air.

Gently shake up the bag, being sure to get chicken fully covered by marinade.

Let sit in the fridge for at least 30 minutes, up to 4 hours.

Grill or bake chicken until fully cooked and no longer pink in the middle.
More delicious recipes for the grill