DIY Chalkboard–Made With Weathered Wood
This post may contain affiliate links for your convenience. Read our disclosure policy.
A few months ago, my neighborhood had a bulky trash pick up day, as most neighborhoods do–I am still kicking myself for not driving around to see what treasures my neighbors were tossing to the curb.
I remember seeing quite a few people driving around with their trailers piled high of curbside finds, and can't believe I didn't have the same thought. Oh well, now I know for next time… *insert evil laugh*
I did, however, manage to get my head out of the clouds and snatch up a few very weathered fence pickets from my neighbor's trash pile. My husband rolled his eyes at me, but I knew I could create something with that old weathered wood.
Well, the day finally came that I decided exactly what I wanted to make. Decisions never come easy for me, so once I finalized this project in my brain, I knew I had to get started before I changed my mind again.
What did I decide to make?? A DIY Chalkboard to go in our dining room!
Here's what you will need for a DIY chalkboard:
1/4″ thick 2'x4′ sheet MDF**
10′ of weathered wood (I used fence pickets)
Miter saw or box and hand saw
Circular saw
Nail Gun
3/4″ brad nails
primer
rollers and/or paint brush
**Home Depot does carry MDF that is already coated with chalkboard paint, but I chose not to use these. Most of them in the store were pretty banged up so I would have had to paint them anyway.
Start by cutting the MDF to size. The size I used was 24″x 30″. I used this size because the MDF was already 24″ wide, and I wanted the chalkboard taller than wide.
My hubby was so nice to cut my MDF to size for me, because there is no way I could cut a straight line with our circular saw.
After that, and a quick run through of how our miter saw worked from my hubby, I was off.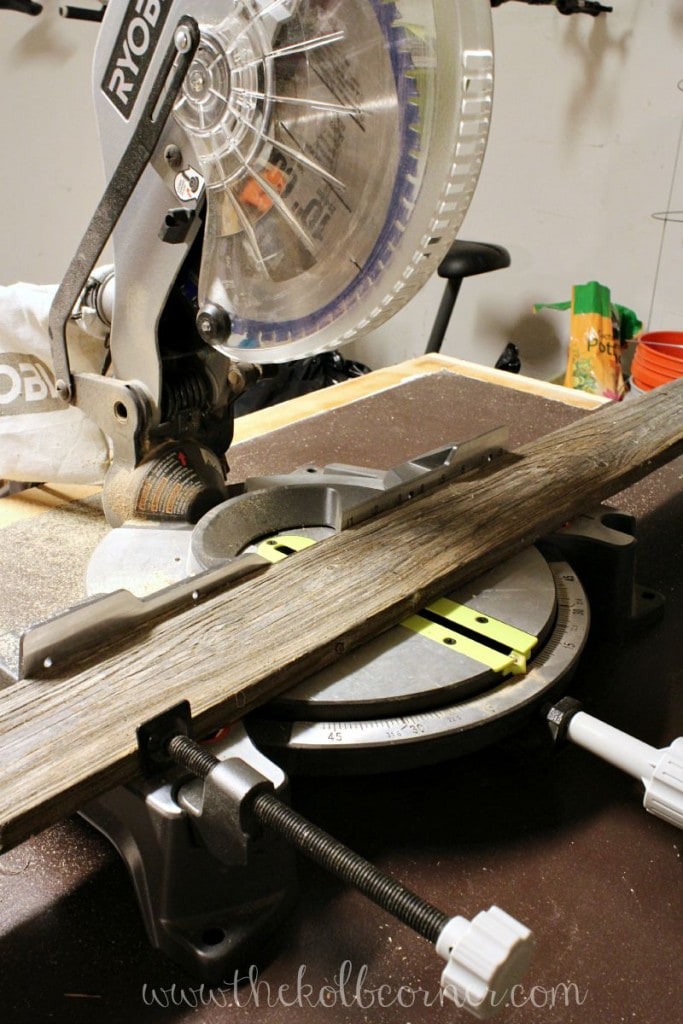 I created the frame for my DIY chalkboard pretty quickly. I cut the boards for the frame 2″ longer than the MDF, so I would have overlap to attach the two when I was finished.
After I cut the pieces for the frame, I gave them a quick sanding to get rid of any splinters. Then I put 2 coats of polyeurathane on each piece. I love how the poly brought out the grain and different colors in the weathered wood.
While that was drying, I primed the MDF, and painted 3 coats of chalkboard paint on top.
Since it was 100+ degrees WITH humidity, it took 24 hours for everything to dry completely.
Next I used a little bit of glue, and the nail gun, to attach the frame pieces to the MDF. I didn't take any pictures of this, but it was pretty easy. I laid out the MDF, put some wood glue on the edges, then set my frame pieces on top. Once they were set how I wanted, I used the nail gun to nail it together.
I let the glue dry for another 24 hours before setting it up.
It's the perfect addition to our dining room, and I love having a large chalkboard to change out for each season.
I love how this chalkboard turned out, and it was SO easy to do. Even if you don't have any old weathered wood, you can still make a frame out of 1×4's and stain. Just note that you may need 1″ brad nails vs. 3/4″.
I still have some pieces of fence left, and my head is already swimming with what I can do with them!
What are some of your favorite curbside finds?
*This post contains affiliate links. By purchasing items linked to in this post you help keep this blog running! Read my full disclosure policy HERE.
---
If you liked this post, be sure to check out my other chalkboard creations!