DIY Chalkboard Menu for Meal Planning
This post may contain affiliate links for your convenience. Read our disclosure policy.
Keep up with your goals of meal planning by making this simple DIY chalkboard menu from a picture frame.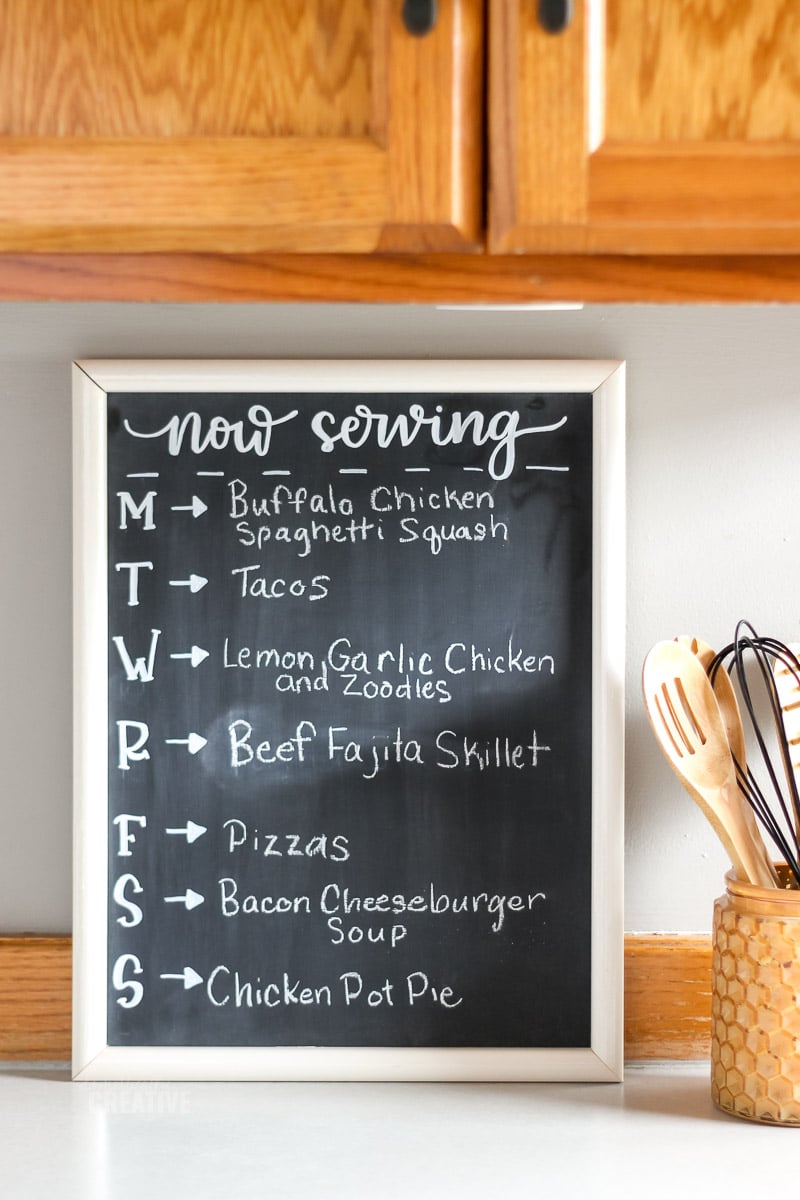 *This post was originally written and published January 2015 but has since been updated.
Do you have goals of planning your dinners each week, only to find that by Tuesday you have no idea what's on tap? This easy to make DIY Chalkboard Menu is not only a fun piece of decor but it's a great way to keep you on track for dinner!
This DIY chalkboard menu is made by painting the glass of a picture frame in chalkboard paint. It's simple to do and creates an inexpensive way to keep track of your meal plans. Here's how to make your own.
How to Make a Chalkboard Menu for Meal Planning
Things you'll need: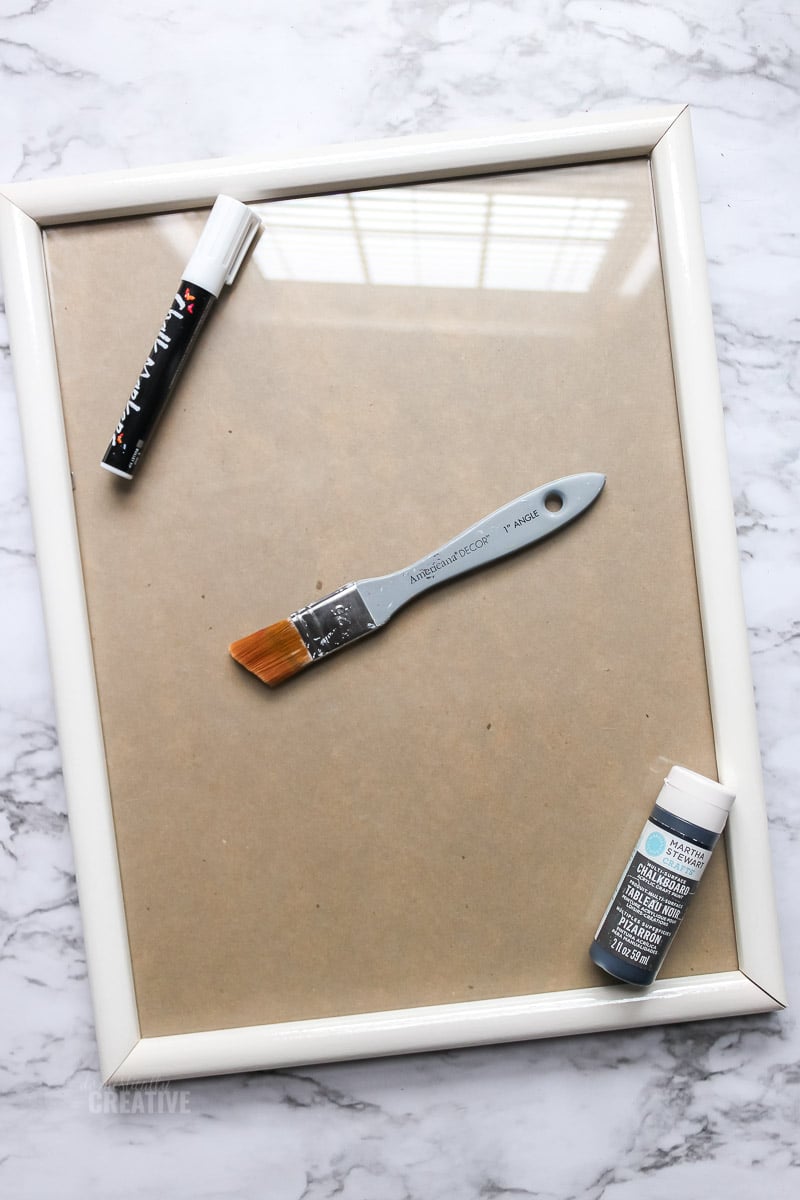 First remove the glass and backing from the picture frame. Clean the frame really well with Murphy's Oil Soap or other mild cleaner to get any dirt and grime off.
Clean the glass with Windex and let it dry completely.
If needed, spray paint the frame in the color of your choice. I prefer to use Rust Oleum 2x Ultra Cover brand for the best coverage and even color. Let the frame dry completely.
Using chalkboard paint, cover the glass from the picture frame. A foam roller makes even strokes for a smoother surface (learned the hard way!) It will take 3-5 coats to get the best coverage.
Once the chalkboard menu has dried completely, prime the chalkboard paint by rubbing a piece of chalk on the entire surface. Then erase the chalk away. This will prevent "ghosting" which is when you can still see what was written after erasing.
Use a chalk marker to create the layout for the chalkboard menu. Chalk marker is still able to be erased with a wet rag, but will not be erased with an eraser. This way you won't need to rewrite the days or title every time the menu changes.
Want to learn more about hand lettering? Check out my calligraphy blog Designs By Amanda Kay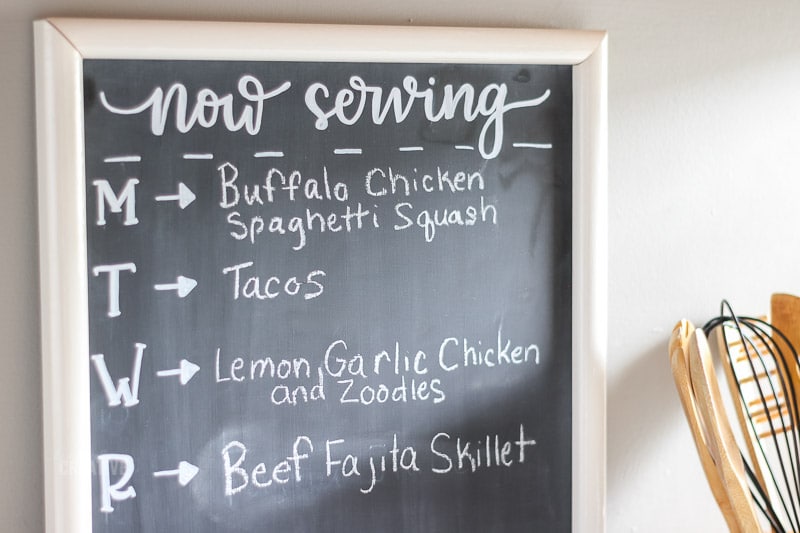 Find a convenient place to hang your brand new meal planning chalkboard so it's easy to refer back to. Now you have a great piece of original decor to display that is also functional and inexpensive to create.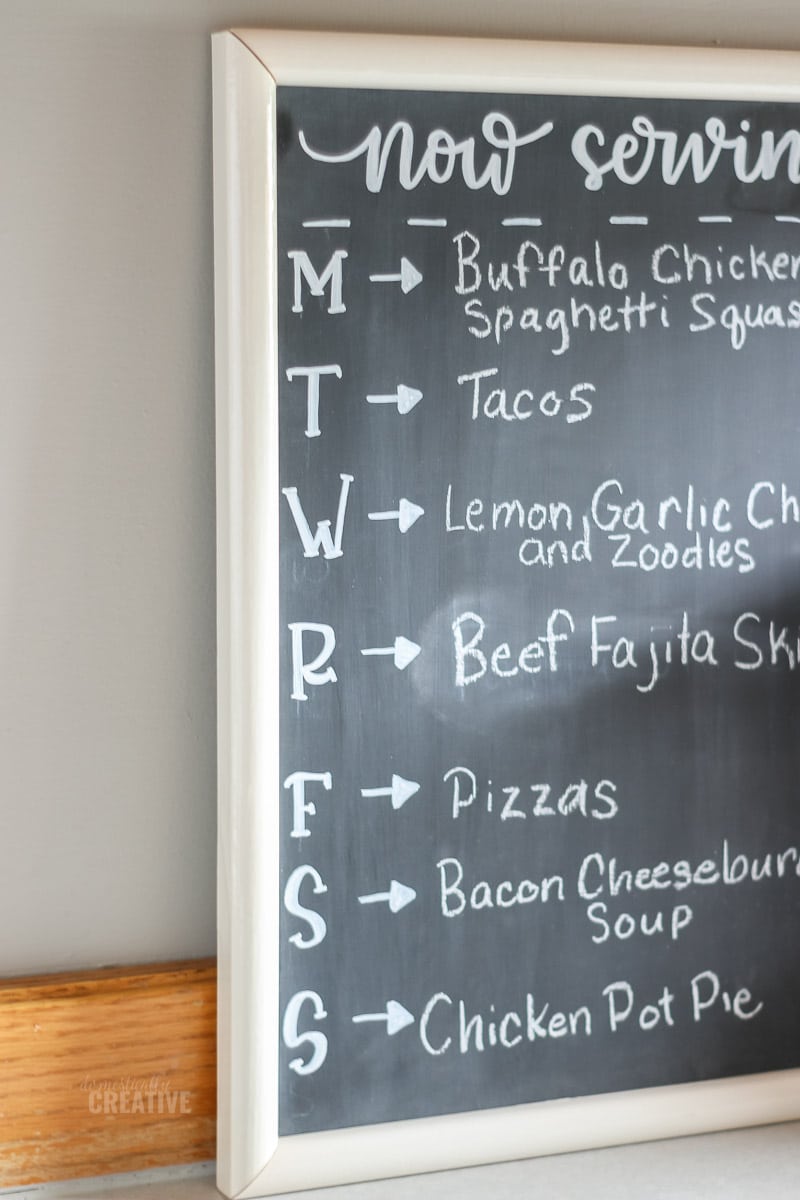 Advice for creating this DIY Chalkboard Menu
Start with a large picture frame so you'll have plenty of space to write out each day's meal. My picture frame is 12×16 and I wish it was just slightly bigger.
Buying a frame from a thrift store is the most inexpensive way to create your own chalkboard menu for meal planning. I scored mine at Goodwill and it just so happened to be a color that was 50% off. I only paid $1.50 for it.
Do not skip the chalkboard priming step! I have done this in the past and only regret it. You will have ghosting if you do not prime it.
I definitely recommend using a foam roller for the chalkboard paint. At the very least a foam paintbrush will work better than a bristle brush. Learn from my mistakes!
If the surface of the chalkboard menu is not as smooth as you'd like (say from brush strokes from using the wrong paint brush) you can give it a light sanding with 320 grit or finer sand paper before priming. Wipe the surface down with a wet cloth to get all of the dust.

Not in love with the idea of using chalk?
You could simply paint the inside cardboard of the picture frame with black acrylic paint. Then use chalk markers on the glass to write the menu. It will give the look of a chalkboard without the hassle and mess. Check out my dry erase magnetic fridge menu also for more meal planning ideas.
Love this idea? Pin it for later!