Nobody likes to look at their cat litter box. Turn an ordinary thrifted piece of furniture into a new litter box cabinet furniture with just a few steps and hide that unsightly thing for good!
Nobody likes to talk about the downside to owning cats, and that's the litter box. We have always had a laundry room to hide the cat box in, but in this house our laundry room is an unfinished space in the basement. There is a big hole next to some of the ducting in that room and I worry that our trouble makers would find their way into the wall through that hole.
Our solution has been to keep the litter box in our 2nd bathroom. The problem? When we have guests over, they have to deal with a litter box in the bathroom with them. It's definitely not ideal and it's something that has bothered me since we moved in. To solve this, I decided to take a thrifted cabinet and turn it into a stylish piece of furniture to hide the litter box–a litter box cabinet. See the full tutorial below!
DIY Litter Box Cabinet
My thrift store cabinet was at one time in it's life the base to an entertainment hutch. The top was pretty banged up and it had some ugly hardware that had to go. And yes, in case you were wondering, those ARE my eclipse glasses. What better time to do a little DIY project than during the eclipse?
One tip for picking a thrift store cabinet to DIY into litter box furniture? Measure the litter box you'll be using inside first so you know how big of a cabinet to get. I have larger cats (16 and 18 pounds), so I needed a larger box and therefore a larger cabinet.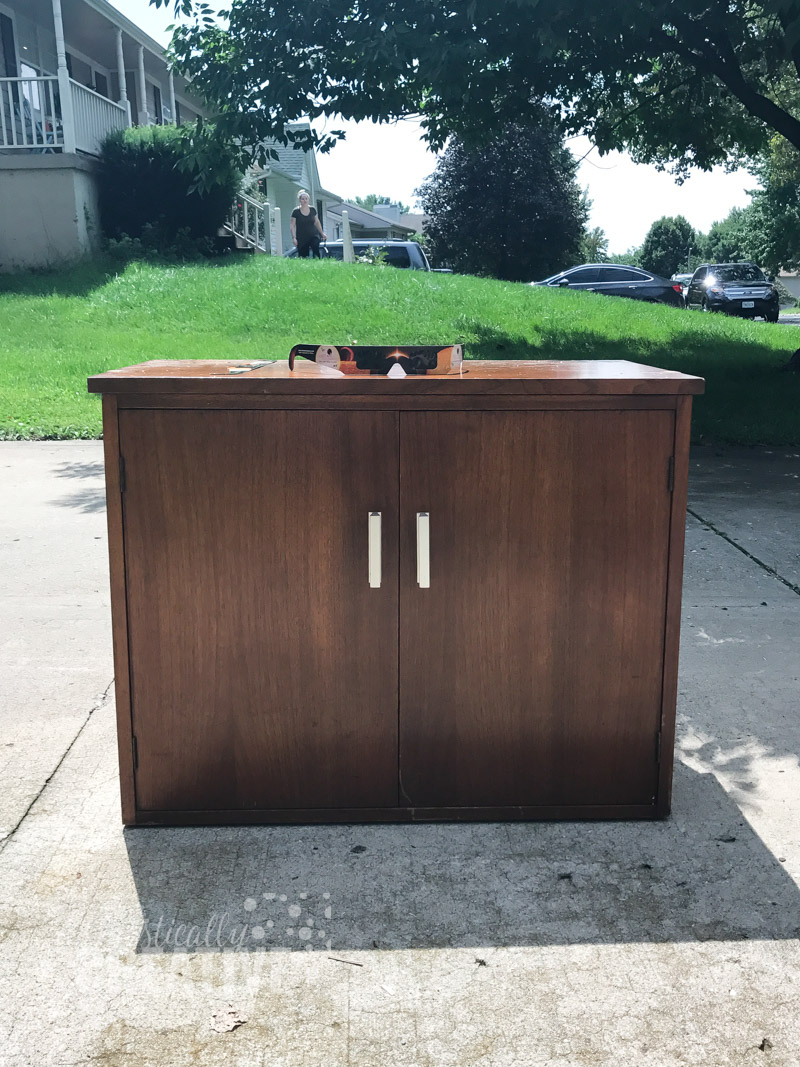 What you'll need for your DIY litter box cabinet
Thrifted cabinet
Tape measure
Pencil
1 1/2″ trim (flat or decorative)
Varying grit sand paper
Paint brush
drawer pulls
The first thing you'll need to do is decide how big of an opening you will want, and which side of the cabinet it will go on. Once that's decided, measure and draw out with pencil where you will make the cuts. Then, using the drill and 3/4″ spade bit, drill a hole in each corner of where the opening will be. This way you can get the jigsaw blade in to start cutting.
I didn't think this through when I was doing it so I used a regular drill bit and made a hole in a random place within the doorway. I ended up needing to go back and drill holes in each corner so I could continue cutting with the jigsaw. Don't be like me! Learn from my mistakes 🙂
Carefully cut out the opening with the jigsaw. If it's not perfectly straight, that's ok! The trim later will hide it.
Next, on the back of the cabinet, drill 4 evenly spaced holes across the top for ventilation. Use the 3/4″ spade drill bit for this.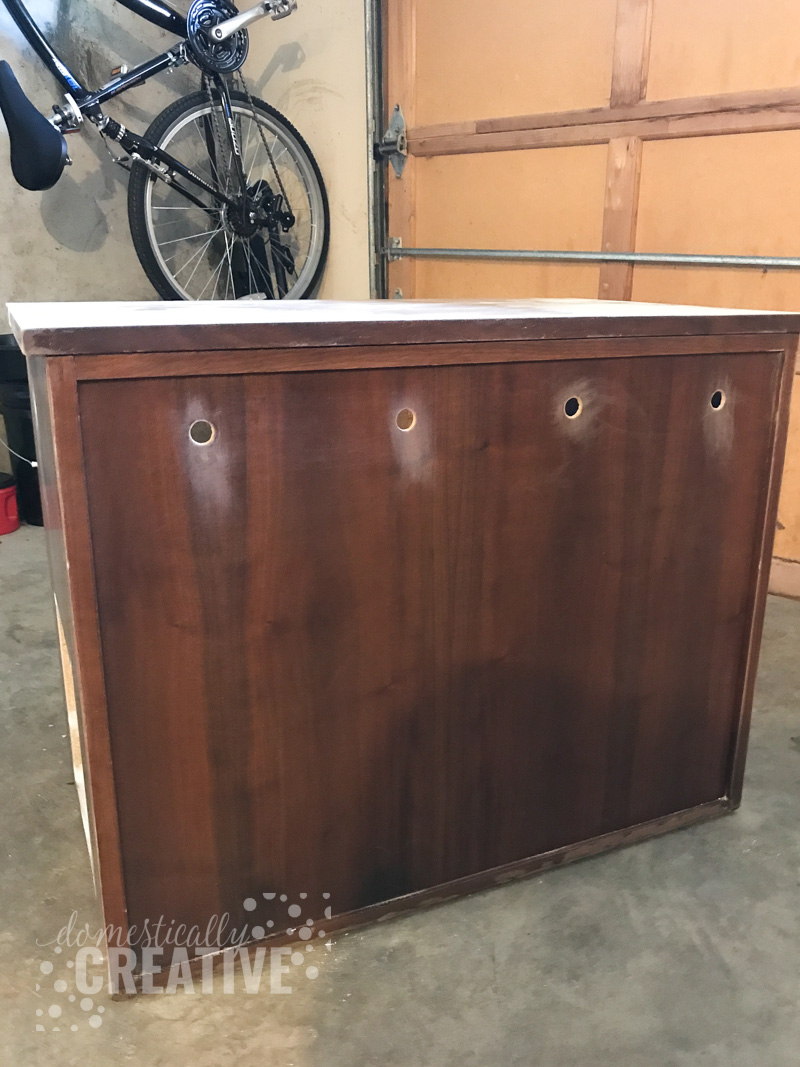 Depending on the condition of your thrifted cabinet, you may or may not want to sand down the entire thing. I gave each side a quick sanding, but spent a little more time on the top. Also make sure you sand the inside edges of the opening you cut so that your cats don't get snagged on a jagged area!
Next, using the miter saw, cut the trim pieces to fit around the opening. You'll want to cut the corners at 45 degree angles so they fit together snuggly. Using the liquid nails, glue down each piece of trim around the sides of the opening. Use clamps in all 4 corners to keep them in place until the glue hardens. Fill in any gaps in the corners with wood putty.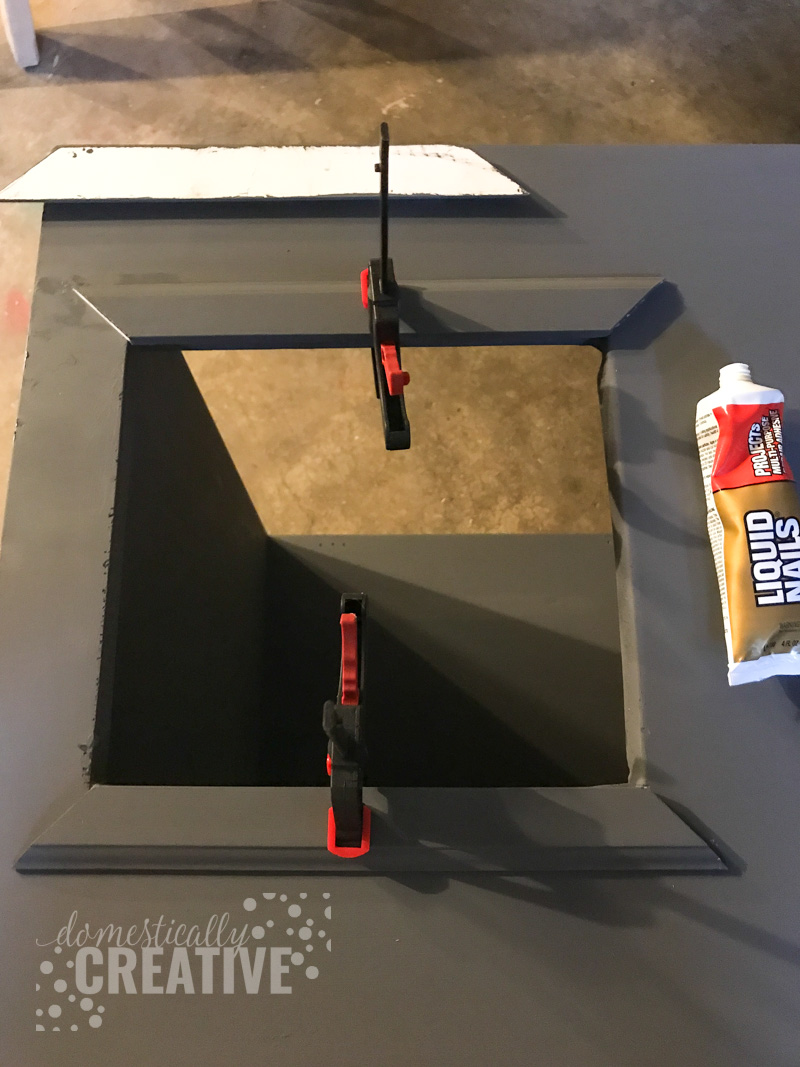 Finally give the entire thing a coat or two of chalky paint! I chose a dark bluish gray for this project because it's going in our living room. It will be a nice contrast to the wood planked end table I made over last Summer. Once it's painted and dry, seal the entire thing with a clear creme wax.
The last thing I did was replace the existing drawer handles with two new ones from Hobby Lobby. I love their selection of hardware!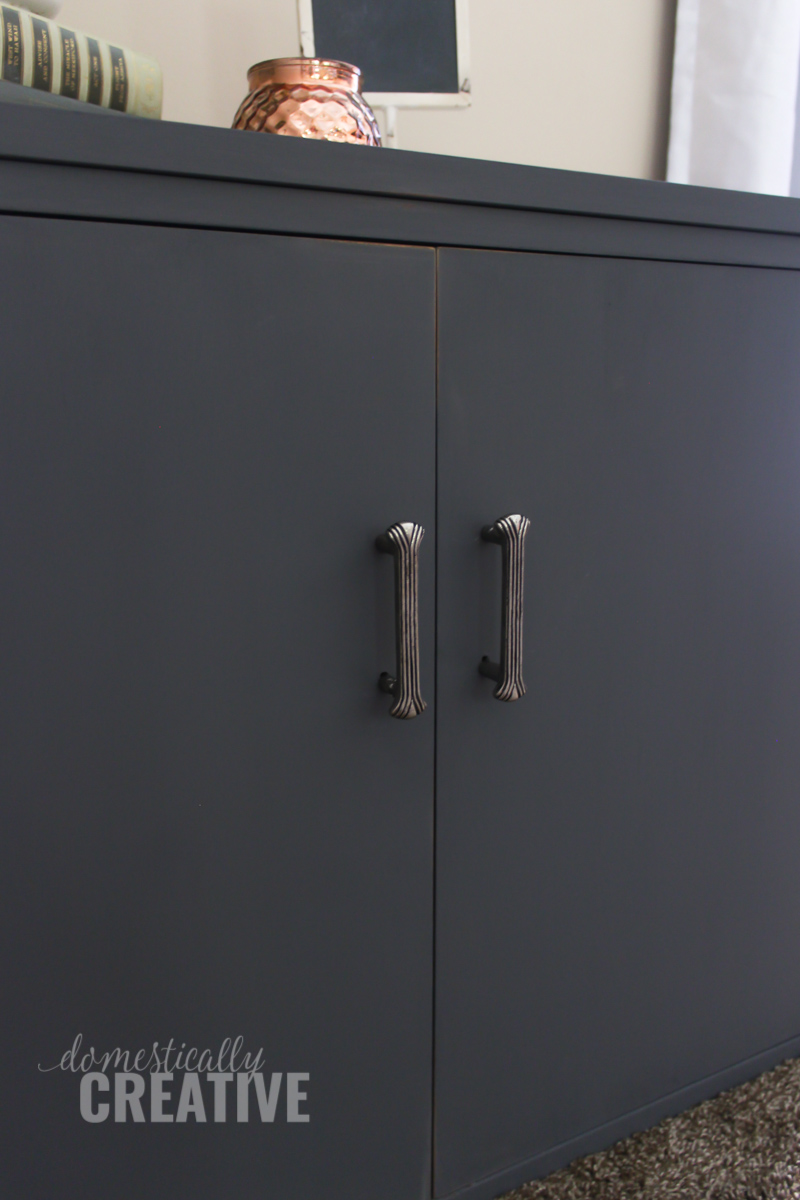 Of course, William immediately had to go inside and inspect the new litter box cabinet. I think he approves, what do you think?
Update: As of April 2022, we are still using this litter box furniture! It has moved with us to it's 3rd home, and the only issue is a little bit of scratched up paint on the top from our last move. When this litter box cabinet was finished, I placed a non slip litter mat inside the cabinet to help trap litter as the cats left the cabinet and help with any "accidents". It works well, but like anything a little bit of litter DOES get into our living room.
I've also since added small button feet to the bottom of the cat box cabinet to make it look like a more finished piece of furniture, and plan to repaint the entire thing to update it. Overall, I'd say this litter box cabinet is definitely a winning DIY project.
Check out these other DIY projects:
Don't forget to pin it!